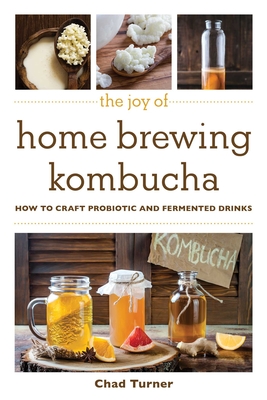 The Joy of Home Brewing Kombucha (Paperback)
How to Craft Probiotic and Fermented Drinks (Joy of Series)
Skyhorse, 9781510746107, 200pp.
Publication Date: January 21, 2020
* Individual store prices may vary.
Description
Create your own collection of non-alcoholic, probiotic wonder drinks in your own kitchen!
Kombucha is perhaps one of the most popular fermented probiotic health tonics on the market, promoting high levels of B Vitamins, antioxidants, and detoxifying properties. Doctors of both conventional and natural medicine agree that probiotics have positive effects on digestion, metabolism, immune system, and mental health. Fermented probiotic drinks help repopulate our intestinal tracts with healthy, friendly bacteria, which is essential to wellness. Good digestion, boosted immunity, improved brain function, and better mental health are all benefits that come with consuming kombucha and drinks like it.
The Joy of Home Brewing Kombucha 
will show you how to create these beverages for you and your family using minimal equipment and ingredients. Via the more than 50 easy-to-follow recipes, you will learn how to brew:  
Delicious kombucha recipes
Dairy-based kefir and yogurts
Fruit and vegetable juice Kvass.
The timeless and invigorating health tonic Rejuvilac
And simple and delicious lacto-fermented sodas such as root beer, ginger ale, and ginger beer.
By the end of this book, you'll be armed with the basic skills and knowledge necessary to brew these healthy beverages safely at home.
About the Author
Chad Turner is an herbalist, raw food chef, yoga instructor, and fermentation scientist. His journey to health began when he was diagnosed with narcolepsy at the age of twenty-two. Chad learned the incredible healing capacity of the human body by studying super-food nutrition and yoga. He holds a Bachelor of Science degree from the University of Minnesota and grew up in Milwaukee but is currently living and teaching in Singapore.
 
Praise For The Joy of Home Brewing Kombucha: How to Craft Probiotic and Fermented Drinks (Joy of Series)…
"Do your body a favor and start enjoying all the amazing benefits of kombucha. Chad does a fantastic job of simplifying the process of making your own home brew and provides some seriously delicious recipes. Making your own bubbly just became amazing!" —Erin Indahl-Fink, author of The Protein Smoothie Bible, food blogger and recipe developer at DelightfulEMade.com

"Beautifully written with simple step-by-step directions and an in-depth history of many ferments around the globe; some I've just learned of for the first time. The Joy of Home Brewing Kombucha is full of delicious recipes, and Chad Turner has inspired me to discover new creative ways to enhance optimal health and well-being!" – Michelle Savage, certified Integrative Nutrition health coach and author of The Ultimate Guide to Healthy Juicing