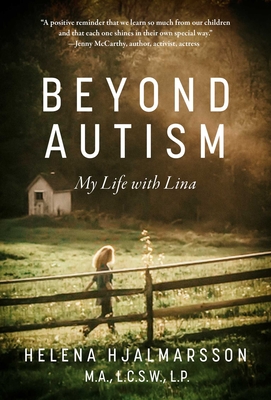 Beyond Autism (Hardcover)
My Life with Lina
Skyhorse, 9781510746251, 192pp.
Publication Date: June 11, 2019
* Individual store prices may vary.
Description
A Passionate Memoir about Life with a Teenage Daughter with Severe Autism, Following the Progress of Acclaimed Book, Finding Lina.

Like her passionate first book, Finding Lina, about her daughter with severe autism, Helena Hjalmarsson brings an intensity of purpose and love to her second memoir about Lina, Beyond Autism. Lina's world is one of excruciating challenges. Helena's world is the same, but with her own insights, indominable spirit, and amazing clarity she sheds light and hope for other parents, siblings and caretakers of children with autism, as well as the children with autism themselves. She unflinchingly examines "the paradoxical nature of autism, the never-ending mystery of who our children are and how they got here, in the middle of this unfathomable hurricane of leaky guts, inflammation, yeast, autoimmune disorders, seizures, sensory breakdown, loss of words, physical freedom, sleep, friends, normal life as we are used to refer to it."

Beyond Autism is one of an increasing number of "you are not alone" literary statements from parents of children with autism forwarded to the people whose lives, similarly, often blocks the view of the larger community. Beyond Autism is intended to be a meeting place, of sorts. A smile of recognition. A reason for a little dark joke amongst parents.

What Helena recognizes is that whenever Lina is not in mayhem, she is in heaven. "In those times she seems so free of the burdens of a past and a future, so deeply present and accepting of the moment …Whenever she is not suffering, it seems to me that she is at that enlightened, awakened place that most people struggle for a whole life time to catch a glimpse of." It's that glimpse that Helene explores, and shares for all those who want, too, to catch and gain insight into the lives of those with autism and those who love them.
About the Author
Helena Hjalmarsson, M.A., L.C.S.W., L.P., is a psychoanalyst and NeuroMovement® practitioner in North Salem, N.Y. and New York City. Her practices are informed by the idea of non-duality, the power of the present moment and the freedom that can be found by reaching beyond one's personal identity, experience and beliefs. Helena is the author of Finding Lina (Skyhorse 2013). She lives in North Salem, N.Y., with her two daughters.
Praise For Beyond Autism: My Life with Lina…
Blurbs for: Beyond Autism: My Life with Lina
"
Beyond Autism
is the closest that anyone has come to entering the mind, unlocking the medical challenges, exploring traditional and non-traditional therapies, and grasping the potential of an autistic child.
Unparalleled in its honesty, compassion and unconditional love.
  A must read for physicians, parents, and researchers who want to understand autism."
-- Sheldon Krimsky, Lenore Stern Professor of Humanities and Social Sciences Tufts University
"Helena takes us on
a journey of transformation with heart and honesty,
applicable not only the challenges of autism, but to the trial's life hands us all."
— Ken Siri, author ofCutting-Edge Therapies for Autism
"
Hjalmarsson reminds us that even in the most trying of circumstances, there is always light, a lesson, and above all, love - if we allow ourselves the space and permission to experience them.
Beyond Autism
 is a testament to the power of the human spirit and the never-ending quest to connect with our children." 
-- Julie Obradovic, author of An Unfortunate Coincidence: A Mother's Life inside the Autism Controversy 
"Helena Hjalmarsson gives us a genuine view into life a shared with a child afflicted with autism – the pain and frustration but also the joy and mystery of walking a spiritual path with a genuine, loving person.
 Beyond Autism is fearless and honest. Hjalmarsson tells autism like it is, courageously
." 
--Louis Conte,
author of 
Vaccine Injuries: Documented Adverse Reactions to Vaccines
"
Beyond Autism divulges epiphanies as gifts only seen through a special needs parent's lens.
Helena reminds us to reclaim our self-compassion and 
Beyond Autism 
ultimately defines the autism paradox." 
–Lori Ashley Taylor,
author of
Dragonfly: A Daughter's Emergence From Autism . . . A Practical Guide for Parents
"It's easy to lose sight of what is truly important, especially if it's been staring you in the face all along.  
Beyond Autism is about appreciating the wonder, beauty and creativity
all our children on the autism spectrum bring us each and every day, regardless how it may appear." 
–Karen Simmons, Founder, CEO Autism Today, Autismtoday.com,
author of
The Official Autism 101 Manual
"In
Beyond Autism
,
Helena Hjalmarsson lays bare with raw honesty both the extreme challenges and the moments of exquisite beauty in raising a child severely affected by autism.
She speaks openly about moments of awe-inspiring anguish and pain in a way that many parents experience but cannot express, [while]  her love and respect for Lina shine throughout this memoir." -- 
Kim Mack Rosenberg,
author of
The Parent's Autism Sourcebook 
"If you want to understand what it feels like to raise a child with severe autism, 
Beyond Autism
 is an excellent place to start. Helena Hjalmarsson's memoir about her life with daughter Lina reveals the heartaches, joys and spiritual gifts of this parenting journey.
Written in clear prose, the memoir is filled with beauty, trauma, and grace."
—
Mary Holland, faculty, NYU School of Law
"
Beyond Autism 
is a treasure of immense honesty and faith, a tribute to the joyful chaos of pursuit...of medical answers, philosophical understanding, spiritual awakening, and the ironic
reminder that it is sometimes the unknowing that keeps us most present and self aware."
 —
Amanda Friedman, MSEd, SBL, Executive Director Atlas Foundation for Autism
 "
A painfully honest and deeply moving book
. . . . In the process of going beyond the spectrum with Lina, her mother too finds courage and solace.  That should serve as the primary lesson of this heartfelt memoir, not only for parents facing similar hardships but for all of us seeking to become more empathic human beings." —
Dick Russel,
the author
of My Mysterious Son: A Life-Changing Passage Between Schizophrenia and Shamanism
"A passionate book for families with special-needs children."
—Booklist
"
Finding Lina
 is an inspirational and brave story of Helena's journey to help her daughter. A positive reminder that we learn so much from our children and that each one shines in their own special way." —
Jenny McCarthy
, author, activist, actress
"A remarkable journey: one mother charts her quest to help her daughter, informing other parents along the way so that they can benefit directly from her research." —
Rupert Isaacson,
author of 
The Horse Boy