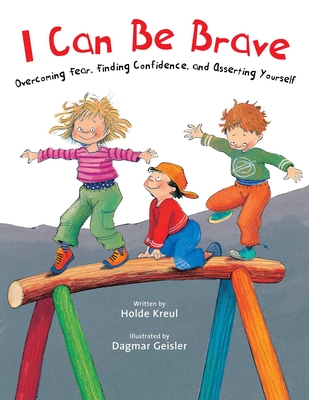 I Can Be Brave
Overcoming Fear, Finding Confidence, and Asserting Yourself (The Safe Child, Happy Parent Series)
Hardcover

* Individual store prices may vary.
Description
An important story for young readers about being courageous and self-confident, even when you're scared.

Self-confidence is something many children—and adults—struggle with. Many of us are afraid to try new things, ask questions when we're confused, and say no when everyone else wants us to say yes. When children believe in themselves, they're more likely to stand up to bullies and peer pressure, their outlook on life is brighter, they are happier overall.

In I Can Be Brave, young readers will meet a group of kids who have figured out a few things they like doing and, after some trial-and-error and overcoming their fears, are very proud of their individual accomplishments. Jumping off the diving board might be scary at first, but successfully completing a dive is something to be proud of! Building a tree house can be fun, even if you don't love being so far off the ground. 

Sometimes children may need a little boost of confidence or help from those around them to keep at it. Parents and friends can be encouraging by saying things like: "Do you believe you can do it?" "You can do it!" and "Let's try again!" Sometimes, as the children in I Can Be Brave learn, when they don't have enough confidence to do something alone—like go down a giant slide—they can muster the courage to do it anyway with a close friend at their side.

I Can Be Brave encourages young readers to invest time in new activities, believe in themselves, accept encouragement from others, voice their insecurities, and ask for help when they need it.
Sky Pony, 9781510746619, 36pp.
Publication Date: May 5, 2020
About the Author
Holde Kreul lives in Germany. She studied psychology and has been working with children for her whole career. For a long time, she directed a day-care center for children with mental disorders. Today she has her own psychotherapeutic practice and works with children and adults.

Dagmar Geisler is a German author and illustrator. She studied graphic design at the University of Applied Sciences in Wiesbaden and worked for several publishing houses and broadcasting companies. Dagmar currently focuses mainly on children's books. She illustrated My Body Belongs to Me from My Head to My Toes which received the Silver Feather (Silberne Feder) Children's Book Prize from the German Medical Women's Association, and is the author/illustrator of I Won't Go With Strangers. She lives with her family in Switzerland.
or
Not Currently Available for Direct Purchase