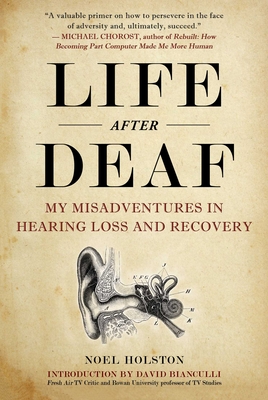 Life After Deaf
My Misadventures in Hearing Loss and Recovery
Hardcover

* Individual store prices may vary.
Description
From a renowned media critic to a man with sudden and full hearing loss, Noel Holston ran the gauntlet of diagnoses, health insurance, and cochlear implant surgery.

On a spring night in 2010, Noel Holston, a journalist, songwriter, and storyteller, went to bed with reasonably intact hearing. By dawn, it was gone, thus beginning a long process of hearing-restoration that included misdiagnoses, an obstinate health-insurance bureaucracy, failed cochlear-implant surgery, and a second surgery that finally worked. He negotiated the gauntlet with a wry sense of humor and the aid of his supportive wife, Marty. Life After Deaf details his experience with warmth, understanding, and candor. It's the story not only of his way back to the world of the hearing, but of a great marriage that weathered serious testing. Their determination and resilience serve as a source of inspiration for all.

Life After Deaf is not just for the more than forty million people in the United States alone who cope with some form of hearing loss, but is also for their wide circles of friends, family, caregivers, and audiologists. This highly readable book will be an invaluable guide and source of hope for the large number of baby boomers now handling hearing loss.
Praise For Life After Deaf: My Misadventures in Hearing Loss and Recovery…
"...a poignant and often humorous account . . . fact-filled, enlightening, often revealing in its honesty" —Newsday
 
"...a graceful and compelling read." —Minneapolis Star Tribune
 
"...a poignant primer for anyone going through hearing loss" —Orlando Sentinel

"Noel Holston cherished the universe of sound—music, especially—until, at mid-life, his hearing deserted him. Luckily for us, Holston also cherishes words. This celebrated journalist and storyteller invites us along on his searching journey of loss, struggle, and reclamation. The reader is richer for Holston's odyssey. So, we sense, is Holston."  — RON POWERS, author of No One Cares About Crazy People: The Chaos and Heartbreak of Mental Health in America

"Life After Deaf is a poignant, personal story of the impact of sudden hearing loss. Holston's contemporary account encompasses both practical and interpersonal trials and engages the reader with candid descriptions laced with warmth and humor. His journey includes challenges relative to negotiation of diagnoses, a bureaucratic healthcare system, inevitable human relationship challenges, cochlear implant surgeries, and recovery. The narrative, rich with observation and detail, leaves us acutely aware of the author's descriptor of the ear as a 'multi-tasking marvel,' as well as the sweeping consequences of the loss of hearing. Holston and his wisdom, determination, and eventual emergence as a survivor are beautifully captured in the text. This book is an encouragement for those facing a similar journey, as well as a must read for professionals seeking to serve them. Every student, emerging professional, and practicing provider in hearing healthcare would be well served to read this fascinating human perspective. This book should be assigned reading for every audiology student." — BETTIE BORTON, AuD, Former President, American Academy of Audiology

"Noel Holston has written an eye-opening account of a cochlear implant failure followed by a cochlear implant success. This book is a valuable primer on how to persevere in the face of adversity and, ultimately, succeed." — MICHAEL CHOROST, author of Rebuilt: How Becoming Part Computer Made Me More Human

"After losing most of his hearing in 2010, a journalist's frustration mounted as insurance and the medical community entangled him in red tape. As a music lover who had spent much of his career in coverage and criticism of popular culture, Holston faced a shocking transition when he awoke one morning to discover that he could barely hear anything. Though there had been warning signs—hearing aids and measurable loss—this was sudden, unexpected, and close to absolute. Thus began an extended period of difficult adjustment: communicating at work with colleagues by email and pen on paper, navigating marital turbulence, dealing with strangers who didn't understand his condition or who thought he lacked mental capacity. But the biggest issue was trying to figure out what had happened and how to fix it. Doctors weren't absolutely sure on the former, and their attempts to address the latter caused even more frustration when an expensive cochlear implant failed to help. This left the author wondering 'whether something was still wrong with me systemically, something as yet undetected that was rendering the implant less effective, or whether the implant itself might be a problem.' Consultations with other doctors meant he had to go out of his insurance network, and haggling over the phone became nearly impossible due to his condition. This book is partly about how hearing loss affects every aspect of one's life, partly about how dealing with insurance can make life a living hell, and partly about the effects on a marriage from such unexpected strains. 'Years of writing and columnizing on a daily basis had made writing reflexive to me,' writes Holston. 'I try not to let any experience go to waste. To paraphrase an old saying, that which doesn't kill you makes for a good story.' An appendix includes useful information about the benefits and risks of cochlear implants. A worthwhile memoir about hearing impairment and struggling with the complex medical community." —KIRKUS
Skyhorse, 9781510746879, 240pp.
Publication Date: November 5, 2019
About the Author
Noel Holston is a Pulizter Prize nominee whose writing has appeared in more than one hundred publications, including the Washington Post, the Chicago Tribune, the Los Angeles Times,Huffington Post, and New York Daily News. He lost most of his hearing in 2010. Thanks to cochlear implant surgeries, therapy, and more than a little help from his wife and friends, he continues to write, act, and tell stories. He lives in Athens, Georgia, with his wife, singer-actress Marty Winkler.
 
or
Not Currently Available for Direct Purchase