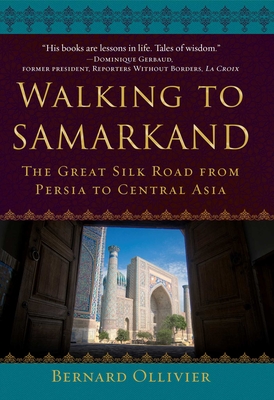 Walking to Samarkand
The Great Silk Road from Persia to Central Asia
Hardcover

* Individual store prices may vary.
Description
Acclaimed journalist Bernard Ollivier continues his epic journey across Persia and Central Asia as he walks the length of the Great Silk Road. 
 
Walking to Samarkand is journalist Bernard Ollivier's stunning account of the second leg of his 7,200-mile walk from Istanbul, Turkey, to Xi'an, China, along the Silk Road--the longest and perhaps most mythical trade route of all time. Picking up where Out of Istanbul left off, Ollivier heads out of the Middle East and into Central Asia, grappling not only with his own will to continue but with new, unforeseen dangers.

After crossing the final mountain passes of Turkish Kurdistan, Ollivier sets foot in Iran, keen on locating vestiges of the silk trade as he passes through Persia's modern cities and traditional villages, including Tabriz, Tehran, Nishapur, and the holy city of Mashhad. Beyond urban areas lie deserts: first Iran's Great Salt Desert, then Turkmenistan's forbidding Karakum, whose relentless sun, snakes, and scorpions pose continuous challenges to Ollivier's goal of reaching Uzbekistan.
 
Setting his own fears aside, he travels on, wonderstruck at every turn, borne by a childhood dream: to see for himself the golden domes and turquoise skies of Samarkand, one of Central Asia's most ancient cities. But what Ollivier enjoys most are the people along the way: Askar, the hospitable gardener; the pilgrims of Mashhad; and his knights in shining armor, Mehdi and Monir. For, despite setting out alone, he comes to find that walking itself—through a kind of alchemy—surrounds him with friends and fosters fellowship.
 
From the authoritarian mullahs of revolutionary Iran to the warm welcome of everyday Iranians—custodians of age-old, cordial Persian culture; from the stark realities of former Soviet republics to the region's legendary bazaars—veritable feasts for the senses—readers discover, through the eyes of a veteran journalist, the rich history and contemporary culture of these amazing lands.

 
Praise For Walking to Samarkand: The Great Silk Road from Persia to Central Asia…
Praise for Walking to Samarkand

"Ollivier is great company; curious, knowledgeable and self-reflexive, with a knack for being in the right place at the right time. Walking to Samarkand gives us a raw and real ground-level view of some of the world's more complex places, and Ollivier brings back for us both the foreign and the familiar with a deft and considered approach. There are few destinations more worthy of such a journey than Samarkand, and this book does fine justice to the quest."—Leon McCarron, adventurer and author of The Land Beyond and The Road Headed West

Praise for Bernard Ollivier

"Bernard Ollivier is a man eager to learn about the world around him, a writer who opens his readers' eyes. As a journalist, he knows how to extract life's real secrets from people's memories. Truth is, in heading out onto the Silk Road, he wasn't seeking history, but wisdom. And he finds it in the exceptional openness of nomads. This is the gift he offers to us."—Dominique Gerbaud, president, Reporters Without Borders

"Ollivier is a traveler. He doesn't consider himself a writer. As a result, his prose is at times better than that of professional travel writers: he writes simply, focused not on fancy phrasings, but on providing a true-to-life account of his experiences. He doesn't travel in order to write or publish a book. He travels as do so many of Conrad's protagonists: for self-discovery."—Le Monde
 
Skyhorse, 9781510746893, 312pp.
Publication Date: April 14, 2020
About the Author
Career journalist turned traveler, Bernard Ollivier believes that walking has the power to transform. His publications include Out of Istanbul, numerous travel guides, both adult and young adult novels, and La vie commence à 60 ans (Life Begins at Sixty). In 2000, he founded the Seuil ("Threshold") Association, helping troubled teens get back on track through walking. He lives in Normandy, France. 

Dan Golembeski has worked as a French and Linguistics educator, a summer study abroad director in France, and has conducted fieldwork on language contact in Canada. An occasional, albeit fervent traveler, he increasingly crosses borders with words. In addition to Out of Istanbul, he is currently translating a science-fiction novel. He lives in Petoskey, Michigan.