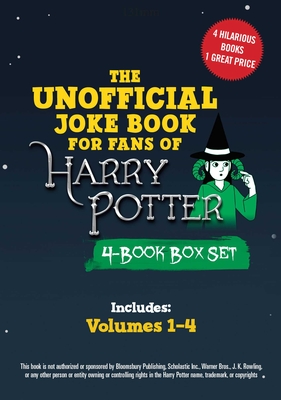 The Unofficial Joke Book for Fans of Harry Potter 4-Book Box Set
Includes Volumes 1–4 (Unofficial Jokes for Fans of HP)
Paperback

* Individual store prices may vary.
Description
Your favorite Gryffindor guffaws, stupefying shenanigans, Hufflepuff hilarity, and Riddikulus Ravenclaw riddles, all in one place!
You won't need the tickling charm after reading this collection! This fantastical box set contains all four of the Unofficial Harry Potter Joke Books:
Great Guffaws for Gryffindor
Stupefying Shenanigans for Slytherin
Howling Hilarity for Hufflepuff
Raucous Jokes and Riddikulus Riddles for Ravenclaw
From Dumbledore to Umbridge, from Hogwarts to Hogsmeade, from Harry Potter to Draco Malfoy, every aspect of the Harry Potter universe is contained in these four fantastic books. One-liners, quips, and wisecracks will have you and your friends and family spellbound. So
Accio
this box set and crack up at the wizard world!
Featuring hundreds of jokes and more than fifty fantastic illustrations, each joke book provides endless amounts of fun and clean humor for readers and fans of the bestselling series.  
Sky Pony, 9781510748163, 704pp.
Publication Date: November 19, 2019
About the Author
Brian Boone wrote the music trivia (with jokes) book I Love Rock 'n' Roll (Except When I Hate It). He is a regular contributor to Funny or Die, Popdose, Splitsider, and The Retroist, and his work has appeared on McSweeney's Internet Tendency, Adult Swim, The Impersonals, and the Huffington Post.

Amanda Brack is also the illustrator of the Creeper Diaries series and the Jokes for Minecrafters series from Sky Pony Press. She has a passion for drawing and illustration, and enjoys the creativity of working on a wide variety of projects in her freelance career. She lives in Boston, Massachusetts.