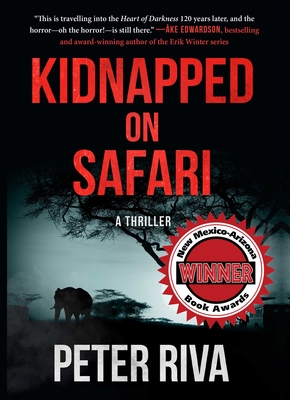 Kidnapped on Safari
A Thriller
Hardcover

* Individual store prices may vary.
Description
New Mexico-Arizona Book Awards Winner • The third book in the Mbuno & Pero series pulls terror from headlines to create a gripping international thriller for readers of John le Carré, Daniel Silva, and Iris Johansen.

Expert safari guide Mbuno and wildlife television producer Pero Baltazar are filming on Lake Rudolf in Northern Kenya, East Africa, when they receive news that Mbuno's son, himself an expert guide, has been kidnapped while on a safari five hundred miles away in Tanzania. After gathering the clues and resources needed to trek through the wilderness, they trace the kidnappers back to an illegal logging operation clear-cutting national park forests, manned by sinister Boko Haram mercenaries. There, they find not only Mbuno's son but also a shocking revelation that has terrifying and far-reaching consequences.

Relying on Mbuno's legendary bush skills, the pair must overcome the danger both from inside and outside the camp to bring Mbuno's son out alive. In doing so, Mbuno and Pero discover that kidnapping and deforestation are only the beginning of the terrorist group's aspirations, and they realize a threat that would herald an even more dangerous outcome for Tanzania—a coup. A rescue might just risk the entire stability of the region.

Exciting and expertly plotted using facts ripped from news' headlines, Kidnapped on Safari is a gripping, edge-of-your-seat thriller set in deepest, darkest, Machiavellian, East Africa.
Praise For Kidnapped on Safari: A Thriller…
"This is travelling into the Heart of Darkness 120 years later, and the horror—oh the horror!—is still there." —Åke Edwardson, bestselling and award-winning author of the Erik Winter series 

 "A solid . . . yarn of intrigue and derring-do . . . . Complex, believable action, including a breakneck ride through the jungle on a hijacked train."
—Publishers Weekly

"In Kidnapped on Safari, Peter Rivaoffers stiff competitionin the thriller/adventure world with hero Pero Baltazar, nature documentary producer, sometimes CIA asset, loving husband, and fierce friend. In this novel, the third of a series on Baltazar's world-saving exploits, it's the fate of Tanzania that's at stake. But first he must rescue beloved friend Mbuno's nephew from unknown kidnappers and unravel one intrigue after another, peeling back layers of mystery involving drug traffickers, tribal rivalries, terrorists, Russian oligarchs, and the miasma of African politics, all while battling the perils of the bush. . . . Best of all, Riva delivers rat-a-tat action, rarely letting up, building to a nail-biter conclusion. Move over Jason Bourne. Baltazar is here." —Mary Glickman, bestselling author of Home in the Morning and National Jewish Book Award finalist for One More River

"This captivating story, involving Russian efforts to destabilize East Africa with the help of Boko Haram extremists, is in itself enough to chain you to your seat. Add to this Peter Riva's soulful rendering of the African spirit, and you have an outstanding reading experience that will linger for a long time." —Bob van Laerhoven, author of the international bestselling and award-winning Baudelaire's Revenge and twelve other novels

"A clever and entertaining novel in an exotic setting. . . . Few books set in Africa give such a detailed description of settings and language as this one. . . . With an interesting plot and clearly described (and motivated) characters, this book betrays a writer very well at home in his craft."—Guido Eekhaut, Hercule Poirot Award-winning author of Absinthe and Purgatory

"Kidnapped on Safari is a richly-detailed Pero Baltazar thriller set in Africa that quickly seduces the reader with authentic touches that could've been ripped from today's headlines. Riva layers in confident authority on every page—whether he's describing the flora ("…grass that would slice your hand"), fauna ("Lions, once fed, are always hungry") or complicated geopolitical nightmares (Russia destabilizing the region via Boko Haram), Riva summons an almost cinematic expertise that never calls attention to itself. Likewise, his facility with multiple languages enables him to have characters speak in their native tongue—but always with concise translation—so the reader not only sees the magnificent scenery (and, yes, the squalor) but hears the poetry of the land. This is a whip-smart page-turner nearly impossible to put down once you begin reading." —Robert Morgan Fisher, winner of the 2018 Chester B. Himes Fiction Prize and finalist for the 2019 John Steinbeck Award

"Crisp clear writing and a quick pace and an authoritative sense of the characters and of a compelling place." —Sharman Apt Russell, author of Knocking on Heaven's Door and John Burroughs Medal award winner

"Peter Riva's singular ability to both entertain and inform is captured in this literary tour-de-force; a page-turner in every sense of the term."—David Ariosto, author of This is Cuba: An American Journalist Under Castro's Shadow and executive producer of GZERO Media

"Peter Riva delivers again with a timely procedural thriller that will keep you up well past your bedtime. Set in East Africa, where the modern world coexists (not always peacefully) with ancient ways and traditions, this story seamlessly blends wonderful detail with relentless pacing in a nonstop adventure that you just can't put down." —Jeff Crook, author of The Sleeping and the Dead

"A romp through modern Kenya and beyond, featuring interesting characters and putting Africa on display with vivid scenes and a local's knowledge of place. The story is filled with twists and turns, spiced with the tribal dialects. Added to the mix, an intriguing plot involving the CIA. A rousing adventure that highlights the people of Kenya and a mystery revolving around one of the planet's most horrid crimes. Well written and enlightening, Kidnapped on Safari is highly recommended." —Ron Lealos, author of Pashtun and Don't Mean Nuthin'

"Peter Riva has skillfully crafted a rousing and topical adventure with the spirit of a blockbuster and the soul of a literary thriller. Riva lets us experience the wonders and dangers of deepest East Africa using all the senses. Pero Baltazar and his trusted guide Mbuno will again stop at nothing to do what's right, and the world could use more of them."—Steve Anderson, bestselling translator and author of The Preserve

"An amazing piece of writing—so exciting. An incredible page turner—and such a convincing and riveting plot that so resonates in today's political climate. . . . [Peter Riva has] an amazing mind to be able to hold so much in it as he creates his story. The plot here is so convoluted and complicated, and yet Riva keeps all the treads moving together. . . . I loved it." —Mona Houghton, author of Frottage & Even As We Speak

"There are some stunning depictions of the African landscape that will transport you from your subway car or local Starbucks to an African safari. The story is punchy and thrilling, with danger at every turn for the story's protagonists. The characters are well-described and genuine, engaging and enjoyable. You'll be turning the page both for the quick-paced plot and to see the fate of your favorite characters. Lose yourself in this thrilling read now!" —Bookstr, "Three to Read This Week" 

"Riva has crafted a story that will keep you on the edge of your seat. For those who like thrilling reads that will transport you to another place, this is the sort of book that you definitely need to check out. What unfolds is a story that will keep you guessing and rooting for our leads as they do their best to fight back against terrible forces." —The Nerdy Girl Express

"This is just one almighty adrenaline read with a new danger at every turn. . . . If you enjoy thrillers then this would be your perfect choice. Brilliant writing, fearless heroes and action, action, action!" —Books from Dusk til Dawn

"This tale is clever and carefully detailed. It involves some careful tracking, imaginative escapes, and dangerous terrain. It is Mission Impossible on the savannah." —English Plus Language Blog
 
Praise for Murder on Safari

"A gripping tale! Here is the East Africa I know so well after 40 years of filming there." —Bertram van Munster, Co-Creator & Producer, The Amazing Race on CBS TV

"A fast-paced thriller filled with action, and great suspense . . . loaded with twists and turns that will leave you guessing . . . you will not want to put this book down." —Vic's Media Room

Praise for The Berlin Package
 
"An explosive radioactive thriller written with intelligence. . . .The reluctant spy motif works grandly. . . . And extremely thoughtful and terrifying exposure of the dangers inherent in a nuclear world."—Ron Lealos, author of Pastun and Don't Mean Nuthin'
.
"...another great book by this author. If you love thrillers, I know you will love this book."—The World As I See It blog

"...the adventure is pretty much nonstop.... never a dull moment."—A Book Geek blog
 
 "...twists and turns left me guessing and every minute was crucial. This is a hardbook to put down. I am giving this book a 5/5." —Deal Sharing Aunt blog
.
  "The action is like shots of speed.  Fast, violent, and intense....A thrilling read right to the end. 4 Stars"—Laura's Ramblins & Reviews
.
. "Wow- this novel was just as stunning and fast paced as Murder on Safari...beyondexciting, full of surprises that you never quite see coming and an excitingplot line that will have you unable to put the novel down. Rating: 5/5"— Working Mommy Journal

"In this fast-paced sequel to Murder on Safari, Pero calls on Mbuno, his friend and East African safari guide, to anticipate the moves of his enemies as if they were animals--dangerous vermin--who have kidnapped both the film star and director. Mbuno's tracking skills may keep them from getting killed--provided Pero can rope in more help and keep the CIA at bay. Exhilarating and expertly crafted, The Berlin Package... is a gripping, page-turning thriller set in post-German reunification Europe."—Red Head With A Book

"...an agile pace and never becoming boring or repetitive as can be the case with subsequent novels in franchises....this reviewer would very much recommend this book...." —The Autistic Gamer
.
"...a fast paced read primedfor a lover of thrillers and Jason Bourne."—First Impressions Reviews

"...this book was so difficultto put down. This book had everything in it to make it a great thriller. I highly recommend this book to anyone, but especially to those who love a good thriller. He could be the next great thriller writer." - Books Reviews & Wallpapers Blog

"The action and suspense begins from the very first page.... a strong Four Stars rating."—Rockin' Book Reviews

"This is one fabulousthriller to dive into - escapism at its best.  Trust me, you won't be ableto put it down."—Olio by Marylyn
Skyhorse, 9781510749009, 288pp.
Publication Date: January 21, 2020
About the Author
Peter Riva has spent many months over thirty years traveling throughout Africa and Europe. Much of this time was spent with the legendary guides for East African hunters and adventurers. He created a TV series in 1995 called Wild Things for Paramount. Passing on the fables, true tales, and insider knowledge of these last reserves of true wildlife is his passion. Nonetheless, his job for over forty years has been working as a literary agent. In his spare time, Riva writes science fiction and African adventure books, including the previous two titles in the Mbuno and Pero Adventures series, Murder on Safari and The Berlin Package. He lives in Gila, New Mexico.