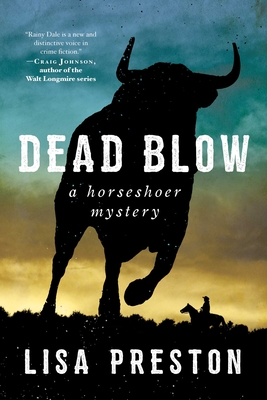 Dead Blow
A Horseshoer Mystery (Horseshoer Mystery Series)
Hardcover

* Individual store prices may vary.
Description
The Terrific Second Book in the New Horseshoer Mystery Series, Featuring the Incorrigible Female Horse Shoer Rainy Dale

A dead blow hammer leaves little to no mark on the surface it strikes. It's not a shoer's tool, but horseshoer Rainy Dale knows them and knows there are more questions than answers about how her new client became a widow. The old woman says there was hardly a bruise on her dead husband. Why was he driving his tractor so dangerously near the killer bull? How long did it take him to die after the machine rolled and pinned him? The whole town seems aware of the dead man's wandering eye. Did the widow know? It all happened just before Rainy came to town, about the time that her fiancé, Guy, volunteered with his buddy to help search for a young woman who went missing from Cowdry, Oregon. Rainy is supposed to be making wedding plans and friends, but she can't help being drawn into the town's old intrigues.

Once again, Rainy will have to dig deep and use all the tools in her box to both defend herself and the people she's just learning to love. 
 
Praise For Dead Blow: A Horseshoer Mystery (Horseshoer Mystery Series)…
Advance praise for Dead Blow:
"A tough yet vulnerable farrier tracks a killer, makes new friends, and commits to marriage. . . .A gritty tale with a complex mystery and an unusual heroine." —Kirkus Reviews

"Preston's enjoyable sequel to 2018's The Clincher. . . . Rainy, a strong, down-home, likable sleuth, has just the right amount of attitude to give her some gumption. . . . Preston delivers a steady ride right up to the satisfying ending. Hopefully, Rainy will be back soon."—Publishers Weekly

"A winning follow-up to the series opener, The Clincher (2018), and a must for horse lovers." —Booklist

"Rainy Dale is a lively, appealing one-of-a-kind. Dead Blow is great fun to read, partly because of the clever, quirky, twisty plot, but even more so because of the frequent peeks into Rainy's clever, quirky, twisty mind.  May the series long continue." —Aaron Elkins, Edgar Award–winning author of the Gideon Oliver mystery series

"Lisa Preston puts her own sharp edge on this fast-moving contemporary western thriller. Her heroine, young Rainy Dale, is a female horseshoer, as strong and passionate of mind as she is strong of back. When accidents in her central Oregon paradise don't seem so accidental, and evil holds the whip hand as the bodies start piling up, Rainy proves that cold steel and hot iron are for deadlier deeds than shoeing horses."—Bart Paul, author of See that My Grave is Kept Clean and others in the Tommy Smith High Country Noir series

Praise for The Clincher:
"Preston's background as a police officer, horse owner, and author of several nonfiction works about horses helps make the actions of her characters authentic and very believable. VERDICT Fans of light mystery with tough female protagonists and a little romance thrown in will want this book. For those who enjoy both mysteries and horses, it's a must."
—Library Journal (Patsy Gray)

"…this exuberantly quirky series opener…will leave readers breathless and eagerly awaiting Rainy's next adventure." —Publishers Weekly, starred review

"A rousing novel. The mystery leaves plenty of open questions for the tough but needy heroine while immersing the reader in all things equine." —Kirkus Book Reviews

"Fast-paced, absorbing and fun to boot,The Clincher grabs your attention from the first paragraph and never loosens its grip. Rainy Dale—horseshoer with sass—is one of the freshest and most original sleuths to come along in mystery fiction. May she live on and on!" —Margaret Coel, NYT bestselling author of Winter's Child

"Rainy Dale—an engaging character with a unique voice who can shoe horses like nobody's business!" —J.A. Jance, NYT best-selling author ofClawback

"Lisa Preston's The Clincher hits like a nailing hammer and won't let go—her horseshoeing sleuth, Rainy Dale, is a new and distinctive voice in crime fiction." —Craig Johnson, NYT bestselling author of the Longmire series

"The Clincher runs at full gallop from first page to last with sharp-eyed Rainy Dale leading the charge. Lisa Preston's writing is so vivid you'll think you're sitting in the saddle and you'll finish knowing you need to see Rainy Dale ride again." —Mark Stevens, Rocky Mt. Fiction Writers "Writer of the Year" and author of Lake of Fire

"The Clincher by Lisa Preston is the perfect contemporary western." —Reavis Wortham, author of the Sonny Hawke and Red River series

"A great plot and compelling cast of characters round out The Clincher. This one is a winner."  —James W. Ziskin, award winning author of the Ellie Stone mysteries 

"Be forewarned that the last forty pages will have you hanging onto your saddle horn and you won't be able to stop until the ride is over.  Personally, I can't wait to see what Rainy Dale does next."  —Leigh Hearon, author of the Carson Stables Mystery series

"A terrific launch of what's to be a series of...contemporary western thrillers...Craig Johnson, creator of Walt Longmire and so a master of this form, is one of several people who already like this book a lot...you'll be rattled and moved and deeply satisfied before you're done, too, and hungry for more of this smart, tough, and resourceful person." —?Shawangunki Journal

"The novel boasts a fast-paced plot, sympathetic characters who come alive and writing that is excellent..." —?Carol Crigger, Western Writers of America
Arcade Crimewise, 9781510749115, 264pp.
Publication Date: November 5, 2019
About the Author
Lisa Preston turned to writing after careers as a fire department paramedic and a city police officer. She is the author of the highly acclaimed, best-selling novels, Orchids and Stone and Measure of the Moon and the Horseshoer Mystery Series. She is also the author of several non-fiction books and articles on the care and training of dogs and horses. Away from her desk, she spends hours on backcountry trails as a runner and rider, sometimes combining her two outdoor pursuits via the obscure sport of Ride and Tie. She lives with her husband, their Malinois, and two Akhal Tekes on Washington State's vast Olympic Peninsula. lisapreston.com
or
Not Currently Available for Direct Purchase