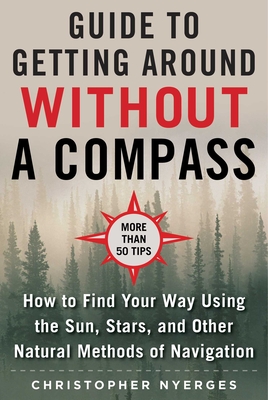 The Ultimate Guide to Navigating without a Compass
How to Find Your Way Using the Sun, Stars, and Other Natural Methods
Paperback

* Individual store prices may vary.
Description
Learn how to navigate without a compass, even when it seems impossible!
Whether we are walking or driving, whether in the woods, on the water, or in the city, it's vital that we know where we are and are able to find our way around. But with society's current dependence on modern tools and technology, many persons would have no idea how to navigate without a compass or GPS. In an emergency situation, that lack of knowledge could easily prove fatal.
In
The Ultimate Guide to Navigating without a Compass
, survival expert Christopher Nyerges provides readers with all the skills that they may need to navigate naturally. The book begins by describing the meaning of natural navigation, and then moves on to describe, in detail, the methods of natural navigation, including using the sun, the stars, the moon, and shadows. Additional topics include:
How to read a map
How to make a sun dial
How to make a star dial
How to use clouds to predict weather patterns
How to track celestial changes
How to gauge time through natural observation
And much more!
With helpful diagrams, illustrations, and sidebars, 
The Ultimate Guide to Navigating without a Compass
is the fundamental reference book for learning how to navigate by natural methods.  
Praise For The Ultimate Guide to Navigating without a Compass: How to Find Your Way Using the Sun, Stars, and Other Natural Methods…
"One thing I know...if the advice comes from Christopher Nyerges, I can count on it being accurate. If I had to be in the woods with anybody without a compass, I would prefer it be Christopher Nyerges." —Charlie Richie, editor and publisher, Backwoodsman magazine 

"Christopher Nyerges knows through hard-won experience what really works when it comes to survival and preparedness. He is a true authority on the subject and someone I admire greatly." —Jim Cobb, editor-in-chief, Prepper Survival Guide magazine
 
"Christopher Nyerges shares his vast knowledge of natural navigation in a way that is more like a series of engaging narratives than a how-to manual. Combining his homespun tales and conversational tone with science and real-life examples keeps readers interested in this essential and sometimes complicated skill while they learn how to find their way in the wild. Nyerges' The Ultimate Guide to Navigating without a Compass is like listening to a trusted friend who graciously shares his secrets to the practical workings of the real world while exposing the shortcomings of some familiar myths that might misdirect us if we followed them too literally. I wholeheartedly recommend this book to anyone who plans to explore their world." —Mike McCourt, editor, American Survival Guide magazine
Skyhorse, 9781510749900, 168pp.
Publication Date: April 14, 2020
About the Author
Christopher Nyerges has been teaching ethno-botany and survival skills since 1974. He has worked with numerous organizations over the years and co-founded the School of Self-Reliance. He has authored numerous books on survival and self-reliance. He resides in Southern California. He can be contacted at www.SchoolOfSelfReliance.com.