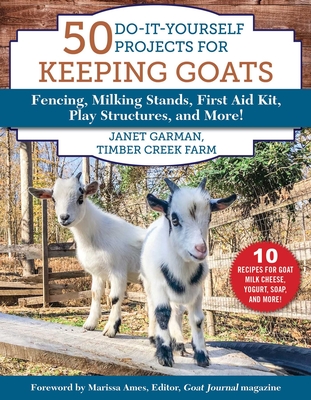 50 Do-It-Yourself Projects for Keeping Goats
Fencing, Milking Stands, First Aid Kit, Play Structures, and More!
Paperback

* Individual store prices may vary.
Other Editions of This Title:
Paperback (7/17/2018)
Description
Build Fences, Make Goat Milk Soap, Create Goat Play Structures, and Much More!
Get ready to jump into the world of goats, one DIY project at a time. Owning and raising goats doesn't have to be an expensive venture. With imagination, simple tools, and salvaged or bargain materials, you can make everything your goats need for their health, safety, and entertainment.  
Packed with useful information for goat owners, you'll learn about breeds, housing, nutrition, and more. Plus find instructions to learn how to:
Build fences
Construct a hay storage area
Naturally control harmful weeds in the pasture
Make natural worm prevention supplements
Build a dehorning box
Create goat play structures
Make yogurt, cheese, lotion, soap, and more
Bake goat treats
And more!
From horns to tail, you're ready to tackle the needs of your goat herd with 50 DIY Projects you can create on a limited budget. Let's get started!
Praise For 50 Do-It-Yourself Projects for Keeping Goats: Fencing, Milking Stands, First Aid Kit, Play Structures, and More!…
"As a homesteader who raises goats it is important to know that keeping them entertained prevents them from becoming disruptive. Janet not only shares great tips on building play structures to prevent boredom, she provides DIY projects and tips necessary for raising goats. Each project Janet shares is achievable for both novice and seasoned goat keepers." —Ann Accetta-Scott, founder of A Farm Girl in the Making, author of The Farm Girl's Guide to Preserving the Harvest

"With Janet Garman's book, I'm able to find economical ways to care for my goats and enjoy their milk. There are so many great ideas in her book." —Jessica  Knowles, 104Homestead.com

"Janet Garman is an amazing livestock owner who goes above and beyond to provide for her animals. She utilizes many DIY projects on her farm to not only enhance the care and wellbeing of her animals but also to save money. Why buy what you can build? Janet can show you how!" —Mindie Dittemore, homesteadinmamma.com and author of Keeping Chickens: A Kid's Guide to Everything You Need to Know About Breeds, Coops, Behavior, Eggs and More

"This is the book every goat keeper needs! From feeders to milk stands, it will help you build everything you need for keeping goats. I know I'll be recommending this book to everyone who gets goats from us from now on." —Carrissa Larson, goat keeper at Featherandscalefarm.com

"If DIY is in your DNA, this is the book for you! It marries clear instructions with helpful photos, giving goat owners the confidence they need to tackle dozens of fun projects." —Steph Merkle, content director, Goat Journal and backyardgoats.iamcountryside.com

"Raising goats is like managing a bunch of fuzzy toddlers that can't help but get themselves into trouble. Entertaining yes, but totally naughty! 50 Do-it-Yourself Projects for Keeping Goats is loaded with fun, practical, and helpful projects with easy to follow instructions and photos! I wish I had this book when we started our Arapawa herd several years ago!" —Michelle Nardozzi, goat keeper at Newbury Farms, Newburyfarms.com
Skyhorse, 9781510750128, 208pp.
Publication Date: March 10, 2020
About the Author
Janet Garman is a farmer and freelance writer in Maryland. A career in writing began after the nest emptied. All the years of studying farm management and raising many species of livestock along with a full house of children led her to begin sharing her experience in a farm theme blog and website, timbercreekfarmer.com. Janet's background includes a degree in large animal farm management and animal science from University of Maryland and decades of farm and homesteading experience. Her other books are 50 DIY Projects for Your Chickens,Chickens from Scratch, Raising Your Own Chickens from Hatch to Egg Laying and Beyond, Habitat Housing for Rabbits, and Margarita and the Beautiful Gifts. She lives in Crownsville, Maryland.