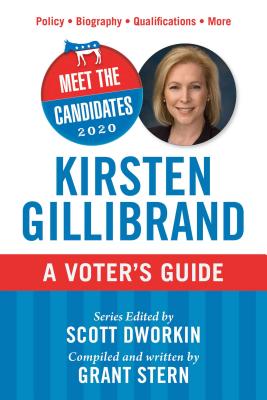 Meet the Candidates 2020 (Paperback)
Kirsten Gillibrand: A Voter's Guide
Skyhorse, 9781510750296, 120pp.
Publication Date: September 24, 2019
* Individual store prices may vary.
Description
Kirsten Gillibrand, the senator from upstate New York and vocal supporter of #MeToo, has come a long way since entering Congress as a centrist Democrat. 

Kirsten Gillibrand has had a long career in Congress since being elected to the House as a Democrat from traditionally Republican upstate New York in 2006, and then taking over Hillary Clinton's Senate seat in 2008. But she's moved sharply left since joining the House as a centrist and "Blue Dog" fiscal conservative. How will that fare against other competitors for the Democratic primary, and in a possible general election against Donald Trump?

Meet the Candidates 2020: Kirsten Gillibrand: A Voter's Guide examines how Gillibrand came to prominence for her vocal support of #MeToo and zero tolerance approach to sexual misconduct of Al Franken, Bill Clinton, and others. The guide will also examine Gillibrand on the issues: she has been a proponent of Medicare for all since her 2006 election, but has moved significantly to the left on gun control, LGBTQ rights, and immigration since her House career began. And now, her campaign is facing its own #MeToo controversy. Find everything you need to know to decide if Gillibrand has your vote here.

The Meet the Candidates 2020 series is the informed voter's guide to making a decision in the 2020 Democratic primary and presidential election. Each book gives an unbiased, political insider's analysis of each contender, featuring: candidate interviews; an introduction by campaign adviser, Democratic Coalition co-founder, and Dworkin Report host Scott Dworkin; and compilation and writing by Occupy Democrats Editor at Large Grant Stern. In two hours of reading, you'll understand their defining characteristics, credentials, campaign issues, challenges, presidential chances, and everything else you need to know to decide who should challenge Donald Trump. Whether it's for Elizabeth Warren, Joe Biden, Bernie Sanders, Kamala Harris, Julian Castro, Cory Booker, or another, Meet the Candidates is what you need to make an informed vote for president in 2020.
About the Author
Scott Dworkin
 is the co-founder and lead investigator of the Democratic Coalition in addition to his duties hosting the 
Dworkin Report
podcast. His 2016
Dworkin Report
 helped uncover the Trump-Russia affair well before Special Counsel Mueller's probe began. He served as a deputy director for both the 2009 Presidential Inaugural Committee and 2012 Democratic National Convention and was a senior advisor on both the Draft Biden and Run Warren Run campaigns. He has worked on campaigns and with organizations in all 50 states and was named to the
Campaigns & Elections
magazine's 2011 class of Rising Stars. Find him at DworkinReport.com, scottdworkin.org, and on Twitter @funder.
Grant Stern
is a radio broadcaster, producer of the
Dworkin Report
podcast, professional mortgage broker, and the Editor at Large of
WashingtonPress.com
, an Occupy Democrats publication where he is one of the website's original group of writers and sole investigative journalist. He also writes original content at TheSternFacts.com.