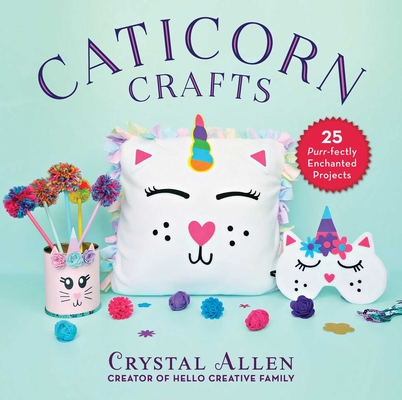 Caticorn Crafts
25 Purr-fectly Enchanted Projects
Hardcover

* Individual store prices may vary.
Description
Get ready for a whole lot of fun with "purr-fectly meowgical" unicorn kitty crafts!

What's better than a sweet fluffy kitten? A sweet fluffy kitten with a unicorn horn! From the creator of the website Hello Creative Family comes the ultimate book of caticorn crafts. Projects include:
 
   ·Smitten Kitten Caticorn Ombre Picture Frames
   ·Cotton Candy Caticorn Bath Bombs
   ·Better Than A Ball of Yarn Rainbow Pom-Pom Pencil Toppers
   ·Sleepy Kitty No-Sew Sleep Masks
   ·Meow‑gical Unicorn Kitty Flair Pins
   ·And much more!
 
With material lists, templates, step‑by‑step photos, and easy‑to‑follow instructions (along with a whole bunch of glitter, rainbows, and cat puns), this book is filled with magical projects that crafters of all ages and experience levels will enjoy! It's guaranteed to provide hours of enchanted fun.
 
Keep your caticorn crafts for yourself or give them as handmade gifts to brighten someone's day! What are you waiting for? Let's get crafting!
 
Praise For Caticorn Crafts: 25 Purr-fectly Enchanted Projects…
"This is making all the crafty dreams come true for caticorn lovers!  Filled to the brim with idea after idea of fun and easy projects, complete with awesome step-by-step instructions to walk you through, it's a must-have for crafty caticorn fans!" —Mandy Beyeler, Sugar Bee Crafts

"If you like rainbows, unicorns, kitties, and sparkles, then you'll absolutely LOVE this book! Caticorn Crafts is filled with lots of fun creative projects that are simple to re-create thanks to plenty of step-by-step photos and clear easy-to-follow directions! Tons of fun for all ages!"  —Heidi Kundin, Happiness is Homemade

"This book is truly MEOWGICAL! My 11-year-old and I are both in love with all the adorable, colorful projects! There are so many great ideas that you can truly add your own creative twist to make them unique! Bonus for great step by step instructions to walk you through the crafts.   My daughter already tagged all the pages to make gifts for her friend's birthdays (and I love that it's going to keep her entertained for hours--and even days!) I can't wait to see all her cute creations! And I'm off to make myself my own caticorn eye mask!"  —Kimberly West, A Girl and a Glue Gun

"Caticorn Crafts is a fun, magical book chock full of creativity and sparkle! Kids and parents alike will have a blast creating these adorable, easy-to-make projects, many of which are perfect for gifting. Crystal Allen has been delighting her audience for years with amazing crafting ideas on her blog, Hello Creative Family, and now she shares her love of unicorn cats in this memorable first printed book. I cannot wait to see what creativity she shares with us next!" —Lisa Pedersen, editor of MomResource.ca

"Allen, creative director of the crafting website Hello Creative Family, serves up 'meowgical' DIY projects in her charming (and pun-filled) debut. In the introduction, Allen explains that her website's purpose is to inspire parents to get creative with simple crafts and recipes, and traces the book's recurring motif of 'caticorns' back to her childhood unicorn fixation ('The 10-year-old girl in me is freaking out that I grew up to write a craft book about caticorns... with sparkles'). The crafts include a rainbow letterboard sign crafted from Popsicle sticks, 'purr-ty' painted rocks embellished with fanciful 'caticorns' and rainbows, a Shrinky Dink charm bracelet, candy-covered popcorn with sprinkles, an upcycled soda bottle transformed into a cute planter, fragrant and sparkly bath bombs, and the Caticorn Paper Lantern. Parents of young children will appreciate Allen's inventive projects, empowering tone, and simple instructions, as well as the book's true-to-size design templates and full-page color photos. Her sweet, simple guide offers rainbows, glitter, and cheer for all who read it." —Publisher's Weekly

"Allen made a name for herself as the force behind Hello Creative Family, a website that specializes in quick and easy crafts and recipes designed to ignite creativity for all ages. Caticorn Crafts collects many of the crafts that feature many iterations of the "meow-gical" cat–unicorn hybrid. Each craft is suitable for a beginner, and most include "Pro Crafter Tips," optional additional steps for more experienced or ambitious creators. She makes the projects easy by providing templates for flowers and caticorn faces, or by using materials with built-in flair, such as sparkly paper. This is especially handy for folks looking for trendy projects like flair pins (which use Shrinky Dinks!) or bath bombs. The fabric projects are all nosew—an impressive way to make a pillow, a sleep mask, or a caticorn costume. There is plenty of inspiration here for those planning a craft night or a themed party, and all of the projects have a style adjacent to the Japanese kawaii aesthetic. Patrons will find the positivity and cuteness of the caticorn difficult to resist." —Susan Maguire, Booklist
 
Skyhorse, 9781510751002, 176pp.
Publication Date: November 19, 2019
About the Author
Crystal Allen is the owner and creative director of Hello Creative Family, a website for families looking to ignite their creativity with simple, playful, and fun crafts, DIYs, and recipes. Raised by two creative parents, Crystal is a firm believer that creative parents raise creative kids. With an emphasis on projects that take sixty minutes or less to make, Hello Creative Family's goal is to inspire families everywhere to carve out a bit of time to get creative and create a handmade, homemade, heart-made home. Crystal resides in British Columbia, Canada.