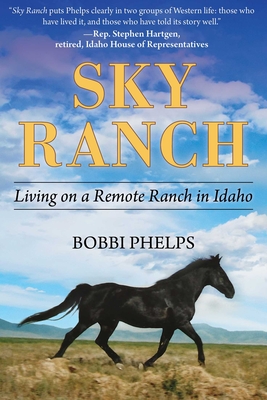 Sky Ranch
Living on a Remote Ranch in Idaho
Hardcover

* Individual store prices may vary.
Description
**First Place Winner in the 2021 Feathered Quill Book Awards for Memoir/Biography**

A city girl is uprooted and moved to the farm, where she must overcome her fears and learn to live life in a rougher way.

Once Bobbi Phelps married an Idaho rancher, she discovered what it was like to live in rural America. The contrast between her suburban background and her farming life created challenging yet rewarding differences.

Sky Ranch tells of Bobbi Phelps's Idaho ranch experiences between 1980 and 1996, the adventures in a past time before camera phones, GPS technology, and social media. Throughout this memoir, she shares frightening tales of:
-    Dangerous white-outs during Rocky Mountain blizzards.
-    A terrifying flooded road crossing in pitch blackness.
-    A near drowning while fishing Henry's Lake.
-    Losing her young son among huge harvesting machines.
Sky Ranch is a memoir about a naïve suburban woman who struggled to navigate an industrial farm and its commercial cattle enterprise. Her life on the ranch meant grocery shopping once every two weeks, driving through harsh winter storms and swollen streams, and rescuing her horse in a full-blown blizzard. Living in the Rocky Mountains allowed her to fish, hunt, and camp on a regular basis. She also discovered different aspects of the Mormon religion, coyotes hunting her dog, industrial farming, and environmental conservation.  

Sky Ranch will appeal to readers interested in Western culture, cattle and row-crop farmers, hunters, anglers, and those who only dream of living on a ranch. It takes the reader on an exciting ride of terror, drama, and humor, giving us a look at what goes on behind the scenes at a rural ranch, many miles from civilization.
Praise For Sky Ranch: Living on a Remote Ranch in Idaho…
"Sky Ranch is a riveting memoir about a young suburban woman who trades in her city life for an Idaho ranch .... This is an emotional, but ultimately uplifting story, about a suburban woman adapting to life on a cattle farm. It is an intriguing story filled with humor, drama, and even moments of terror. If you enjoy stimulating memoirs about a life quite different from your own then I heartily recommend Sky Ranch."
— Literary Titan

"Most of us will never face the rich variety of experiences Bobbi Phelps has encountered during her lifetime. We may be envious of some of them. We may feel fortunate to have avoided others. Thanks to this author's deft storytelling skills, vivid pictures of them all are accessible from the safety and comfort of the nearest armchair."
 
—Tilmer Wright, Jr. Award-winning author of The Bit Dance
 
"Sky Ranch transports the reader into the world of rural Idaho, a world that is 180 degrees away from her previous life. One sees, hears, smells, and feels all the attributes of the high prairie. Despite the hardships experienced, Ms. Phelps retains her optimism and determination to live life to the fullest."

—Susan Kite, award-winning author of the Mendel Experiment trilogy and Realms of the Cat
 
"When I met Bobbi Phelps, back in the 1980s, she seemed to have it all: world traveler, an interesting business, a cowboy husband, a big spread in Idaho, and roots in Connecticut. As a self-described "wide-eyed witness" to ranch life in the northern Rockies, her memoir fills in the blanks—the beauty of the vast landscape, the harsh winters offset by neighborly warmth, and the pleasure (and sometimes pain) of loving people and animals and the land. It turns out Bobbi really did have it all."
 
—Silvio Calabi, former editor-in-chief of Shooting Sportsman and Fly Rod & Reel magazines
 
"The Eastern-born author is by turns naïve and competent in her efforts to adapt to the rugged life as a bride of an Idaho rancher. Her accounts spring off the pages with colorful detail and drama."
 
—Cheryl Peyton, author of the Alex Trotter mysteries and president of the Authors Guild of Tennessee
 
"A revealing memoir of Bobbi's eastern roots meeting the beauty and love of a western landscape and the hard life on the Idaho ranch. Her attention to detail and emotion brings the reader into the story."
 
—Keith Groty, past president, Fly Fishers International
 
"Sky Ranch is an honest recollection of Bobbi's emersion into rural Idaho, sharing many tender and humorous stories of life, in what most people would see as the "middle of nowhere."
 
—Lou Lunte, deputy director, The Nature Conservancy, Idaho Chapter
 
"Landing in rural Idaho, Bobbi entered into community life and joined a group that was attempting to consolidate three tiny school districts.  Her efforts resulted in the opposition stuffing a large bull snake into her mailbox. The deliverer of the mail was more terrorized than Bobbi."
 
—Laird Noh, Idaho Senate Legislator (ret.) and Magic Valley sheep rancher
 
"When worlds collide: A city girl meets and learns to love ranch life in rural Idaho. The poignant, and often humorous, account of how an international flight attendant falls for the cowboy and gets a twenty-year education in the ways of cows, potatoes, grain, and one giant pig."

—Dick Greenwood, Idaho lawyer and eyewitness to some of the events
Skyhorse, 9781510751071, 240pp.
Publication Date: June 16, 2020
About the Author
Bobbi Phelps is the author of five books, including Behind the Smile During the Glamour Years of Aviation. She was the president of the Authors Guild of Tennessee and is a columnist for The Connection. She resides in Loudon, Tennessee.