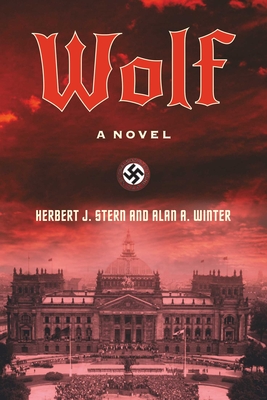 Wolf (Hardcover)
A Novel
Skyhorse, 9781510751088, 576pp.
Publication Date: February 11, 2020
* Individual store prices may vary.
Description
In the Great Tradition of Herman Wouk, Author of Winds of War and War and Remembrance, Wolf is a Thoroughly Researched and Illustrated Historical Novel about a Man who is Not Yet a Monster . . . but Will Soon Become the Ultimate One: Adolf Hitler.

Perhaps no man on Earth is more controversial, more hated, or more studied than Adolf Hitler. His exploits and every move are well-documented, from the time he first became chancellor and then dictator of Germany to starting World War II to the systematic killing of millions of Jews. But how did he achieve power, and what was the makeup of the mind of a man who would deliberately inflict unimaginable horrors on millions of people?

Meet Friedrich Richard, an amnesiac soldier who, in 1918, encounters Hitler in the mental ward at Pasewalk Hospital. Hitler, then a corporal, diagnosed as a psychopath and helpless, suffering from hysterical blindness, introduces himself as Wolf to Friedrich and becomes dependent upon Friedrich for assistance, forming an unbreakable bond between the two men.

Follow Friedich—our protagonist—who interacts with real people, places, and events, through the fifteen-year friendship that witnesses Hitler turn from a quiet painter into a megalomaniacal dictator. Using brand-new historical research to construct a realistic portrait of the evolving Hitler, Wolf will satisfy, by turns, history buffs and fiction fans alike. And as this complex story is masterfully presented, it answers the question of how a nondescript man became the world's greatest monster.
About the Author
Herbert J. Stern, formerly US attorney for the District of New Jersey, who prosecuted the mayors of Newark, Jersey City and Atlantic City, and served as judge of the US District Court for the District of New Jersey, is a trial lawyer. He also served as judge of the United States Court for Berlin. There he presided over a hijacking trial in the occupied American Sector of West Berlin. His book about the case, Judgment in Berlin, won the 1974 Freedom Foundation Award and became a film starring Martin Sheen and Sean Penn. He also wrote Diary of a DA: The True Story of the Prosecutor Who Took on the Mob, Fought Corruption, and Won, as well as the multi-volume legal work Trying Cases to Win.

Alan A. Winter is the author of four novels, including Island Bluffs, Snowflakes in the Sahara, Someone Else's Son, and Savior's Day, which Kirkus selected as a Best Book of 2013. He studied creative writing at Columbia University's Graduate School and has advanced degrees from both New York University and Columbia. He and his wife Lori reside in New Jersey.