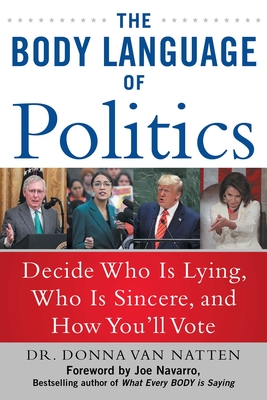 The Body Language of Politics
Decide Who is Lying, Who is Sincere, and How You'll Vote
Paperback

* Individual store prices may vary.
Description
Learn how to spot the lies and deceptions of our politicians in action.

You can't turn on the television, check your phone, or scroll through social media without being besieged with political headlines and the "Who's Who" of today's news. With so much spoon-fed to us by the media, fake news, and from politicians themselves, it's time to  take the reins and control what you see, feel, and know so you can make informed political choices in our hot, political environment.

In The Body Language of Politics, body language expert Dr. Donna Van Natten provides you with the tools and resources that you need to analyze movements of today's most notable politicians. She looks at some of the looming figures in our political landscape—Donald Trump, Hillary Clinton, Nancy Pelosi, Mitch McConnell, Chuck Schumer, and Alexandria Ocasio-Cortez, among others—and analyzes their physical behaviors, breaking down the lies and deceptions embedded in their everyday movements. Further, Dr. Van Natten challenges you to understand your own emotional biases towards certain politicians, and examine how that may skew your read of their body language. Finally, she confronts the gendered stereotypes that we often apply to our nation's leaders, examining how those labels play into our opinions of politicians.

Clear, concise, and filled with expert knowledge, The Body Language of Politics will help you make an informed decision at the voting booth.
 
Praise For The Body Language of Politics: Decide Who is Lying, Who is Sincere, and How You'll Vote…
"An excellent analysis of an important issue. Body language is important to understand because it does not lie, and politicians sometimes do! Fascinating exploration of the unfair comparisons between men and women political figures too. A must-read for candidates and active citizens."—Gerald D. McCormick II, former House Majority Leader, Tennessee General Assembly
 
"This book is direct, provocative and timely given the political events thrown at us now hourly. It's a must read as 2020 approaches with fury. Body language tells us a lot especially when our choices are the 'evil of two lessers'."—Zach Wamp, member of US Congress 1995–2011

"Year after year, Gallup conducts a public poll that consistently highlights members of Congress as the least honest professionals in our society. Wouldn't it be great to have an instruction manual that helps us separate reality from fabrication in the communication habits of our political leaders? Fortunately, we now have such a resource. Dr. Van Natten's latest book is a must-have, particularly in our current political climate."—Curt Lox, PhD, Dean of Brooks College of Health, University of North Florida
 
"In the era of fake news and lying politicians, who can you trust? It may just come down to what they don't say—their body language. In The Body Language of Politics, Dr. Donna Van Natten challenges our own emotional bias toward certain politicians by exposing the deceptions found in their non-verbal communication. This is a true eye-opener and a game changer to inform our voting decisions."—Marcel Schwantes, podcaster, founder of Leadership from the Core
 
"My highest praise for this incredibly insightful and inspirational book.  Dr. Donna Van Natten's insight and guidance on the importance and awareness of understanding our individual levels of bias, prejudice, emotional intelligence, is an absolute "winner" and a must read for leaders and managers at all levels.  The Body Language of Politics is great way to "check" our own believes and behaviors and a gift for those seeking excellence and truth in our politicians at all levels!  Thank you for a great and impactful read!"—Maj. Robert Darling, President & CEO of Quantitative Analytics, LLC, author of 24 Hours Inside the President's Bunker: 9-11-01: The White House
 
"This is a fascinating insight into the subliminal messages we send though our everyday actions. Dr. Van Natten carefully guides the reader thought the verbal, non-verbal and sociological aspects of human interaction and how impactful and consequential they can be. Any leader, whether political or organizational, will benefit from reading this book."—Jim M. Coppinger, Hamilton County Mayor, Tennessee
Skyhorse, 9781510751200, 216pp.
Publication Date: January 7, 2020
About the Author
Dr. Donna Van Natten's research in the science driving non-verbal communication, facial expressions, gestures, and behavioral intentions has changed the way companies develop their people. Coupled with her dynamic personality and animated delivery, the Body Language Dr.® is a national spokesperson and expert in interpreting numerous components of communication.

Dr. Donna synthesizes her education, knowledge, and expertise into high-octane, interactive, educational, and fun body language and communication programs. Her non-verbal communication sessions provide new insights and tools about human behaviors and cross a myriad of audiences—including corporate teams, community-based organizations, and national keynote engagements.

She holds multiple degrees, culminating with a doctorate in educational leadership. Dr. Donna was awarded a Japan Fulbright Scholarship, is published in the Journal of Leadership Education, and wrote Image Scrimmage about the power of body language and leadership. She's been featured multiple times in Inc Magazine for her expertise in nonverbal communication and leadership.

She is the founder, president, and CEO of Accountability Measures and a savvy business owner who understands the spoken and unspoken word driving all communication.

Dr. Donna's serves as the chair for the Chattanooga Chamber of Commerce's Small Business Awards, the YMCA Board of Directors, and is on the Better Business Bureau board of directors. She lives and works in Chattanooga, TN, and can be found at www.bodylanguagedr.com.
 

Joe Navarro served as an FBI agent specializing in counter-intelligence and behavioral assessment for twenty-five years. Since retiring, he has authored thirteen books in twenty-nine languages dealing with human behavior and body language. He has written for Psychology Today, the Washington Post, and the Wall Street Journal, and for nearly a decade he lectured annually at the Harvard Business School. He is the author of What Every BODY is Saying, the number-one-selling body-language book in the world.
 
or
Not Currently Available for Direct Purchase