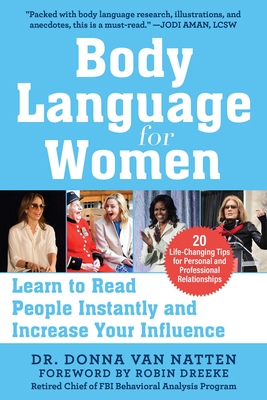 Body Language for Women
Learn to Read People Instantly and Increase Your Influence
Paperback

* Individual store prices may vary.
Description
Bodies talk. Do you know how to listen? A quick glance, a twist of the hips, or a biting of the lower lip can speak volumes about what someone is thinking or feeling.

The powerful messages our bodies send can make all the difference when interviewing for a new job, going on a date, or detecting when a person is lying to you.  

In Body Language for Women, body language expert Dr. Donna Van Natten provides you with the tools and resources that you need to analyze the movements of those around you. She helps you detect what you are subtly and unconsciously saying with your own body and the implications these communications are having on your life. Further, Dr. Van Natten challenges you to understand the nonverbal cues of other women and men in general, your family members, and your romantic interests. Finally, she fine-tunes your gut instinct to confirm the truth or deception of what others are saying.

Clear, concise, and filled with expert knowledge, Body Language for Women will help you win in the workplace, successfully navigate social situations, and gain a greater understanding of what's really going on when we communicate with others.
 
Skyhorse, 9781510751217, 216pp.
Publication Date: January 19, 2021
About the Author
Dr. Donna Van Natten is the founder, president, and CEO of Accountability Measures and is a savvy business owner who understands the spoken and unspoken words driving all communication. She holds multiple degrees, culminating with a doctorate in Educational Leadership. Her work has been published on Inc.com and in the Journal of Leader Education. Dr. Van Natten lives and works in Chattanooga, Tennessee, and can be found at www.bodylanguagedr.com.