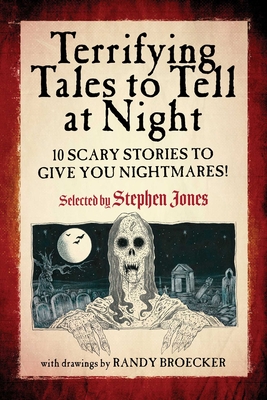 Terrifying Tales to Tell at Night
10 Scary Stories to Give You Nightmares!
Paperback

* Individual store prices may vary.
Description
For the fans of Scary Stories to Tell in the Dark, here comes a new illustrated children's horror anthology with works by Neil Gaiman, Sephen King, and more. You have been warned!
The stories in this book are scary.
Real
scary! After reading these horrible tales and staring at the creepy drawings, don't complain that you couldn't sleep or they started haunting your dreams—we warned you!
If you love ghosts and monsters and enjoy getting goosebumps, this spine-chilling book is for you! Inside, you will find:
A creature that lives in the dark and feeds on those who do not pay attention
A monster created by the descendant of Doctor Frankenstein
A haunted house at Halloween
A big cat that snacks on schoolteachers
A boy who is afraid of what will come down the chimney at Christmas
A school with very strange pupils
A decidedly odd zombie costume
A puzzle set by a ghost
And more!
Compiled by award-winning horror editor Stephen Jones and featuring the authors Ramsey Campbell, R. Chetwynd-Hayes, Neil Gaiman, Charles L. Grant, Stephen King, Lisa Morton, Lynda E. Rucker, Robert Shearman, Michael Marshall Smith, and Manly Wade Wellman, this book is filled with nightmarish illustrations by acclaimed artist Randy Broecker.
So, whether you're reading this book alone or with friends, get ready to be afraid.
Very
afraid!
Praise For Terrifying Tales to Tell at Night: 10 Scary Stories to Give You Nightmares!…
"One of the great things about this book—Stephen Jones' one-hundred-and-fifty-first—is the restraint shown. . . . Its subtlety and lack of 'over-the-top-ness' is its real power. . . . The stories contained aren't even childish either—the young readers are never condescended. Collectively they deal with some very grown-up issues indeed, such as the difficulties of family dynamics, death, loss, domestic violence, and how our childhood fears help shape who we become as adults . . . For that reason alone I found it a much more mature read than so much of the 'adult' fiction out there today. . . . A profound experience . . . spooky, creepy, multi-layered, and intellectual. And that is what I believe most children really want when all is said and done—to be respected and taken seriously. Terrifying Tales to Tell at Night does that with aplomb, as well as being thoroughly enjoyable into the bargain. . . . The wonderfully macabre illustrations by Randy Broecker only serve to make this book all the more enjoyable, bringing me back to that great place in my own childhood." —Phantasmagoria Magazine

"What's the first book that scared you? For me and readers of my generation, it was probably Scary Stories to Tell in the Dark and its sequels. Well, this generation now has its own seminal introduction to horror, and it hits many of the same marvelously creepy notes as its spiritual ancestor. Terrifying Tales to Tell at Night is undoubtedly designed in the Scary Stories vein, complete with similar pen-and-ink drawings, but with updated tales, all featuring children or teens as the protagonists. It's a crash course in classic horror tropes— urban legends, Frankenstein's monsters, danger lurking in the dark, hauntings, encounters with the dead— but still offers a few fresh surprises The stories in this collection range from the absurd (a tiger in the bathroom) to the supremely unsettling (a young girl's gift of a zombie costume foreboding a much darker outcome than a spoiled Christmas), and it kicks off with one of my favorite creepy Neil Gaiman stories. And he's not the only major name involved. This collection is packed with heavy hitters like Stephen King, Robert Shearman, and Michael Marshall Smith. Top to bottom, this is terrific YA horror, guaranteed to make a new generation of young fans…if they're brave enough to keep turning the pages." —Manhattan Book Review

"There is no doubt thatStephen Jones is one of the very best anthologists working in the horror and fantasy fields now or in the past."
—John Gilbert, Phantasmagoria Magazine​

"[Stephen Jones is] one of the genre's most enthusiastic cheerleaders." 
—Publishers Weekly

"[Jones is] horror's last maverick." 
—Christopher Fowler

"Stephen Jones . . . has a better sense of the genre than almost anyone in this country." 
—Lisa Tuttle, The Times Books

"A new anthology from Stephen Jones is always an event." 
—Dennis Etchison

"WOW! I remember when books like this one were almost commonplace. Tons of terrific offerings, wonderful black-and-white interior work, solid bindings, sometimes even foil stampings, quality throughout, just the coolest. Great to see this coming out, even more so with Randy Broecker's illustrations!!"
—World Fantasy Award-winning artist Thomas Canty

"The best horror anthologist in the business is, of course, Stephen Jones." 
—Roz Kavaney, Time Out

"Stephen Jones [is] a member of that tiny band of anthologists whose work is so reliably good that you automatically reach out and grab hold of any new volume spotted if you are wise." 
—Gahan Wilson, Realms of Fantasy
Sky Pony, 9781510751248, 240pp.
Publication Date: July 9, 2019
About the Author
Stephen Jones is one of Britain's most acclaimed horror and dark fantasy writers and editors. He is a Hugo Award nominee and the winner of four World Fantasy Awards, three International Horror Guild Awards, five Bram Stoker Awards, twenty-one British Fantasy Awards and a Lifetime Achievement Award from the Horror Writers Association. He has more than 160 books to his credit, including The Lovecraft Squad and Zombie Apocalypse! series, and twenty-eight volumes of Best New Horror anthologies. Visit his web site at www.stephenjoneseditor.com or follow him on Facebook at stephenjones-editor. He lives in London, England.