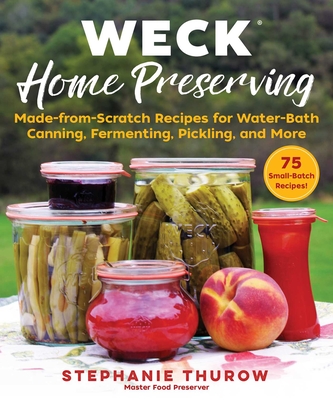 WECK Home Preserving
Made-from-Scratch Recipes for Water-Bath Canning, Fermenting, Pickling, and More
Hardcover

* Individual store prices may vary.
Description
Preserve the harvest with WECK jars and enjoy all your favorite jams, spreads, dressings, sauerkrauts, and more for the whole year!
Food preservationist Stephanie Thurow has once again teamed up with the canning jar experts at WECK to show readers how to preserve the harvest with their beautifully designed, reusable glass jars. In
WECK
®
Home Preserving
, Stephanie has created a step-by-step guide to preserving even more with WECK jars and has developed seventy-five delicious, small-batch recipes for water-bath canning, fermenting, and pickling with them. Some recipes don't even require any processing at all!
Recipes in this helpful guide include:
Flavored salts
Coffee liqueur
Peppercorn ranch dressing
Crunchy garlic-dill pickles
Elderberry syrup
Fall-spiced peach jam
Pizza sauce
Pickled eggs
And so much more!
With this go-to resource, you will become a confident food preservationist, understand how to safely and successfully preserve in the comfort of your own home, and learn the skills of kitchen crafts that can be passed down for generations.
Praise For WECK Home Preserving: Made-from-Scratch Recipes for Water-Bath Canning, Fermenting, Pickling, and More…
"This book is chock full of easy-to-follow recipes that keep homegrown fruits and vegetables on the table well into winter. I can't wait to try the sauerkraut!" ―Rodney Wilson, senior editor at Hobby Farms

"Each of Stephanie's recipes presents an opportunity to create our own farm-fresh food security. Thanks to this beautiful book, we can all can and ferment the harvest, season-to-season, reveling in its peak nutrition." ―Patti Long, founder of FarmMade 

"As a WECK canning jar user myself, I've long enjoyed the beauty they bring to my pantry shelves. But these jars are more than just attractive; they and Stephanie Thurow's recipes can secure your food independence." ―Rebecca Martin, group editor at GRIT and Mother Earth News

"An informative preserving book on how to utilize the beautiful and practical WECK jars! ―Ann Accetta-Scott, author of The Farm Girl's Guide to Preserving the Harvest, blogger at AFarmGirlInTheMaking.com
Skyhorse, 9781510751279, 176pp.
Publication Date: August 18, 2020
About the Author
The J. WECK Company was founded in Oflingen Germany at the beginning of the twentieth century when they first developed and introduced the home-canning method for glass jars. Since then, WECK has made this method popular not only in Germany and Europe but worldwide. WECK is continually working in the field of home-canning research. Specializing in all problems and questions concerning home canning, WECK has continuously developed and improved home-canning methods with the aid of its long experience as well as the constant ideas and innovations of the canning experts at WECK.

Stephanie Thurow is a Certified Master Food Preserver from Minneapolis, Minnesota with a passion for food preservation. She loves creating easy-to-follow recipes to help others gain the confidence to preserve on their own, and has been using WECK jars for over a decade because of the versatility and eco-friendliness of their reusable and nontoxic all-glass jars. Stephanie is the author of Can It & Ferment It and WECK Small-Batch Preserving, and the creator of canning and fermenting blog Minnesota from Scratch. She teaches food preservation classes around the Twin Cities, and resides in Minneapolis, Minnesota with her husband, daughter, and plethora of pets.