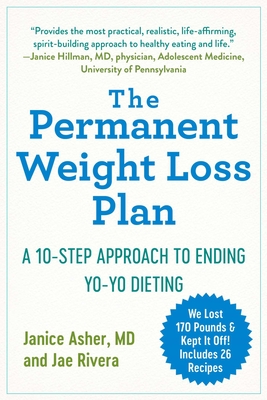 The Permanent Weight Loss Plan
A 10-Step Approach to Ending Yo-Yo Dieting
Paperback

* Individual store prices may vary.
Description
We lost 170 pounds and kept it off! It's not a diet, but you will lose weight with this proven path to developing better eating habits and building a healthy relationship with food.
Diets come and go, and the scale needle swings as you drop pounds and then gain them back. But what if there were a weight loss solution for forever? Not another fad diet based on deprivation and restriction, but a holistic system for shedding pounds and maintaining your weight?  
In
The Permanent Weight Loss Plan
, Janice Asher, MD, and Fulbright Open Research Fellow, Jae Rivera, reveal (from their own first-hand experiences) that it's not just about the food you eat or don't eat—it's about a mindset and lifestyle change. After collectively losing 170 pounds and maintaining their weight for years, Janice and Jae share scientific evidence, personal experiences, and practical insights on how you can successfully reframe your relationship with food.  
It's about stopping the shame associated with body size, recognizing instances of disordered eating, equipping yourself with the knowledge of what behaviors contribute to lasting weight loss, and making use of proven strategies. Get actionable tips on how to:  
Overcome barriers like stress, shame, and emotional eating
Escape the comfort food circle of hell
Eat food that nourishes your intestinal microbiome and brain
Replace unhealthy habits with new ones that will treat your body well
Boost your metabolism by eating during the right times of the day
Commit to an exercise regime you can enjoy
Transform your kitchen from danger zone to a safe space
Survive potential landmines like holidays and parties
Develop strategies for not gaining back the weight you lose
Stop the cycle of fat-shaming and treat yourself with kindness
Complete with 26 recipes for cauliflower quinoa puttanesca, "umami bomb" roasted portabella mushrooms, blueberry breakfast smoothie, curried lentil salad, and more,
The Permanent Weight Loss Plan
encourages readers, with gentle humor and compassion, to embrace a paradigm shift and transform their lives for good.  
Praise For The Permanent Weight Loss Plan: A 10-Step Approach to Ending Yo-Yo Dieting…
"As a physician, I read this book, constantly nodding my head: "yes, that is so true" and "why did I not think of that?" Like Dr. Asher, I have also counseled thousands of patients about the health risks of obesity. This guide provides the most practical, realistic, life-affirming, spirit-building approach to healthy eating and life. It also addresses the ten key steps to maintaining your success. You will learn to reframe your beliefs and your behaviors about what gives you comfort and support. Stop eating with shame; join J and J on a joy-filled journey of health and well-being."
—Janice Hillman, MD, physician, Adolescent Medicine, University of Pennsylvania

"It's only taken four or five decades to find—finally!—a smart, compassionate, and workable book about weight. Down with body-shaming, dopey nostrums, food quackery, and cringing before mirrors. Up with smart science! Janice Asher (a physician) and Jae Rivera (an anthropologist) have written the ultimate no-diet diet book. Bless them."
—Susan Isaacs, author of Compromising Positions and Takes One to Know One
           
"Asher and Rivera's new book The Permanent Weight Loss Plan transcends the usual self-help weight loss program. It provides the sustainable road map we all need to live healthier lives, as well as to improve our relationships with food, ourselves, and our support systems."
—Ann Steiner, MD, clinical professor, Obstetrics & Gynecology, University of Pennsylvania
 
"Dr. Janice Asher and Jae Rivera give us all a practical, evidence-based approach to losing weight. . . . There is no blame in this book, just gradual positive strategies that everyone can benefit from and add up to big life changes. Kudos to the authors for their spectacular accomplishment."
—Lisa Rosen, MD, clinical assistant professor, Obstetrics and Gynecology, University of Pennsylvania
 
Skyhorse, 9781510751484, 360pp.
Publication Date: January 7, 2020
About the Author
Janice Asher, MD is a board-certified obstetrician/gynecologist at the University of Pennsylvania, where she served as the Director of Women's Health at the Student Health Service (1989–2018) and also began the MILE (mindful, intuitive living & eating) program. She has counseled over one hundred patients on how to lose weight and keep the weight off for good. She lives in Philadelphia, Pennsylvania.
 
Jae Rivera is a PhD student in Bioarchaeology at the University of Florida, where she is currently a National Science Foundation Graduate Research Fellow and National Academies of the Sciences, Engineering and Medicine Ford Predoctoral Fellow. She is the recipient of a Fulbright Open Research Fellowship to Peru. Jae Rivera is her pen name.
or
Not Currently Available for Direct Purchase