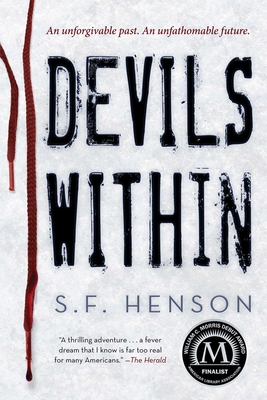 Devils Within
Paperback

* Individual store prices may vary.
Other Editions of This Title:
Hardcover (10/31/2017)
Description
A William C. Morris Award Finalist

Killing isn't supposed to be easy. But it is. It's the after that's hard to deal with.

Nate was eight the first time he stabbed someone; he was eleven when he earned his red laces—a prize for spilling blood for "the cause." And he was fourteen when he murdered his father (and the leader of The Fort, a notorious white supremacist compound) in self-defense, landing in a treatment center while the state searched for his next of kin. Now, in the custody of an uncle he never knew existed, who wants nothing to do with him, Nate just wants to disappear.

Enrolled in a new school under a false name, so no one from The Fort can find him, he struggles to forge a new life, trying to learn how to navigate a world where people of different races interact without enmity. But he can't stop awful thoughts from popping into his head, or help the way he shivers with a desire to commit violence. He wants to be different—he just doesn't know where to start.

Then he meets Brandon, a person The Fort conditioned Nate to despise on sight. But Brandon's also the first person to treat him like a human instead of a monster. Brandon could never understand Nate's dark past, so Nate keeps quiet. And it works for a while. But all too soon, Nate's worlds crash together, and he must decide between his own survival and standing for what's right, even if it isn't easy. Even if society will never be able to forgive him for his sins.

Like a teen American History X, S.F. Henson's Devils Within is gut-wrenching, thought-provoking, no-holds-barred look at the plague of white supremacy in contemporary American culture that may have you examining your own soul.
Praise For Devils Within…
William C. Morris Award Finalist
Alabama Library Association 2019 Young Adult Award Winner
Kirkus Best Book of 2017
2018 Best Fiction for Young Adults, YALSA
2019 Sequoia Master List
2018-2019 Green Mountain Book Award Master List
2019-2020 Volunteer State Book Award Nominee
2020 Georgia Peach Book Award Nominee?

(*)"Henson's debut novel sheds a light on white supremacy and other cloaked forms of racism.While the events of Henson's novel may seem too extreme to be true, they are based in reality. Sixteen-year-old Nate grew up in The Fort, a white-supremacist compound where hate and violence are preached and practiced daily. When Nate kills his abusive father in self-defense, he is sent to live with his estranged uncle. In a new town with a new alias, Nate desperately tries to come to terms with his old life and the darkness lingering inside—especially when confronted with people he's been conditioned to hurt. In Brandon, a black schoolmate, Nate finds a true friend, but the past is calling, threatening to shatter his new existence and the safety of his friends. For many, the book will be a triggering read, but it is a necessary one—particularly when there are those too willing to deny the reality of racism. While her hand is heavy at times, Henson draws from true events to highlight what happens in white-supremacist circles, what happens to the people they target, and how white silence is also complicity. As Henson says in an author's note, 'It's not the job of people of color to educate white folks on how they deserve to be treated and on what is and isn't racist. This is a burden we've been putting on their backs for far too long.' Especially for white readers, a timely and informative book. (Fiction. 14-18)" —Kirkus Reviews, starred review

"Seventeen-year-old Nate is born into a life of violence, his father being the leader of a notorious white supremacist compound called The Fort. However, after losing his mother and murdering his father, he is placed into a psychiatric treatment facility until his previously absent uncle is finally tracked down, at which point Nate is moved to a new state, a new school, and a whole new way of life. After meeting Brandon, a young black man in his class, Nate feels as though he is finally able to move away from his shadowy past. When a revealing article shows up in the local paper, though, The Fort tracks him down, catching Brandon and his family in the cross fire. Henson's debut novel is difficult to read in many respects (especially Nate's questioning of his racial prejudices), but its characters are well-rounded, and the overarching narrative successfully brings everything together. This story is a truly revealing and all-too-relevant examination of the psychological underpinnings of a complicated, young former neo-Nazi desperate to change his life for the better." —Booklist

"Henson is unflinching in her portrayal of the racism and bigotry that is still pervasive in our society. While at times this book is a thrilling adventure, it is also a fever dream that I know is far too real for many Americans. As the novel approached an impending and climactic confrontation, I wanted desperately to stop reading and yet could not put the book down. In my mind, that is as high praise as I can give." —The Herald
Sky Pony, 9781510751835, 408pp.
Publication Date: February 4, 2020
About the Author
S.F. Henson is an attorney living in Alabama with her husband, two cats, and a dog. Devils Within is her first novel.