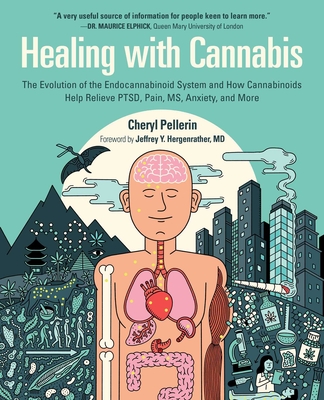 Healing with Cannabis
The Evolution of the Endocannabinoid System and How Cannabinoids Help Relieve PTSD, Pain, MS, Anxiety, and More
Hardcover

* Individual store prices may vary.
Description
2020 GOLD MEDAL WINNER of the Nonfiction Book Awards (Nonfiction Authors Association)

An Informative Read for an Audience Interested in Why and How Medical Cannabis Helps Treat a Range of Illnesses—Maybe All of Them
 
With cannabis approved in fourteen states (including the District and two US territories), medical cannabis approved in at least 35 states, and hemp (very-low-THC cannabis) off the controlled substances list, millions now treat their ills with medical cannabis or non-intoxicating cannabinoids like CBD. But lots of them don't know why or how cannabis works in the body.
 
Healing with Cannabis informs readers about an ancient biological system newly discovered in every vertebrate on the planet—the endocannabinoid system. This system is the only reason cannabis works in the body, and it's why cannabis is effective in a broad range of disorders.
 
The book offers an informal tone, a little humor, interviews with some of the most knowledgeable cannabinoid scientists, color images, and a selection of research and clinical trials to recount the story of the endocannabinoid system, its origins in the earliest forms of life on Earth, the evolution of its elements, and the discoveries, millions of years later, of more of its elements over time.
 
Healing with Cannabis explains the surprising reasons evolution conserved the endocannabinoid system over a billion years and tells specifically how cannabis has positive effects on some of society's most devastating illnesses, including neurodegenerative diseases, post-traumatic stress disorder, pain, movement disorders, cancer and chemotherapy, and addiction.
 
The book also shows how medical cannabis, widely available, will change the face of public health, and how nearly everyone can benefit from this versatile medicine that has a 5,000-year history of safe and effective use.
 
Praise For Healing with Cannabis: The Evolution of the Endocannabinoid System and How Cannabinoids Help Relieve PTSD, Pain, MS, Anxiety, and More…
"An impressive amount of research went into this book. . . . A very useful source of information for people keen to learn more about cannabinoids and cannabis." —Dr. Maurice Elphick, School of Biological and Chemical Sciences, professor of physiology and neuroscience at the Queen Mary University of London

"The research findings of many of the key contributors to this story are reviewed by Pellerin with skill and balance in a way that simplifies what has proven to be a very complex story. This book is an excellent resource for comprehending cannabinoid science." —Jeffrey Hergenrather, MD, from the foreword
Skyhorse, 9781510751866, 288pp.
Publication Date: August 4, 2020
About the Author
Cheryl Pellerin is a science writer with a bachelor of science degree in science journalism and nearly thirty years of experience writing about science in its many forms. Her first book was Trips: How Hallucinogens Work in Your Brain, translated into French and German, with art by Robert Crumb and the underground cartoonists from Zap Comix. She worked as a freelancer for the Discovery Channel and others, then as a science writer for the State and Defense departments. She resides in Virginia.

Jeffrey Y. Hergenrather, M.D., began his medical career in 1976, practicing general medicine, obstetrics and gynecology, pediatrics, neonatal care, and emergency medicine. In 1999, he began a medical practice in general medicine and cannabis consultations. He was a founding member in 2000 of the nonprofit Society of Cannabis Clinicians and has been its president since 2008. SCC provides clinical cannabis education to physicians and allied health professionals. He also provides cannabis recommendations to Californians with serious medical conditions, and consultations worldwide by phone and through online appointments. The patient education website MedicalJane calls him "easily one of the most important cannabis physicians working today."