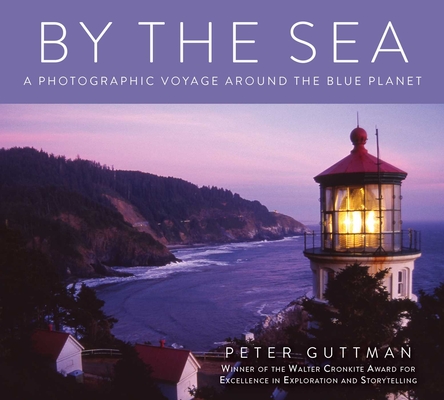 By the Sea (Paperback)
A Photographic Voyage Around the Blue Planet
Skyhorse, 9781510752955, 256pp.
Publication Date: March 17, 2020
Other Editions of This Title:
Hardcover (5/19/2015)
* Individual store prices may vary.
Description
Award-winning travel journalist Peter Guttman sets sail and embarks on a rollicking journey across the high seas aboard a colorful variety of craft while exploring dramatic coastal landscapes, exotic maritime cultures, spectacular marine wildlife, mouthwatering seafood treasures, and joyous nautical pastimes. Sailing past the shores of all seven continents, the romantic imagination of every beach lover, sailor, surfer, lighthouse enthusiast, and traveler will be captured during a thrilling circumnavigation that includes:
Rugged, rainbow-splashed outports of Newfoundland
VA canoe flotilla of chanting, grass-skirted warriors in remote Irian Jaya
Mailboat cruises threading spectacular Norwegian fjords
Luxuriant sunbathing at an elegant Indian Ocean resort
Seaweed-steamed lobster bakes on Maine's granite coast
Rush hour in the floating markets of Southeast Asia
A circular dance through every time zone at the North Pole
Roasting marshmallows and lighthouse lodgings among the dunes of Cape Cod
An icebreaker casts anchor for a rendezvous with a raucous emperor penguin colony
By the Sea
is a dazzling survey of the magical aquatic wonders our planet offers. A definitive testament to the majestic drama and beauty of a diverse maritime world, this visual treasury is perfect for anyone with a love of salt air. Bon voyage!
About the Author
Peter Guttman is a photographer, writer, author, television personality, lecturer, and adventurer who has traveled on assignment to all seven continents and more than 220 countries. He has twice won the Lowell Thomas Travel Journalist of the Year, been awarded a 2013 Lifetime Achievement Award bythe New York Travel Writers Society, and was named Finalist in the international Travel Photographer of the Year competition. He is also the creator of the number one bestselling travel app for the iPad, Beautiful Planet HD. He has been honored with solo shows at Sotheby's and the United Nations, and his work has appeared in Condé Nast Traveler, Geo, Men's Journal, National Geographic Adventure, The New York Times, and Outside. In 2014, he received the Power of the Image Award in Beijing, China, where he was cited as one of "twenty of the world's most influential photographers." He lives in New York City.