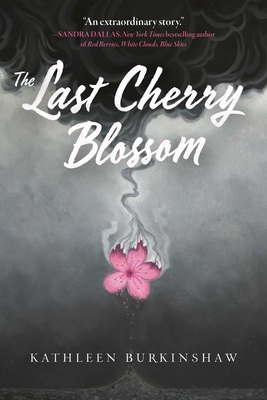 The Last Cherry Blossom
Paperback

* Individual store prices may vary.
Other Editions of This Title:
Digital Audiobook (9/26/2021)
MP3 CD (9/27/2021)
Compact Disc (9/27/2021)
Hardcover (8/2/2016)
Description
"Set in the waning days of World War II Hiroshima, this is an extraordinary story with its universal themes of family, life, and love. . . " —Sandra Dallas, New York Times bestselling author of Red Berries, White Clouds, Blue Skies

Yuriko was happy growing up in Hiroshima when it was just her and Papa. But her aunt Kimiko and her cousin Genji are living with them now, and the family is only getting bigger with talk of a double marriage! And while things are changing at home, the world beyond their doors is even more unpredictable. World War II is coming to an end, and since the Japanese newspapers don't report lost battles, the Japanese people are not entirely certain of where Japan stands. Yuriko is used to the sirens and the air-raid drills, but things start to feel more real when the neighbors who have left to fight stop coming home. When the bombs hit Hiroshima, it's through Yuriko's twelve-year-old eyes that we witness the devastation and horror.

This is a story that offers young readers insight into how children lived during the war, while also introducing them to Japanese culture. Based loosely on author Kathleen Burkinshaw's mother's firsthand experience surviving the atomic bombing of Hiroshima, The Last Cherry Blossom hopes to warn readers of the immense damage nuclear war can bring, while reminding them that the "enemy" in any war is often not so different from ourselves.
Praise For The Last Cherry Blossom…
**One of Book Riot's 30 Fascinating Historical Fiction Books for Middle School Readers!**
2019 NC School Library Media Assoc. YA Book Award Nominee
2019-2020 Volunteer State Book Award Nominee
Finalist 2018 Sakura Medal, Japan
Finalist 2017 Sir Walter Raleigh Award for Fiction
Finalist SCBWI Crystal Kite Award (southeast region)
Scholastic WNDB Reading Club Selection, 2018 & 2016
New England Book Festival, Honorable Mention YA category

Now a United Nations Educational Resource for Teachers and Students

"The book's powerful message raises awareness with the younger generation, which is especially pressing now that the hibakusha are getting older. The book provides a moving testament to why nuclear weapons should never be used again and should be eliminated." — John Ennis, a senior political affairs officer with the U.N. disarmament office

 
"Set in the waning days of World War II Hiroshima, this is an extraordinary story with its universal themes of family, life, and love. Young readers will be entranced with the irrepressible Yuriko and her Japanese traditions, and grieve with her when her childhood is torn apart by the unthinkable. The Last Cherry Blossom shows that wherever they are, all children are the victims of war." —Sandra Dallas, New York Times bestselling author of Red Berries, White Clouds, Blue Skies

"This moving story of a young girl who survives the atomic bombing of Hiroshima is a compelling testament to the enduring power of the human spirit." —Leza Lowitz, author of Up From the Sea

"A fascinating look at World War II and its tragic conclusion from the point of view of a Japanese girl as she struggles to come to terms with love, loss, and what it means to honor one's heritage and family." —Randall Platt, author of Incommunicado

"The Last Cherry Blossom is even more than a gripping story about the horrors of war. It also illustrates the emotional trauma caused by family secrets and lies, the universality of adolescent anxiety, and the sustaining power of friendship—all in a really good read." —Elaine Wolf, author of Camp

"Past and future come into unbearable collision in this spellbinding evocation of Japan during the final years of World War Two, which is told through the eyes of an observant twelve-year-old growing up in Hiroshima. A heartbreaking exploration of tradition, family ties and the utter horror of nuclear war, The Last Cherry Blossom is a timely reminder that we forget the reality of total warfare at our peril." —Lydia Syson, author of That Burning Summer

"Kathleen Burkinshaw's graceful, clean style is a joy to read, and this story, a beautiful tribute to the life of her mother, is one that every young person should read." —Lisa Williams Kline, author of Eleanor Hill, winner of the North Carolina Juvenile Literature Award

"Told with reverence and authenticity, Yuriko's journey is inspired by the author's mother's real-life experiences growing up in Hiroshima and surviving that tragic day on Aug. 6, 1945. Tragedy and hope collide in this promising middle-grade debut." –Kirkus Reviews

"The eventual bombing of Hiroshima proves nightmarishly horrifying, and readers will readily empathize with Yuriko's losses and will to survive." —Publishers Weekly
Sky Pony, 9781510753440, 240pp.
Publication Date: August 25, 2020
About the Author
Kathleen Burkinshaw wrote The Last Cherry Blossom based on her own mother's story of growing up in Hiroshima during World War II. She was twelve years old when the bomb was dropped on August 6, 1945. Kathleen lives with her husband and daughter in Charlotte, North Carolina.