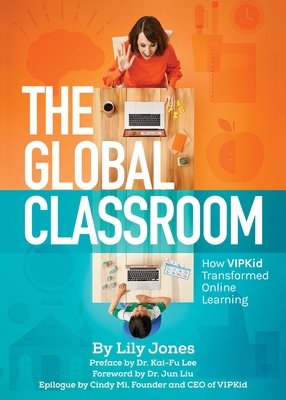 The Global Classroom
How VIPKID Transformed Online Learning
Paperback

* Individual store prices may vary.
Description
Behind the Scenes of a Revolution in Education

In 2013, Cindy Mi, a high school dropout turned English teacher, founded VIPKid with an innovative vision for education: facilitating personalized, one-on-one sessions with students and tutors from around the world. Six years later, her brainchild boasts a multibillion valuation and connects approximately 100,000 teachers and over 700,000 students worldwide. Thisis the story of a revolution in education.

The Global Classroom takes readers inside the startup's history, educational innovation, and unprecedented success. With a foreword from Mi, the book takes a deep dive into a new educational model and investigates how the company's platform has diversified to serve the needs of students from countries across the globe. Readers will hear from VIPKid's executives, teachers, students, and parents as they discuss the company's values, its tangible success, and its impact on their lives.

The Global Classroom is an inside look at the model for education in the 21st century and beyond.
Praise For The Global Classroom: How VIPKID Transformed Online Learning…
"There are very few companies globally that could match the scale and the user experience of VIPKid." —NEIL SHEN, founding and managing partner of Sequoia Capital China

"We believe that cooperation between VIPKid and HMH will better meet the needs of students in China and around the world and will lead to excellent learning outcomes." —SAMUEL BONFANTE, SVP of Global Markets, Houghton Mifflin Harcourt

"VIPKID is a unique animal. Its ambition and aspiration, its scope and scale, its speed and demand, and its rapid adjustment and changes are all unbelievable!" —DR. JUN LIU, past president of TESOL International Inc., professor of linguistics, Stony Brook University
 
Skyhorse, 9781510753532, 280pp.
Publication Date: January 12, 2021
About the Author
Lily Jones is the creator of Curiosity Pack and EducatorForever.com. She is a former elementary teacher and an instructional coach, educational blogger, curriculum consultant, and Forbes contributor.
 
Cindy Mi is a former English tutor and the founder and CEO of VIPKid.

Dr. Kai-fu Lee is a venture capitalist, technology executive, writer, and artificial intelligence (AI) expert.

Professor Jun Liu is a past president of TESOL International Inc. and current professor of linguistics at Stony Brook University.