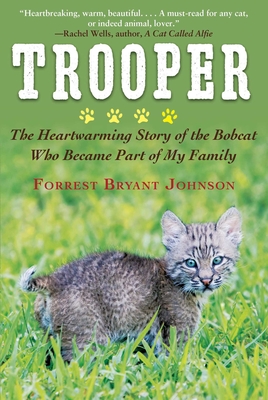 Trooper
The Heartwarming Story of the Bobcat Who Became Part of My Family
Paperback

* Individual store prices may vary.
Other Editions of This Title:
Hardcover (3/27/2018)
Compact Disc (3/6/2018)
MP3 CD (3/6/2018)
Description
A charming tale for fans of Marley & Me and Dewey's Nine Lives.

Whenever middle-aged desert tour guide Forrest Bryant Johnson went out on his daily walks into the Mojave, all was usually peaceful and serene. But one beautiful summer day in 1987, Forrest heard a cry of distress. Following the cries, he came upon a small bobcat kitten, injured, orphaned, and desperately in need of help. So Forrest took his new feline friend home for a night. But when the little "trooper" clearly needed some more time to recoup, that night turned into two nights, a week, and eventually nineteen years. And so Trooper became a part of the Johnson family.

And in those nineteen years, Trooper lived his nine lives to the fullest. He explored desert flora and fauna around him, befriending kit foxes, jackrabbits, desert tortoises, and other creatures and getting into mischief along the way. Trooper became a "big brother" to stray tabby Little Brother, teaching, guiding, and protecting Brother on the pair's adventures and misadventures. He became a beloved patient at his local vet, and cherished housemate of Forrest's wife, Chi. And Trooper even managed to melt the icy heart of a tough guy neighbor. But most of all, throughout his nineteen years, Trooper became Forrest's best friend, as the two shared each other's worries and frustrations, musings and rants, joys and laughter.

Harrowing and heartfelt, Trooper: The Bobcat Who Came in from the Wild is for any reader who ever had their heart stolen by their pet.
Praise For Trooper: The Heartwarming Story of the Bobcat Who Became Part of My Family…
"A charming memoir about a pet bobcat, its owner, family, and friends. Readers who enjoy stories of human-animal friendships, such as Sy Montgomery's The Good Good Pig and Irene Pepperberg's Alex and Me, will find much to love here." —Library Journal

"The stories [in Trooper] are told with compassion, humor and indeed, some tension as well. This is a read for all ages and of course, will have special significance to anyone who has owned an animal."--Las Vegas Review Journal
"Heartbreaking, warm, beautiful, and emotional, this story didn't just tug on my heart; it stole it. A must-read for any cat, or indeed animal, lover." —Rachel Wells, author of A Cat Called Alfie
"Johnson's accounts of the touching and wondrous tale of Trooper are like having an animal-loving friend explain why we are so in awe of cats—wild and domestic—and other animals . . . That we could all have such animals in our lives to teach, guide, and, in their own way, love us." —Patricia Barnes-Svarney and Thomas Svarney, authors of The Handy Biology Answer Book
"This is a wonderful book, about the amazing relationship that can sometimes form between the wild and humans. Johnson has created something unique and profound, not simply by his telling his story but by truly understanding the differences between wildcats and house pets and the similarities between feral creatures, both human and animal. Trooper knew that Forrest was 'not a very capable cat,' but gave him a chance. Somehow, some way the two formed a miraculous bond, and we, the readers of this extraordinary work, gain valuable insight into the possibilities between all living things." —Michael Morse, author of Mr. Wilson Makes It Home
"Kind and totally engaging, Forrest's awareness of nature and his love for Trooper make everyday life larger and richer. There are endless adventures and new characters in the form of both people and animals. We learn the history of the desert, about the wildlife, plants, and people, while we spend time with Trooper, Forrest, and his family." —Clara Weygandt, nature writer
"Johnson's warm and friendly prose keeps the reader involved in the day-to-day interactions between human and animal as well as the exciting encounters that desert life provides. Trooper will be of special interest to those who research interspecies communication and to those who esteem and value our animal companions on the planet we share. —Brad and Sherry Steiger, authors of Cat Miracles and Animal Miracles
Skyhorse, 9781510753631, 264pp.
Publication Date: April 21, 2020
About the Author
Forrest Bryant Johnson served nine years with the US Army, rising to the rank of Captain. Johnson is an experienced explorer and a professional at conducting scenic desert tours. He reports with authority and full knowledge on all the animals who must survive in the harsh environment of the Mojave Desert. He is the author of Hour of Redemption, Phantom Warrior, and The Last Camel Charge. He resides in Las Vegas, Nevada with this wife and pets.