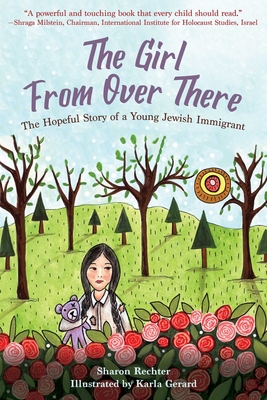 The Girl From Over There
The Hopeful Story of a Young Jewish Immigrant
Hardcover

* Individual store prices may vary.
Description
In the aftermath of the Holocaust and World War II, a young Jewish immigrant struggles to fit into her new home as she combats bullying and jealousy from the other children

Israel—A group of young school girls are sitting together, when a stranger appears. They take in the girl's ragged dress, long hair, and tattered purple teddy bear. And they immediately hate her. Who is she? Why is she here? Is she from over there?

Follow this captivating historical fiction story, where we are introduced to the children living in a small kibbutz, a type of community in Israel, soon after the events of World War II and the Holocaust. When Miriam, an immigrant from Poland, arrives, the other children are immediately suspicious and wary—none more than Michal, the class queen, who is immediately jealous of the new girl when her boyfriend befriends her and the adults rally around her.

The Girl from Over There follows the relationship between Michal and Miriam, as the latter struggles to fit in with the other kids. Meanwhile, Michal struggles to come to terms with both her jealousy and the horrors that Miriam, as well as friends and other newcomers, faced during the events of World War II.

Written by the Israel-born author when she was just 11 years old, this story pieces together both fiction and actual testimonies and memories of her Holocaust-survivor family members. Despite detailing the horrific treatment on Jews in war-torn Europe, this compelling narrative will leave you hopeful for a better future.
 
Praise For The Girl From Over There: The Hopeful Story of a Young Jewish Immigrant…
"This book has touched my heart and reminded me yet again, the importance of tolerance and accepting someone who is different. . . . As a granddaughter of a Holocaust survivor, I always found it hard to share with my kids what happened then. This book does it in a unique and touching way. When reading this, I felt like I wanted to share it with every teen who has ever felt left out." —Gal Gadot, Actress

"The Girl From Over There is a powerful and touching book that every child should read. It makes an outstanding contribution to the remembrance of the Holocaust and emphasizes the importance of teaching tolerance." —Shraga Milstein, Chairman, International Institute for Holocaust Studies, Israel

"A must read for every teen in America, who has ever felt excluded. This book captures the readers from the very first pages, and takes them through an unforgettable journey. The fact that it was written by an 11 year old, makes the voice even more relatable, and touching. This book shines a light on the hardships holocaust survivors endured upon arriving in Israel. And it does so courageously with a lot of heart and talent. Again, the fact Sharon wrote this at 11 is astounding." —Gideon Raff, Golden Globe and Emmy award winning producer (Homeland, Prisoners of War, The Spy) 
 
Sky Pony, 9781510753679, 112pp.
Publication Date: August 25, 2020
About the Author
Sharon Rechter was born in Kfar Shmaryahu, Israel. She received both her undergraduate and law degree from The Interdisciplinary Center Herzliya College in Israel. She is the co-founder and President of First Media, a lifestyle media company that focuses on clever ways to live better through its four media properties. She is also a public speaker on topics like entrepreneurship, women in leadership, Israeli startups, and more. She wrote The Girl from Over There when she was just 11.