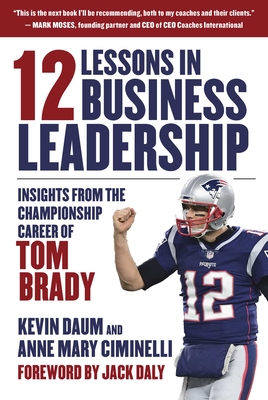 12 Lessons in Business Leadership
Insights From the Championship Career of Tom Brady
Hardcover

* Individual store prices may vary.
Description
Expert analysis of the leadership style of Tampa Bay Buccaneers​ quarterback Tom Brady!
 
The merits of business leaders are under scrutiny more and more these days, whether it's Travis Kalanick, Elon Musk, Mark Zuckerberg, or many others. But there's one place where true leadership is always revealed: on the field. And no matter what you think of the New England Patriots or the Tampa Bay Buccaneers, you can't argue with the success of Tom Brady, the winningest quarterback of all time. Both revered and hated by football fans, Brady is loved and respected by those who work with him, and his leadership abilities cannot be denied by even his harshest critics. The skills he uses to make his team successful year after year on the field can be executed in the workplace, whether you're a team member, team leader, or CEO.
 
In 12 Lessons in Business Leadership: Insights From the Championship Career of Tom Brady, authors Kevin Daum and Anne Mary Ciminelli team up to analyze the strong leadership abilities of the six-time Super Bowl Champion, and translate them into accessible, practical lessons for any stage of your career.
 
In this easy-to-read, entertaining book, the authors help you acquire and practice all the skills you need to have a championship season every year of your career. Practical and instructive, this book makes the perfect gift for anyone looking to rise in their particular vocation or looking to emulate one of the most respected leaders of today!
 
Each chapter focuses on one of twelve leadership lessons gleaned from Brady's career and why it matters in your life and career. In the Executing the Play section of each chapter, the authors outline best practices on how leaders can apply that lesson in their workplace, as well as share exercises leaders can complete to develop and strengthen the skill and implement the lesson.
Praise For 12 Lessons in Business Leadership: Insights From the Championship Career of Tom Brady…
"While there are lots of books out there about leadership and sports, 12 Lessons in Business Leadership breaks the mold, providing valuable insights you'll find nowhere else. And as the authors so clearly demonstrate, you don't have to be Tom Brady to be a great leader—anyone can apply these tremendously powerful lessons to find success, in business and in life."

— Peter Economy, Bestselling author of Managing For Dummies; Editor for Peter Drucker's Leader-to-Leader Magazine; The Leadership Guy on Inc.com; Founding Board Member of SPORTS for Exceptional Athletes

"Sports teams operate at a higher level than most business teams. Kevin and Anne Mary detail amazing practical leadership skills they have shared with our community of over 120,000 C-Level executives of Scale Ups around the world—and our executives love them."

— Daniel Marcos, Co-Founder and CEO of Growth Institute

"Leadership is about earning the trust of your team by practicing what you preach and inspiring them towards something greater than themselves. As a CEO and investor, I must choose leaders who can make critical decisions while keeping their team aligned. Brady is the model I look for in potential business leaders; the lessons from his success translate directly from the field to the boardroom."

— Bridgit Lombard, Founder of Marea Partners; Award-winning CEO and entrepreneur; Former D-1 college track and field athlete  

"Like Brady, I was a nobody with a big dream. Kevin and Anne Mary absolutely nailed what it takes to lead a team to success: a detailed plan, mastery of fundamentals, the earned belief of those around you, and an indomitable spirit. That's exactly how we grew Nurse Next Door from a tiny startup to a successful corporation with over 200 franchises across North America and Australia." — Ken Sim, Co-Founder and Owner of Nurse Next Door; Founder of Rosemary Rocksalt; Ernst & Young Entrepreneur of the Year; 2022 Candidate for mayor of Vancouver, British Columbia 
 

"This book should be required reading for every student-athlete I work with, regardless of whether they have aspirations to play professional sports. Each chapter covers an invaluable lesson in living success every day, and the wisdom is as accessible for young adults as it is for seasoned professionals." — Chris Krause, Founder and CEO of the National Collegiate Scouting Association; Author of Athletes Wanted: The Complete Guidebook for Maximizing Athletic Scholarship and Life Potential; Former D-1 college football player
Skyhorse, 9781510753730, 216pp.
Publication Date: September 15, 2020
About the Author
Kevin Daum is an entrepreneur, author, executive coach, and speaker who has engaged and inspired audiences around the globe. A serial entrepreneur with multiple successful exits, Kevin built an Inc. 500 company. Kevin is the award-winning author of several Amazon #1 bestselling books, including ROAR! Get Heard in the Sales and Marketing Jungle and Video Marketing for Dummies, and he was a major contributor to the bestselling book Scaling Up. He is the host of the 10 Minute Tips from the Top podcast, where he interviews CEOs of the world's most prestigious companies. An adjunct professor of media and entrepreneurship at Fordham University, Kevin resides in New York City.
 
Anne Mary Ciminelli is an Associate Editor at TAE International, where she researches, writes, and manages projects. She also has experience consulting for small businesses as they construct business plans, explore partnership opportunities, and seek funding. A graduate of the Walsh School of Foreign Service at Georgetown University, Anne Mary also holds an MBA and a JD from Fordham University. She resides in Potomac, Maryland.