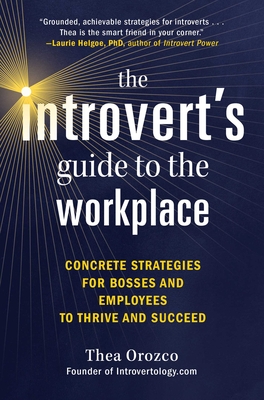 The Introvert's Guide to the Workplace
Concrete Strategies for Bosses and Employees to Thrive and Succeed
Paperback

* Individual store prices may vary.
Description
Tap Into Your Natural Introvert Strengths in the Office with Actionable Tips and Advice
Introverts make up one half of the population, and we're hardwired to thrive—especially in the workplace! However, it's not uncommon for introverts to feel out of place in the office, where it seems the only ones succeeding are outgoing personalities ready to toot their own horn.    
Thea Orozco busts that myth, showing how the workplace is truly a setting for introverts to succeed based on their innate skillset and natural introvert strengths. With topics ranging from overcoming phone phobia to developing an authentic leadership style,
The Introvert's Guide to the Workplace 
guides introverts through thriving at work without having to shout—whether you are a boss, an employee, or a career person. Learn from actionable tips and practical advice, and surmount office challenges and let your introversion take the lead:  
Combat interview anxiety
Make meaningful connections at networking events
Be heard and noticed at meetings or on the stage
Overcome imposter syndrome
Become an effective leader with your introvert strengths
And more!
Including diverse expert interviews,
The Introvert's Guide to the Workplace
is every working introvert's handbook and guide that they can refer to throughout their career for guidance on tricky or draining situations and motivation to enlist the power of their inner introvert to succeed.  
Praise For The Introvert's Guide to the Workplace: Concrete Strategies for Bosses and Employees to Thrive and Succeed…
"Grounded, achievable strategies for introverts tired of playing extrovert and ready to thrive on their own terms. Thea is the smart friend in your corner." —Laurie Helgoe, Ph.D., author of Introvert Power: Why Your Inner Life is Your Hidden Strength

"This is the ultimate guide to thriving as an introvert at work. Drawing on research, interviews, and her experience as a business coach, Thea Orozco upends the idea that only extroverts can climb the ladder of job success. Packed with actionable tips, advice, and case studies, both bosses and employees will want to drink in its wisdom. If you're an introvert struggling to choose the right career path, put your best foot forward in job interviews, or survive in an extrovert-centric workplace, you'll want to read this book." —Jenn Granneman, author of The Secret Lives of Introverts and founder of Introvert, Dear

"I wasn't sure the world needed another book about introversion, but now I believe it does: and it's this one. Orozco reassures those of us who have felt broken or at a disadvantage because of our personalities, and offers practical action steps, encouragement, as well as humour to help us embrace our introversion wholeheartedly." —Cat Rose, author of The Creative Introvert: How to Build a Business You Love on Your Terms

"Introversion is not the same as shyness, explains Orozco in her guide that charts a course for introverts navigating the workplace. . . . Readers who are introverts will immediately get it and relate to Orozco's tales of childhood introversion, trying to fit in, and traversing adulthood. They will also appreciate the book as a reference for managing difficult or depleting situations. All others, including managers, will find this gem a handy guide to understanding friends, family, and coworkers who are introverted." —Booklist

"Thea's interviews have been thought-provoking and very informative. I love her humanness!" —Stacey Horn, founder, Deeper Connections
Skyhorse, 9781510754157, 288pp.
Publication Date: April 28, 2020
About the Author
Thea Orozco is a certified life coach and an extreme introvert. For the past seven years, Thea has taught that introverts are whole, not broken, and that they can use their strengths to thrive. She is the founder of Introvertology.com, which offers business coaching, and has worked with hundreds of diverse clients,  including an Academy Award winner and a Disney artist, as well as with the podcast of a former presidential candidate. She lives in Pasadena, California.