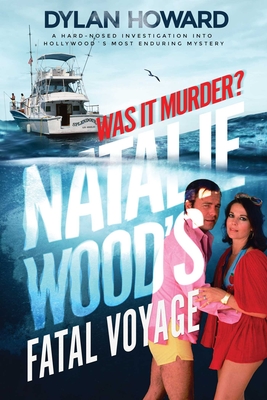 Natalie Wood's Fatal Voyage
Was It Murder? (Front Page Detectives)
Hardcover

* Individual store prices may vary.
Description
A Hard-Nosed Investigation Into Hollywood's Most Enduring Mystery

For thirty-five years, it has been a riddle which has gripped the world. Part love story, part tragedy, it has all the elements of a Hollywood blockbuster: a beautiful actress, a handsome leading man, a brooding sidekick . . . and a moment of sickening terror with the most horrific consequences.

When Natalie Wood—one-time America's sweethearts and star of West Side Story, Rebel Without a Cause, and Miracle on 34th Street—was found washed up in her nightdress in the cold waters off Catalina Island, California, on Thanksgiving weekend 1981, it initially looked like a freak accident.

She had been holidaying with husband Robert Wagner and film co-star Christopher Walken on board Wagner's yacht The Splendour when somehow, in the dead of night, she lost her footing and fell into the water.

The coroner's initial verdict: accidental drowning.

The coroner was wrong.

For the first time, the real story of Natalie's final moments can be told—and it's every bit as monstrous as anything Hollywood scriptwriters could dream up. Forbidden affairs, twisted lies, sex, betrayal, murder, pay-offs, and a cover-up that continues to this day.

Internationally renowned journalist Dylan Howard has spent six years investigating Natalie's fateful final hours—and the immediate aftermath. After sifting through hundreds of pages of testimony, coroners reports, police statements and private journals, as well as amassing dozens of exclusive new interviews and witnesses, he's ready to reveal the shocking truth about the death of Hollywood's golden girl . . . and finally demand justice for Natalie Wood.
Praise For Natalie Wood's Fatal Voyage: Was It Murder? (Front Page Detectives)…
"The king of Hollywood scoops."
— AdWeek 

"Dylan Howard is one of the finest journalists writing today. His depth and breadth of experience are second to none; he follows every intricate angle of a story and exposes the truth. As a former detective, I know firsthand the skills that make an exceptional investigator and Dylan has them in spades."
—Bo Dietl, former NYPD homicide detective who made over made over 1,400 felony arrests   

"The go-to guy for authoritative showbiz news and analysis on cable and over-the air television."
— Los Angeles Press Club 
        
Skyhorse, 9781510755185, 256pp.
Publication Date: March 1, 2022
About the Author
As a man with unprecedented access to the facts and a reporter who is one of the most feared journalists in Hollywood, investigative reporter Dylan Howard has cracked open scandals that have brought down the careers of Mel Gibson, Charlie Sheen, Hulk Hogan, and Paula Dean and others.

Howard's sense for news saw him rise to become the undisputed most powerful gossip editor in the world, publishing dozens of salacious tabloid magazines each week, including Us Weekly, The National Enquirer, Star, In Touch, Life & Style, RadarOnline.com, and more.

Described by the New Yorker magazine's Jeffrey Toobin as "a tabloid prodigy" and AdWeek as "the king of Hollywood scoops," Dylan also brought to light: the hate-fueled audiotapes of Oscar-winning actor/director Gibson blasting former girlfriend Oksana Grigorieva; the scandal-plagued death of screen darling Farrah Fawcett; the naming of the mother of Arnold Schwarzenegger's love child; the demise of star-on-the-rise politician Anthony Weiner; and the Tiger Woods sex scandal. He also broke the story of the A-list high-stakes poker scam that was later made into the Oscar-nominated film Molly's Game.

Most recently, Howard made a name for himself with a stunning exposé of Sheen that revealed Hollywood's most unapologetic hedonist was HIV positive. It also was a story of extraordinary corruption, violence, lies, intimidation, death threats, and millions of dollars paid out in hush money—a story that he chronicled in a first-person essay for The Hollywood Reporter that AdWeek called "jaw dropping."

In 2011, Howard was named Entertainment Journalist of the Year at the National Entertainment Journalism Awards, where the judges labelled him the "go-to guy for authoritative showbiz news and analysis on cable and over-the air television."

Howard lives in New York City.