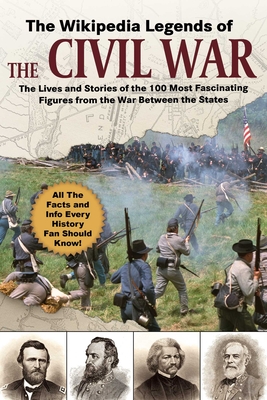 The Wikipedia Legends of the Civil War (Paperback)
The Lives and Stories of the 100 Most Fascinating Figures from the War Between the States
Skyhorse, 9781510755406, 400pp.
Publication Date: April 7, 2020
* Individual store prices may vary.
Description
A thorough, comprehensive guide to 100 of the most interesting and influential figures from the War Between the States, from Lincoln, Grant, and Sherman to Davis, Lee, and Jackson—and more.
For over 150 years, the Civil War has been an important touchstone in the history of the United States. Now,
The Wikipedia Legends of the Civil War
offers readers and history fans a new opportunity to learn about these legendary figures in greater depth and detail than ever before.
Featuring extensive information about a hundred important Civil War figures both famous and little-known, as well as a variety of supplemental information— photos, maps, tactical and strategic graphics, battle lists with casualty info, examinations of weapons and equipment, and much more—this book is an essential guide for any Civil War fan, anyone curious about US history, or any reader who wants an insight into the most fascinating stories and interesting characters from this critical period for America. 
Included in
The Wikipedia Legends of the Civil War
, among many others, are: 
Robert E. Lee
Ulysses S. Grant
Frederick Douglass
Stonewall Jackson
William Tecumseh Sherman
Abraham Lincoln
Harriet Jacobs
Jefferson Davis
J.E.B. Stuart
Clara Barton
Ambrose Burnside
Harriet Tubman
Maria Boyd
Robert Smalls
Walt Whitman
With nearly six million English language articles covering essentially any topic imaginable, Wikipedia is one of the most visited websites on the internet and an important resource for anyone curious to learn about the world. This curated selection of content has been carefully selected and compiled by our editors to be the definitive book on the subject.  
About the Author
Wikipedia is an online, collaboratively edited encyclopedia owned by the Wikimedia Foundation. With nearly six million English-language articles, it is the largest and most popular general reference work on the Internet and one of the top-five most-visited websites in the world. Time magazine has called it "the biggest (and perhaps best) encyclopedia in the world."