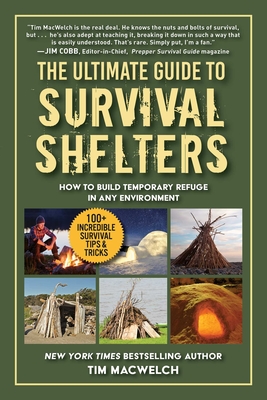 The Ultimate Guide to Survival Shelters
How to Build Temporary Refuge in Any Environment
Paperback

* Individual store prices may vary.
Description
Your guide to shelter in most survival situations from a New York Times bestselling author and survival expert.

New York Times bestselling author and survival school founder, Tim MacWelch shows us why shelter is our top survival priority in most emergency situations, and how we can provide ourselves with this lifesaving resource. In The Ultimate Guide to Survival Shelters, MacWelch details our risks for exposure (from both the heat and cold) and guides readers through the myriad of options for providing this necessary resource. Learn how to find, enhance, and build shelters in a wide range of environments and survival situations, and learn how to get by with less than you might have imagined. Throughout this detailed handbook you'll find:

•             The shelters you bring with you, including clothing and basic outdoor gear that everyone should carry
•             The shelter you find in the wild (like rock overhangs, hollow trees and the right evergreen trees)
•             Tarp Shelters (a simple square of plastic or fabric can become dozens of practical shelter styles)
•             The shelters you can build from vegetation (sticks and leaves don't sound like much, but they can become a shelter that protects from the worst of weather)
•             Snow shelters, including the ubiquitous igloo, and other snow shelters that are even easier
•             Advanced shelters (with the right tools, semi-permanent shelters are within reach, all you need is a plan and building materials)
•             Shelter in modern emergencies (your car, office and familiar haunts can become a shelter in a disaster, here's how to make the most of them)
•             Make any shelter better, with these simple tricks and tips for warmth, waterproofing, cooling, pest control, and comfort!

The Ultimate Guide to Survival Shelters will give readers much more than just the knowledge to build a shelter in an emergency, it provides the tools to become a problem-solver and think outside the box in any situation.
 
Praise For The Ultimate Guide to Survival Shelters: How to Build Temporary Refuge in Any Environment…
"The number one priority in most survival situations is to build or acquire shelter. Your number one priority, right now, should be to get this book and learn how to do sheltering right. Tim MacWelch shares his incredible wealth of real-world experience in this must-have resource!"    

­—Craig Caudill, Director of Nature Reliance School, author, Extreme Wilderness Survival
 

"Once again, Tim has proven why he is an icon in the survival community. Tim not only provides detailed instructions on how to build the different types of shelters, but more importantly, he covers every reason WHY shelter is so high on the survival priority list.  This handbook is a must-have."  

— Rob "K12" Krolikiewicz, Owner of K12 Survival Solutions

"Tim MacWelch is the real deal. He knows the nuts and bolts of survival, but that's the easy part. He's also adept at teaching it, breaking it down in such a way that is easily understood. That's rare. Simply put, I'm a fan."

—Jim Cobb, Editor-in-Chief,  Prepper Survival Guide magazine
Skyhorse, 9781510755567, 152pp.
Publication Date: August 10, 2021
About the Author
Who Is Tim MacWelch?
 
Tim MacWelch has been an obsessed devotee of survival and self-reliance for over three decades. His love of the outdoors started at a young age, growing up on a farm in the Piedmont hills of Virginia. Eating wild edibles and learning about the animals in the forest were part of his rural youth, but as a teenager, he couldn't get enough of the subject of survival. In his early twenties, he began working with kids through youth workshops for schools, church groups, the Boy Scouts, Cub Scouts, and other youth throughout the region. He still continues to volunteer his time and has worked with thousands of Scouts and other children over the past thirty years. In the spring of 1997, he opened a business teaching wilderness skills to adults, and he still continues this business today. Over the years, Tim has been a featured survival expert for National Geographic, CNN, Good Morning America, Conde Nast Traveller, Washington Post, Men's Journal, FOX 5 DC and several other organizations. Tim has also written scores of articles for OFF-GRID magazine, and is the lead storyteller for their regular feature article "What If?". Tim has been writing for Outdoor Life magazine since 2010 and has become a regular contributor to the "Outdoor Life Survival" website, creating hundreds of blogs and articles for OutdoorLife.com.
 
Tim's strong relationship with the Outdoor Life brand led to the publishing of Tim's first book with OL's sibling company, Weldon Owen publishing. Tim's first three titles with Weldon Owen were on the New York Times Bestseller list in 2014 and 2015. Tim's titles to date include:
 
Prepare For Anything – NY Times Bestseller, #3 Travel Dec 2014 and #3 Travel Jan 2015
Hunting & Gathering Survival Manual – NY Times Bestseller, #5 Travel Dec 2014 and #5 Travel Jan 2015 
How To Survive Anything – Released May 2015, NY Times Bestseller Nov 2015
The Ultimate Winter Survival Handbook – Released Oct 2015
How To Survive Off The Grid – Released Oct 2016
The Ultimate Bushcraft Survival Manual – Released Oct 2017
Ultimate Survival Hacks – Released Nov 2018
 
At the end of 2017, he also found a position at Survival Dispatch, writing for their monthly online magazine. Tim is also a husband and father of two beautiful girls, still residing in Virginia.