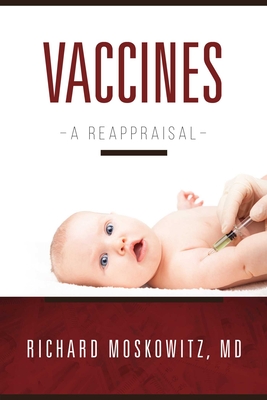 Vaccines
A Reappraisal
Paperback

* Individual store prices may vary.
Other Editions of This Title:
Hardcover (9/19/2017)
Description
Drawing on fifty years of experience caring for children and adults, Dr. Moskowitz examines vaccines and our current policy regarding them. Weaving together a tapestry of observed facts, clinical and basic science research, news reports from the media, and actual cases from his own practice, he offers a systematic review of the subject as a whole.

He provides scientific evidence for his clinical impression that the vaccination process, by its very nature, imposes substantial risks of disease, injury, and death that have been persistently denied and covered up by manufacturers, the CDC, and the coterie of doctors who speak for it.

With the aim of acknowledging these risks, taking them seriously, understanding them more holistically, and ultimately assessing them on a deeper level, he proposes a nationwide debate based on objective scientific research, including what we already know and what still needs to be investigated in the future.

He argues that with no serious public health emergency to justify them, requiring vaccines of everyone deprives us all of genuinely informed consent, and prevents parents from making healthcare decisions for our children, basic human rights that we still profess to hold dear.

For the present, given the legitimate controversy surrounding the mandates, he proposes that most vaccines simply be made optional and that further research into their risks and benefits be conducted by an independent agency in the public interest, untainted by industry funding, CDC sponsorship, and the quasi-religious sanctimony that is widely invoked on their behalf.
Praise For Vaccines: A Reappraisal…
"This book is a masterpiece and a must-read for anyone with concerns about the safety and efficacy of vaccines. Engaging and highly accessible, it weaves together cases from Dr. Moskowitz's own practice with detailed discussion of the scientifically proven links between vaccines and autoimmune disease, SIDS, neurological disorders like autism and ADHD, and the sordid backstory of mandatory vaccination in America." --Stephanie Seneff, PhD, senior research scientist, MIT

"Dr. Moskowitz's book provides invaluable help for parents seeking to make up their minds about childhood vaccines. It is well thought out and filled with scientific insight, common sense, and practical wisdom. It synthesizes the scientific, medical, legal, and ethical issues around childhood vaccination like no other book on the market today." --Mary Holland, JD, research scholar, NYU School of Law

"Richard Moskowitz is the kind of enlightened, compassionate physician every family wants and deserves. His thoughtful, well-researched perspective on vaccines proposes an ethic of informed consent and individual choice, not authoritarian enforcement of a one-size-fits-all policy. This book not only educates, but empowers and inspires as well." --Barbara Loe Fisher, cofounder and president, National Vaccine Information Center

"Vaccines is a thorough exposition of the subject, including case histories from Dr. Moskowitz's long experience, supported by credible scientific research, as well as related issues of law and ethics, historical and political background, and even some original hypotheses of his own regarding so much about vaccines that remains unexplored and unknown. It is eminently worth reading for medical professionals and laypeople alike." --Janet Levatin, MD, board-certified pediatrician

"WOW! Dr. Moskowitz has been exposing the truth about vaccines for many years. His new book is stunning. It brings forth vital information ignored in mainstream medical texts. Thorough and authoritative, it is an essential addition to every vaccine investigator's library." --Sherri Tenpenny, DO, AOBNMM, ABIHM, author of Saying No to Vaccines
Skyhorse, 9781510755604, 312pp.
Publication Date: October 6, 2020
About the Author
Mary Holland, M.A., J.D., is legal advisor and advisory group chair of Health Choice.