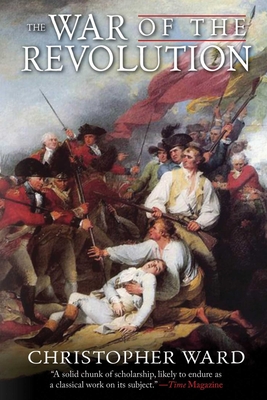 The War of the Revolution (Paperback)
Skyhorse, 9781510755758, 1008pp.
Publication Date: June 9, 2020
Other Editions of This Title:
Paperback (1/16/2011)
* Individual store prices may vary.
Description
"A solid chunk of scholarship, likely to endure as a classical work on its subject." —Time Magazine

"[T]hrough these individual battles, rather than through a general strategic survey, the reader literally goes through this war, an exciting experience for those who are easy chair generals or who want to refresh or fill in their knowledge of the Revolution." —Kirkus Reviews

From the first crack of musket fire at Lexington and Concord to the downing of the British colors at Yorktown, Christopher Ward does not tell the whole history of the American Revolution, but rather, illuminates the history of the war caused by that revolution—the military operations on land in the War for Independence.

When The War for the Revolution was first published almost sixty years ago, it was instantly recognized as a modern classic of American historical scholarship, as well as a masterpiece of narrative nonfiction Revolutionary War history. Today it is probably the most cited single work on the American Revolutionary War. The combination of a simple format and eloquent writing make The War of the Revolution an ideal reference for the professional historian and American history buff alike.

Now available in one complete volume totaling more than 1,000 pages, readers have the opportunity to purchase the entire masterpiece and relive each battle through Ward's powerful descriptions. Hear the gunshots, know the soldiers, and experience the terrain and military tactics as the troops did with this classic account, still unmatched so many decades later—The War of the Revolution.
About the Author
Christopher Ward served as president of the Historical Society of Delaware and worked with the Federal Writers' Project. Some of his works include The Dutch and Swedes on the Delaware and The Saga of Cap'n John Smith. He died at the age of seventy-five in 1943.
Praise For The War of the Revolution…
"A solid chunk of scholarship, likely to endure as a classical work on its subject." —Time Magazine

"An extensive military history of the Revolution which, after a brief discussion of the period from 1763 to its outbreak, carries the reader through every name battle from Lexington to Yorktown. There are comprehensive reports of the war in the North, in the South, and on the Border; there are sketches and evaluations of the character and military skill of the Rebel and British leaders. There are detailed accounts of the battles, large and small, from the disastrous campaign into Canada to the victory at King's Mountain. Most of all, there is the reflection of brave men fighting for an idea, but men unaccustomed to battle- raw recruits, ragged recruits, who sometimes fought and sometimes fled and who endured great hardship. Strategies of each battle are considered, and the conflict among the officers, the lack of unity even under Washington becomes evident. And through these individual battles, rather than through a general strategic survey, the reader literally goes through this war, an exciting experience for those who are easy chair generals or who want to refresh or fill in their knowledge of the Revolution. A book for the audience of Willard Wallace's Appeal to Arms (1951)." —Kirkus Reviews
 
or
Not Currently Available for Direct Purchase