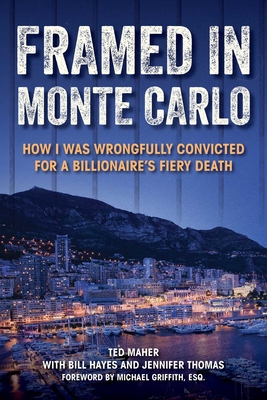 Framed in Monte Carlo
How I Was Wrongfully Convicted for a Billionaire's Fiery Death
Hardcover

* Individual store prices may vary.
Description
As featured on 60 Minutes, Dateline, Inside Edition, and 48 Hours, the shocking true story of banker Edmond Safra's death and the man wrongfully convicted and imprisoned for the crime.

When billionaire banker Edmond Safra died in the ashes of Monaco's La Belle Époque building on December 3, 1999, the event made international headlines—for many reasons. One, of course, was the sheer wealth of the Lebanese mogul and his formidable presence in the international banking world. But the more seductive reason for the worldwide attention was the strange and intriguing way Safra died—ensconced within the armored walls of his vigilantly secured residence in the "safest city in the world."

At 4:45 in the morning, a firestorm gutted Safra's opulent Monte Carlo penthouse, trapping—and killing—Safra and one of his nurses, Vivian Torrente. When the fire was ruled arson, a fast finger was pointed at the only other nurse present: former Green Beret Ted Maher.

The true, bizarre circumstances that led to Safra's death and to the subsequent imprisonment of Ted Maher are contained within the pages of Framed in Monte Carlo: How I Was Wrongfully Convicted for a Billionaire's Fiery Death. The story features a play-by-play of that deadly night, as well as Ted's sham of a trial that put him behind bars for seven years and eight months. Brutal betrayals, harrowing kidnappings, prison breaks straight out of The Great Escape, and more pepper the pages of Framed in Monte Carlo.

 Ted was freed when the judge from his trial came forward with a stunning revelation. But his life was never the same. And since his return to American soil, he's continued to unearth more and more disturbing details about his ordeal. Armed with fresh facts, a greater understanding of the players, and a wider lens of perspective, Ted now reveals all, including his never-before-released findings that seek to answer the lingering big question: Who did kill Edmond Safra? The powerful famous names legitimately put forth by the author will shock you.
Praise For Framed in Monte Carlo: How I Was Wrongfully Convicted for a Billionaire's Fiery Death…
"True crime fans, convinced or not of the author's innocence, will be entertained." —Publishers Weekly

"Maher's compelling work reads like a mystery novel full of twists and turns; the author also describes how foreigners are often at a disadvantage when it comes to navigating a justice system with which they may be unfamiliar. VERDICT An absorbing tale for true crime fans—hand this one to readers captivated by the Amanda Knox case or the Netflix docuseries Making a Murderer."  —Library Journal
Skyhorse, 9781510755864, 360pp.
Publication Date: April 27, 2021
About the Author
TED MAHER is an ex-Green Beret who became a private nurse to billionaire banker Edmond Safra. Wrongfully convicted for Safra's death, he was imprisoned abroad for almost eight years.
 
BILL HAYES is a bestselling nonfiction author, featured in documentary films and TV shows and for his extensive knowledge in a variety of fields. He received the prestigious Silver Spoke Award for his body of literary work in the motorcycling community.
 
JENNIFER THOMAS is an award-winning author, editor, designer, and publisher. With a BA from Columbia University and a Specialized Certificate in Copyediting from the University of California, San Diego, she has produced dozens of books of every genre, including her and Hayes' Hullabaloo!, Triumphs and Tragedies, and Butterfly Tears.
 
MICHAEL GRIFFITH, Esq.  is a partner of the International Legal Defense Counsel whose high-profile clients include Billy Hayes—the man whose story inspired the Oliver Stone movie Midnight Express. An international criminal law expert, he has counseled individuals imprisoned in dozens of countries. He has been featured in major media outlets about his famous cases and expertise—60 Minutes, 48 Hours, Dateline, 20/20, Good Morning America, TheNew York Times, and TheWashington Post, to name a few.
or
Not Currently Available for Direct Purchase