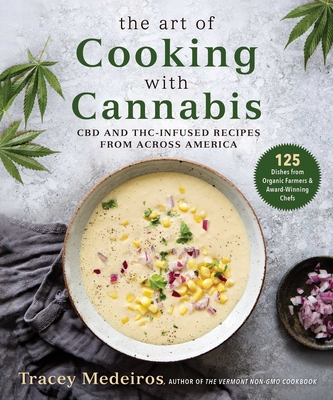 The Art of Cooking with Cannabis
CBD and THC-Infused Recipes from Across America
Hardcover

* Individual store prices may vary.
Description
125 mouthwatering recipes featuring CBD, hemp, and THC from organic farmers, award-winning chefs, artisans, and food producers across the country.
More than a cookbook,
The Art of Cooking with Cannabis
is a valuable resource for new inspiration and excitement surrounding cannabis, food, and responsible consumption. Tracey Medeiros introduces the reader to dozens of organic farmers, award-winning chefs, artisans, and food producers who are leading the green revolution by doing their part to demystify cannabis and its culinary use. Individual profiles contain stories from the book's contributors who come from rural and suburban communities and bustling cities across this nation. These folks have generously shared their personal struggles and successes which have led them to understand the many health and wellness benefits of the cannabis plant and its important role in society.
From chemistry to culinary, the book contains 125 mouthwatering recipes, such as:
Chicken Kale Meatballs with Cherry Tomato and Pesto Sauces from Chef Jordan Wagman
Avocado Mash with Nori and Cucumber from Chef Michael Magliano
CBD-Infused Vegan Gluten-Free Miso Broth from Jessica Catalano
THC- and CBD-Infused Smoked Cheddar with Green Chili Stone-Ground Grits from Chef Kevin Grossi
Sh'mac and Cheese from Carly Fisher
Vegan No-Bake Cashew Cheese Cake from Chef Maria Hines
Simple and beautifully presented spirit-free and spirit cocktails such as "The 700 Club" and "Rebellious" are also featured in the cookbook from contributors including Entente Chicago and Prank Bar. 
Recipes are divided into three categories—CBD, Hemp, and THC—each adapted to meet the reader's cooking and tolerance levels. Insightful sidebars offer informative tips and "how-to" guidance, helping the cook to use cannabis with ease and confidence.    
Praise For The Art of Cooking with Cannabis: CBD and THC-Infused Recipes from Across America…
"Marijuana-cooking has come a long way from the pot brownies of the 1960s. Today there's flat iron steak and grilled stone fruit salad with CBD-infused honey apple cider vinaigrette. And for dessert, mini peach bourbon pound cake paninis with THC, or cannabis-infused dark chocolate spiced parfait. Fit for a stylish restaurant or a fun dinner party, these recipes and many more appear in The Art of Cooking with Cannabis." —The Boston Globe

"The Art of Cooking with Cannabis is a highly recommended culinary resource for both professional chefs and food enthusiasts. As an advocate for responsible cannabis cookery, I'm impressed by how Tracey Medeiros has curated this collection of inspired recipes from cocktails to desserts, and every course in between! She has shined the spotlight on many talented chefs from across the country as she shares their imaginative infused recipes and expert tips. Whether new to cooking with THC, CBD, and  Hemp, or already well-seasoned in the methodology, you'll love this book!" —Jacqui Pressinger, American Culinary Federation, Inc.

"For real connoisseurs, this is less of a whoa, weed approach to cannabis cuisine and more like a traditional cookbook your gran would keep on her bookshelf. A really cool gran. Here, you'll learn how to safely and successfully incorporate THC and CBD into everything from miso soup to meatballs, sourced from a bevy of chefs who've experimented themselves." —Esquire, "The 15 Best-and Most Anticipated-Cookbooks of 2021" 

"Recipes for everything from cocktails to comfort food are infused with THC, hemp or CBD in this book. They come from people all across the country, like award-winning chefs and organic farmers who want to spread insight on responsible cannabis cooking. The book hones in on sustainable cooking and, quite literally, fell-good food." —San Francisco Modern Luxury Magazine

"In the her new book The Art of Cooking with Cannabis: CBD and THC-Infused Recipes from Across America, Medeiros compiles recipes, from snacks to desserts to dinners, developed by chefs across the country." —Los Angeles Magazine 

"A comprehensive and delicious look at the endless possibilities of the cannabis kitchen, The Art of Cooking with Cannabis brings together the farm-to-table movement and cannabis in a new and unique way. Jam-packed with chef-created recipes featuring cannabis and hemp in a wide variety of techniques and dishes, The Art of Cooking with Cannabis makes cooking with this star ingredient simple and versatile. From desserts to dressing and everything in between, each recipe would be delicious with or without cannabis. But what really sets this cookbook apart from the pack is Mederios's detailed storytelling that examines each recipe's inspiration and tells each chef's story, while connecting them to the farmers behind the food. In this way, Mederios brings the farm-to-table movement to cannabis, and by breaking the book into regional sections, the reader can see local ingredients, flavors, and trends emerge, making this book as much an anthology of food in the United States as is it culinary cannabis across the country." —Rachel Burkons, co-founder of Altered Plates
Skyhorse, 9781510756052, 424pp.
Publication Date: May 25, 2021
About the Author
Tracey Medeiros is a food writer, recipe developer, and cookbook author. Her cookbooks include The Vermont Non-GMO Cookbook, The Connecticut Farm Table Cookbook, The Vermont Farm Table Cookbook, and Dishing Up Vermont. Tracey is an avid proponent of the farm-to-table movement. She travels as a guest speaker and cooking instructor throughout the East Coast, emphasizing her commitment to the sustainable food movement. She resides in northern Vermont.