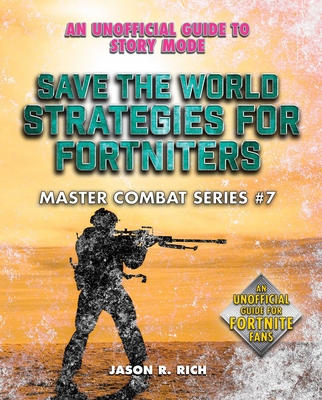 Save the World Strategies for Fortniters
An Unofficial Guide to Story Mode (Master Combat #7)
Hardcover

* Individual store prices may vary.
Description
Complete the hardest missions, defeat your enemies, and save the world with this all-new, all-encompassing guide book!
Fortnite: Save the World
is the #1 cooperative player-versus-environment gaming adventure out there. Building on the combat and survival skills of
Fortnite: Battle Royale
, Save the World offers a uniquely challenging experience. Using the valuable tips in this illustrated, information-packed guide, you'll be better equipped to:
Catapult your four-person team to victory by completing even the toughest missions
Avoid the catastrophic storm and battle the zombies that are bent on destroying you
Build weapons and structures, explore, gather resources, and manage your inventory like a pro
Whether you play Fortnite: Battle Royale on a PC, Mac, Xbox One, PlayStation 4, Nintendo Switch, or your mobile device, inside you'll find the essential tips and secrets you need to snag more victories and achieve your objectives. This illustrated, easy-to-use guide gives you the rundown of all things Save the World so you can play like a pro.
Save the World Strategies for Fortniters
provides the ultimate, unofficial, competitive advantage for new and experienced gamers alike.  
Sky Pony, 9781510757073, 144pp.
Publication Date: March 3, 2020
About the Author
Jason R. Rich (www.JasonRich.com) is an avid gamer and the author of more than two dozen full-length computer and video game strategy guides. He's also contributed thousands of game reviews and articles to national magazines and websites, and has worked as a consultant to some of the world's biggest computer and video game developers and publishers. He is also the author of the Fortnite Battle Royale Hacks series and the Unofficial Encyclopedias of Strategy for Fortniters series, as well as other gaming strategy guides such as Combat Strategies for Apex Legends Players and Hacks for PUBG Players. Follow him on Twitter/Instagram (@JasonRich7).