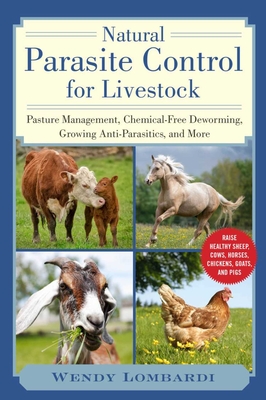 Natural Parasite Control for Livestock
Pasture Management, Chemical-Free Deworming, Growing Antiparasitics, and More
Paperback

* Individual store prices may vary.
Description
Everything You Need to Know about Natural Parasite Control for Livestock, All in One Place!
This concise book is loaded with valuable information about ridding livestock of their unwanted guests. Whether you're raising sheep, pigs, horses, cows, chickens, goats, or other farm animals, this book will teach you how to keep them healthy and parasite-free through organic systems and without the use of harsh chemicals. It includes easy-to-follow scientific explanations, and provides research-based practices that really work. Internal parasite control
can
be accomplished naturally 1) through environmental modifications, 2) by producing and using easy-to-grow & harvest anti-parasitics, and, 3) by understanding the life-cycles and road blocks of internal parasites.
In this practical guide you will learn about:
Parasites, hosts, and lifecycles
How to develop a working pasture rotation system
How to create healthy pastures and clean watering systems
Administering natural antiparasitics
Growing, collecting, and processing natural and herbal antiparasitics
And more!
This is a necessary reference manual for all sustainable, natural, animal-husbandry endeavors!
Praise For Natural Parasite Control for Livestock: Pasture Management, Chemical-Free Deworming, Growing Antiparasitics, and More…
"I am recommending this handy guide to all my friends with livestock. This is a much needed resource for homesteaders and small producers. Parasites are a nemesis for many of us. In these pages, Wendy Lombardi shares her valuable knowledge of plants, parasites, and methods of control using available plants and herbs. I will be keeping my copy for years to come." —Janet Garman, author of Good Living Guide to Keeping Sheep and Other Fiber Animals, 50 Do-It-Yourself Projects for Keeping Chickens, and 50 Do-It-Yourself Projects for Keeping Goats
Skyhorse, 9781510757103, 112pp.
Publication Date: April 13, 2021
About the Author
Wendy Lombardi was born and raised in Nebraska, and her experience with agriculture and livestock management began at a very early age. She worked at various livestock facilities into her mid twenties, and earned a degree in Equine Science. After a stint in the Army during Desert Storm, Wendy earned a master's degree in Wellness and developed the US Army's Pregnant Soldier Wellness Program, which is still used by the US military today. Post-service, she homeschooled her three children on a forty-acre homestead in the Ozarks of Missouri, teaching them (and others too!) how to live in a modern world while minding the health of our planet. Wendy is currently Director of Cultivating Veterans, which assists farming veterans in forming secure food cooperatives to distribute sustainably-grown foods from farm to table. She hosts veteran workshops, FFA student activities, WWOOF and Veterans volunteers, and does outreach and presentations at seminars and other community gatherings.