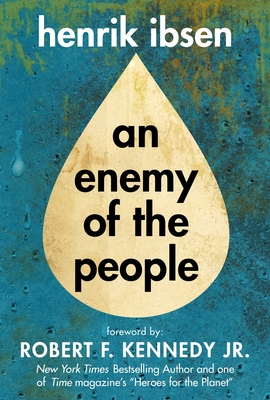 Enemy of the People
Hardcover

* Individual store prices may vary.
Other Editions of This Title:
Digital Audiobook (6/14/2014)
Paperback (2/16/2021)
Paperback (4/16/2021)
Paperback (1/21/2021)
Paperback (9/9/2014)
Paperback (11/27/2015)
Paperback (3/29/2020)
Paperback (5/19/2020)
Paperback (7/15/2011)
Paperback (11/28/2012)
Paperback (3/20/2021)
Paperback (10/9/2020)
Paperback (6/5/2019)
Paperback (4/13/2020)
Paperback (9/24/2020)
Paperback (8/29/2010)
Paperback (3/29/2021)
Paperback (8/3/2018)
Description
Environmentalist, activist, and attorney Robert F. Kennedy Jr. contributes a foreword to this Skyhorse edition of Norwegian playwright Henrik Ibsen's renowned 1882 play, An Enemy of the People.

Regarded as one of the foremost playwrights of the nineteenth century, Ibsen tells the story of the idealist Doctor Thomas Stockmann, the medical officer of a recently opened spa in a small town in southern Norway, who finds that the water is seriously contaminated. He notifies members of the community and initially receives support and thanks for the discovery. Threatened by the possible impact of such a revelation, his brother, the town mayor, conspires with local politicians and the newspaper to suppress the story and pressure Dr. Stockmann to retract his statements.

At a public meeting, an attempt is made to keep Dr. Stockmann from speaking, but he launches into a tirade condemning the corruption of the town and the tyranny of the majority. Finding his speech offensive, he is shouted down by the masses and reviled as 'an enemy of the people.'

In his foreword, Kennedy alerts readers to the undeniable fact that the persecution of those who tell uncomfortable truths, which Ibsen described one hundred years ago, continues to this day and is as relevant now as it ever was. We face environmental deregulation and degradation, politicians in lobbyists' pockets, attacks on facts that are agreed upon by reputable scientists, corporate funded and controlled research, and attempts to impede and suppress whistleblowers. The battle continues and Kennedy joins Ibsen on the front lines.
 
Skyhorse, 9781510757233, 144pp.
Publication Date: October 5, 2021
About the Author
Robert F. Kennedy, Jr. is a New York Times bestselling author and one of the nation's leading environmental activists. His writing has been included in anthologies of America's best crime writing, best science writing, and best political writing. He is president of Waterkeeper Alliance, the world's largest clean water advocacy group; a professor of environmental litigation at Pace University Law School in White Plains, NY; and a senior attorney at the Natural Resources Defense Council. Mr. Kennedy is a former Assistant District Attorney in Manhattan. He cohosts thre weekly radio show Ring of Fire.