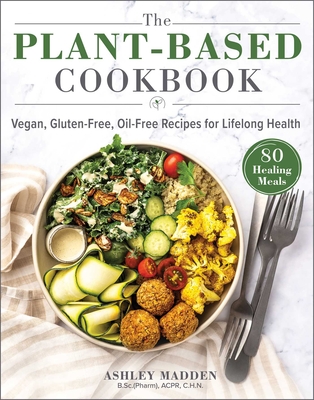 The Plant-Based Cookbook
Vegan, Gluten-Free, Oil-Free Recipes for Lifelong Health
Hardcover

* Individual store prices may vary.
Description
An essential resource for your health―if we are what we eat, let's make every (delicious) bite count!
This cookbook will no doubt transform your kitchen, bringing new plant-based, whole food ideas to the table and offering easy yet healthy recipe solutions for everything from celebratory meals to rushed weeknight dinners. Ashley Madden is a pharmacist turned plant-based chef, certified holistic nutritional consultant, and devoted health foodie. A diagnosis of multiple sclerosis changed her whole life and approach to food, eventually shaping a new food philosophy and inspiring this book.
The Plant-Based Cookbook
 is especially helpful for those with dietary requirements or food allergies as all recipes are vegan, dairy-free, gluten-free, and oil-free without compromising on taste or relying on packaged and processed ingredients. All-natural recipes include:
One-pot creamy pasta
Vibrant nourish bowls
Decadent no-bake cinnamon rolls
A show-stopping cheese ball
Life-changing carrot cake
And so much more!
Whether you consider yourself an amateur home cook or a Michelin Star chef, this collection of recipes will inspire you to turn whole foods into magical, mouthwatering meals and give you confidence to prepare plants in creative and health-supportive ways.
Praise For The Plant-Based Cookbook: Vegan, Gluten-Free, Oil-Free Recipes for Lifelong Health…
"With beautifully photographed and mouthwatering recipes like Avocado Tartare, Cauliflower and Potato Dal, Lemon Turmeric Bliss Balls, and Raw Cinnamon Rolls, The Plant-Based Cookbook will heal your body while it feeds your soul. Ashley truly makes healthy taste delicious!" —Chef AJ, author of The Secrets To Ultimate Weight Loss

"Ashley's story is one I was deeply inspired by, and this cookbook is a direct reflection and celebration of her triumphs in the kitchen that created ripples of positivity out into the rest of her life. Her approach to food is both realistic and empowering, and I appreciate her emphasis on how we can use our own intuition to guide our dietary choices. If you've never set foot in the kitchen before, or you're a confident cook who is simply looking for a holistic way to approach plant-based eating, this collection of delicious and creative recipes is sure to satisfy!" —Sarah Britton, holistic nutritionist and author of My New Roots

"A plant-based diet not only helps with weight control, lowering cholesterol, and overall disease prevention; evidence shows that it also has the power to slow the progression of a surprising range of conditions, including multiple sclerosis. Take it from Ashley Madden, who faced her MS diagnosis head-on by learning about the power of nutrition for health. Ashley's cookbook will equip you with everything you need to know about stocking your pantry with plant-based ingredients, tips and tricks to save you time, and a wonderful selection of recipes that will have you questioning why you didn't try a plant-based diet sooner!" —Neal Barnard, MD, FACC, Physicians Committee for Responsible Medicine
 
"Filled to the brim with timely and thoughtful information procured from Ashley's firsthand experience using food as medicine as a person living with multiple sclerosis. Ashley offers up an elegant and accessible celebration of whole foods making healthier foods taste amazing. The Plant-Based Cookbook gently invites its readers to see whole foods in a new way. This book will become a staple in kitchens for years to come, showcasing healthy recipes that don't compromise on taste!" —Michael Greger, M.D. FACLM, founder of NutritionFacts.org and author of How Not to Die
 
"Ashley is a plant-based visionary! The ultimate guru when it comes to creating the healthiest, most vibrant, and flavorful meals! You'll want to make every recipe!" —Chloe Coscarelli, vegan chef and author of Chloe Flavor
 
"With The Plant-Based Cookbook, Ashley Madden demonstrates how food lovers can have it all—optimize their health and enjoy delicious, nutritious cuisine. This informative and beautiful book will give you the confidence you need to make healthful meals. Ashley offers up a tasty variety of family-friendly, traditional, and unique recipes that anyone who loves to eat will appreciate." —Julieanna Hever, Plant-Based Dietitian™, author of The Healthspan Solution and Plant-Based Nutrition (Idiots Guide)
 
"This cookbook is a delight! But it's not just a cookbook. Ashley Madden is absolutely inspirational in showing how plant-based cooking can not only produce sumptuous and delicious meals, but act, as it has for her, as a recipe for robust good health, even for those with serious chronic illness." —Professor George Jelinek, MD MBBS, Dip DHM FACEM,
author of Overcoming Multiple Sclerosis

"The Plant-Based Cookbook is bursting with brilliant dinner ideas, colorful salads, wholesome breakfast alternatives, and guilt-free sweets! Ashley has a talent for expanding the reader's view of food, no matter their personal journey. Because of Ashley, I cook oil-free and gluten-free with confidence, something I never imagined being able to do. This book is full of gorgeous photos and inspiring recipes that anyone who likes good food will appreciate." —Dustin Harder, chef, author, television host, and creator of The Vegan Roadie
 
"Gorgeous, delectable, and mouthwatering are just a few of the adjectives to aptly describe The Plant-Based Cookbook from Ashley Madden. I found myself turning the pages and saying 'Ohhh, I want that!' more times than I can count. Her easy-to-follow recipes combined with healing plant-based ingredients offer an approachable and nourishing feast for the senses. This book is going to inspire the curious foodie to explore the myriad benefits of a plant-based lifestyle and also offer newfound culinary inspiration to seasoned cooks with its vibrant recipes and health-supporting information." —Jason Wrobel, celebrity vegan chef, cooking channel TV host, and co-founder of Wellevatr

"For anyone looking to create delicious, healthy, plant-based meals and explore the lifestyle, The Plant-Based Cookbook will become a favorite source for recipes and information on how to choose healthier ingredients." —TheBeet.com
Skyhorse, 9781510757615, 280pp.
Publication Date: March 2, 2021
About the Author
Ashley Madden is a full-time food lover, trained and passionate plant-based chef, pharmacist, certified holistic nutritional consultant, and food photographer. A diagnosis of multiple sclerosis triggered an overhaul of her personal and professional life and ultimately, she traded prescriptions for plants! She shares her flavorful and inventive plant-based, gluten-free, oil-free culinary creations on her recipe blog RiseShineCook.ca. Originally from Canada, Ashley has moved around the world from New York to the Netherlands and currently resides in Taipei, Taiwan with her husband and beloved collection of cookbooks.