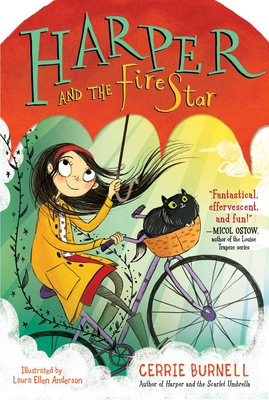 Harper and the Fire Star
Paperback

* Individual store prices may vary.
Description
"Harper and the Fire Star is a wonderful celebration of music and the arts. With warm, likeable characters, fantastic illustrations and a large dose of magic this is a perfect first chapter book for independent readers." —Story Snug

Harper and her friends want to help the Wild Conductor win back his place in the magical Circus of Dreams. They put on a wondrous show, but their plan goes horribly wrong. Instead of the Wild Conductor, the ringmaster selects Harper to show off her incredible musical skills for the world to see.

But once inside the circus, Harper learns of the Fire Star, a girl with her own extraordinary gift. She shines like a star whenever she hears music.

And Harper may have figured out why . . .

The fourth book in the Harper series continues to spin tales of whimsy and wonder for Harper and her friends. Full of friendship, music, and magic, and featuring a diverse cast, brought to life through stunning illustrations, this is a book to be shared and treasured.
Praise For Harper and the Fire Star…
"The sincere charm of the story swept me up like one of the flying umbrellas Harper and her friends use to soar from cloud-to-cloud." —Russell F. Hirsch, Storythreads blog

"Always ready to help others, Harper is a delight." —Red Reading Hub

"Harper and the Fire Star is a wonderful celebration of music and the arts. With warm, likeable characters, fantastic illustrations and a large dose of magic this is a perfect first chapter book for independent readers." —Story Snug

Praise for Harper and the Night Forest:

"This wonderful story is twinkling with magic right from the very beginning." —Library Girl and Book Boy

"Harper and the Night Forest is a splendid book that will steal your heart and fill you with hope all at the same time. It is magical, cute and full of adventure and fun too." —Big Book Little Book

"captures the power of storytelling and the magic of fairy-tales beautifully." —Book Lover Jo

Praise for Harper and the Circus of Dreams:

"Brimming with charming illustrations and written with flowing wonderment, this is a fantastical slip of a story where magic and music combine to create enchantment. . . . A winsome tale that will make the minds of early chapter-book readers sparkle." —Kirkus Reviews

"This installment is sure to float into the hearts of readers looking for a new adventure." —School Library Journal

Praise for Harper and the Scarlet Umbrella:

"A wonderful introduction to chapter books, filled with fun illustrations, young readers . . . will enjoy following Harper as she finds adventure at every turn."—Calgary Herald

"In this lyrical, action-packed fantasy, Harper is allowed to use her aunt's Scarlet Umbrella and later discovers that her cat is missing. The Scarlet Umbrella has magical powers; it leads her to the homes of others who are missing cats. As Harper works with her friends to find the felines and bring them home, they observe new strengths in one another. Dreamy Liesel, "with tangled, blonde hair and filthy nails," implements plans of action with impressive leadership skills. Liesel's poetic brother, Ferdie, is strong and courageous. Nate, who is visually impaired, assists with his ability to hear incredibly soft sounds and maneuver in the darkness. The kids meet and confront the Wild Conductor, who has enchanted the cats. A chase ensues, with Harper and Nate flying across town in the magical Umbrella. Harper uses her musical gifts to lure the cats back with "a song of stars and mist and hope. A song that spread across the sky, as if it came from the heavens." The kids successfully battle the Wild Conductor and bring the cats home. Line drawings throughout depict the smartly dressed and messy characters. Ample action keeps the story accessible for beginning chapter book readers. Originally published in the United Kingdom, this lively tale is sure to win fans in the United States, from cat lovers to music aficionados to fantasy fans. VERDICT: A winning tale of teamwork and artistry. A solid purchase for most chapter book collections." —School Library Journal

"This lushly-written, enchanting salute to magic, music and adventure is so intriguing that even this confirmed dog lover was rooting for Harper to be reunited with her beloved cat. I suspect readers of Harper and the Scarlet Umbrella will be left thinking about their own umbrellas in a whole new way." —Nancy Krulik, New York Times bestselling author of Katie Kazoo and Project Droid

"Harper and the Scarlet Umbrella is a magical, musical tale that sings with whimsy and charm! There's not a wrong note to be found in this boisterous adventure, as children save the day as only children can. Fantastical, effervescent, and fun!" —Micol Ostow, author of the Louise Trapeze series
 
Sky Pony, 9781510757738, 168pp.
Publication Date: May 18, 2021
About the Author
Cerrie Burnell is a presenter, actress, and writer, best known for her work in British children's TV. She was featured in the Guardian's 2011 list of the one hundred most inspirational women. She divides her time between London and Manchester, England.

Laura Ellen Anderson has been a children's book illustrator since graduating from the University of Falmouth. She is the creator of the Evil Emperor Penguin comic and the illustrator for many books including the Witch Wars series. She lives in the United Kingdom.