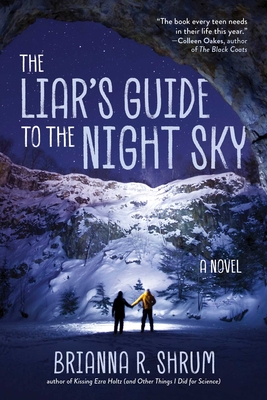 Liar's Guide to the Night Sky (Paperback)
A Novel
Sky Pony, 9781510757806, 224pp.
Publication Date: November 3, 2020
* Individual store prices may vary.
Description
Perfect for fans of the New York Times bestselling novel, Love & Gelato by Jenna Evans Welch

It's no one's fault that Hallie Jacob is alone. That her grandpa got sick half a world away and so her parents yanked her to Colorado the last semester of her senior year. That career-wise, she's specialized in fighting fire, and now she's surrounded by ice, snow, and a thousand cousins she's half-banned from hanging around with. But that's what's happened. That's what her December looks like.

On one big family weekend in the freaking tundra, Hallie sneaks off with those cousins to an abandoned ski slope. But they get caught in a random mudslide, and what started as a Secret Bonfire Party goes in a Potential Donner Party direction real fast. With several cousins in desperate need of medical attention, Hallie goes for help, and Jonah joins her. Jonah Ramirez is her troubled cousin's extremely off-limits (absurdly hot) best friend who's back on winter break from college.

Facing paralyzing temperatures, sharp-toothed animals strong enough to survive a climate with hardly any water or air, and weather phenomena so wicked they'll wreck a mountain before you can blink, Jonah and Hallie have no choice but to trust each other. And THAT may be more impossible, even, than making it out alive.
About the Author
Brianna R. Shrum has been writing since she could scrawl letters. She digs all things bookish, geeky, superhero-y, gamer-y, magical, and strange. You can usually find her writing under her Harry Potter tree, and drinking chai (which she holds as proof of magic in the world.) She is also the author of How to Make Out and Never Never. She lives in Colorado with her high-school-sweetheart-turned-husband and her two little boys.
Praise For Liar's Guide to the Night Sky: A Novel…
Praise for Kissing Ezra Holtz (and Other Things I Did for Science)

"Realistic and will resonate with many teens. Give this to readers who love witty, humorous love stories mixed with STEM." —Booklist

"Predictable hate-becomes-love romance is given new life by an inclusive cast. . . . Worth picking up." —Kirkus Reviews

Praise for The Art of French Kissing

"Fun, flirty, foodie, and filled with way more heat than your average kitchen, The Art of French Kissing has all the ingredients for a perfect summer romance!" —Dahlia Adler, author of Behind the Scenes

"I ate up this hate-to-love-and-back-again romance! If you love Top Chef but wish more of the show was focused on the romance and rivalries behind the scenes, you'll eagerly devour The Art of French Kissing. Like the best sweet and savory pastries, Carter and Reid deliver both sugar and spice." —Amy Spalding, author of The Summer of Jordi Perez (and the Best Burger in Los Angeles)

"This meet-cute romance stands out thanks to the nuanced characters and subtle treatment of bigger issues such as race, gender, and money (Carter's family flirts with poverty). Carter's insecurities about her culinary skill will resonate with any girl who has aspirations in a field dominated by males, and a sensitive sex scene models for readers what a consensual relationship looks like. A full cast of diverse characters, including Indian-American competitors, Carter's lesbian best friend, and Reid himself, who identifies as queer, are portrayed three-dimensionally, but Shrum's (How to Make Out, 2016, etc.) greatest accomplishment may be the intricate and mouthwatering descriptions of each dish. A thoughtful and delicious romance." —Kirkus Reviews