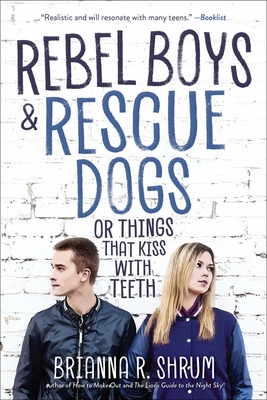 Rebel Boys and Rescue Dogs, or Things That Kiss with Teeth
Paperback

* Individual store prices may vary.
Description
A young adult romantic comedy that will appeal to fans of 10 Things I Hate About You and Jenn Bennett's Alex, Approximately.

Seventeen-year-old Brynn Riley is on a hundred committees, has earned teacher's pet in practically every class she's ever taken, and is on track to make valedictorian.

But one night, Brynn makes a mistake. A big one.

Why wouldn't the cops show up on the one night she's ever cut loose in her life? Why wouldn't she be assigned community service for one tiny mistake? And why, of all things, wouldn't a boy from school happen to work at the pitbull rescue where she chooses to do her community service hours?

Oliver West's dad owns the rescue. And Oliver works there as his second in command. And Brynn and Oliver both know that she absolutely screwed him out of a major scholarship opportunity at school earlier in the semester. If he tells anyone at school that she was arrested, everything she's worked so hard for will be disappear.

If Brynn doesn't want her secret spilled, she'd better start taking Oliver seriously. He'll keep quiet if she helps him get another shot at the scholarship project (since she ruined it, after all).

As the two get closer, the stakes begin to shift. Brynn starts to want Oliver for more than the community service checkmark that will give her back her squeaky-clean record, and Oliver, as it turns out, takes Brynn Riley very, very seriously. But, well . . . you know what they say: Nothing brings people together like blackmail, pitbulls, and court-ordered community service.
Praise For Rebel Boys and Rescue Dogs, or Things That Kiss with Teeth…
Praise for Kissing Ezra Holtz (and Other Things I Did for Science)

"Realistic and will resonate with many teens. Give this to readers who love witty, humorous love stories mixed with STEM." —Booklist

"Predictable hate-becomes-love romance is given new life by an inclusive cast. . . . Worth picking up." —Kirkus Reviews

Praise for The Art of French Kissing

"Fun, flirty, foodie, and filled with way more heat than your average kitchen, The Art of French Kissing has all the ingredients for a perfect summer romance!" —Dahlia Adler, author of Behind the Scenes

"I ate up this hate-to-love-and-back-again romance! If you love Top Chef but wish more of the show was focused on the romance and rivalries behind the scenes, you'll eagerly devour The Art of French Kissing. Like the best sweet and savory pastries, Carter and Reid deliver both sugar and spice." —Amy Spalding, author of The Summer of Jordi Perez (and the Best Burger in Los Angeles)

"This meet-cute romance stands out thanks to the nuanced characters and subtle treatment of bigger issues such as race, gender, and money (Carter's family flirts with poverty). Carter's insecurities about her culinary skill will resonate with any girl who has aspirations in a field dominated by males, and a sensitive sex scene models for readers what a consensual relationship looks like. A full cast of diverse characters, including Indian-American competitors, Carter's lesbian best friend, and Reid himself, who identifies as queer, are portrayed three-dimensionally, but Shrum's (How to Make Out, 2016, etc.) greatest accomplishment may be the intricate and mouthwatering descriptions of each dish. A thoughtful and delicious romance." —Kirkus Reviews

Praise for How to Make Out

"An addictive mix of heart, humor, and hot. How to Make Out is the perfect lesson in how to fall in love with YA romance." —Gina Ciocca, author of Last Year's Mistake

"How to write a seriously addictive book? Mission accomplished. Smart, hilarious, and un-put-down-able, How to Make Out will capture readers' hearts." —Laurie Elizabeth Flynn, author of Firsts

"Full of humor, heart, and some serious chemistry, How to Make Out is a fun and romantic read with dynamic characters I won't soon forget." —Chantele Sedgwick, author of Love, Lucas

"Renley is an endearing character with a lot of baggage. Her father's infidelity, which led to the breakup of her parents' marriage, eats at Renley and keeps her commitment-phobic. Her mother's aloofness stings more than Renley can admit. Readers will immediately recognize that Renley feels more for Drew than she is admitting and will root for them to find their way to each other. This is a story with an obvious lesson to it, but the lesson is delivered in an entertaining manner and will be an easy sell to teen girls." —VOYA Magazine

"This laugh-out-loud coming-of- age novel engages readers immediately and never lets go. . . This book distinguishes itself with peripheral characters who are also well-developed and support Renley and the fast-paced plot. Shrum addresses many bildungsroman issues throughout the narrative in a believable and interesting way and still manages to pull off a thought-provoking story that will let young adults understand and relate to Renley's many crises and how she comes to handle them. VERDICT Readers of Carrie Jones's Tips on Having a Gay (Ex) Boyfriend will love this." —School Library Journal
Sky Pony, 9781510757820, 288pp.
Publication Date: January 25, 2022
About the Author
Brianna R. Shrum has been writing since she could scrawl letters. She digs all things bookish, geeky, superhero-y, gamer-y, magical, and strange. You can usually find her writing under her Harry Potter tree, and drinking chai (which she holds as proof of magic in the world.) She is also the author of How to Make Out, The Art of French Kissing, Kissing Ezra Holtz, The Liar's Guide to the Night Sky, and Never Never. She lives in Charlotte, South Carolina, with her two little boys.