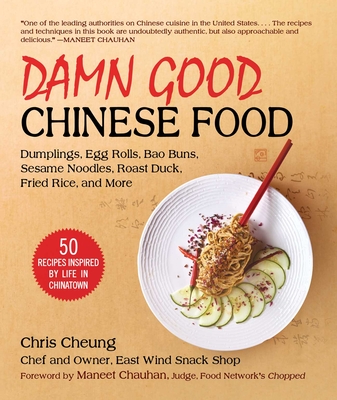 Damn Good Chinese Food
Dumplings, Fried Rice, Bao Buns, Hot Cakes, Sesame Noodles, and Other Delicious Dim Sum—50 Recipes Inspired by Life in Chinatown
Hardcover

* Individual store prices may vary.
Description
"The absolute best dumplings in New York." —New York Magazine

From acclaimed chef Chris Cheung comes a cookbook inspired by the old tea houses of New York's Chinatown
—
with a foreword by Maneet Chauhan, celebrity chef, author, and judge on The Food Network's Chopped
There is a particular region in today's renaissance of Chinese cooking that is often overlooked: Chinatown. In other words, Chinese food cooked in Chinatown for the Chinese community—stir-fried noodles, bao buns, pork buns, scallion pancakes, wontons, potstickers, spring rolls, the list goes on. At the very center of this beloved cuisine were the old tea houses that served countless mouth-watering snacks and treats, providing delicious affordable fuel that fed the working class community.
Like many great chefs, Chris Cheung was inspired by the places he grew up eating in. The food of these tea houses is the central philosophy behind Cheung's ever-popular restaurant East Wind Snack Shop, which first opened in 2015 and now has four locations in Brooklyn. There, Chef Cheung's focuses primarily on an endeavor he calls "chasing the perfect dumpling." Whether it's making the dough from scratch, grinding the meat, hand-folding each skin, or perfecting exact cooking temperatures, Cheung has painstakingly agonized over every specific detail that goes into cooking an understated masterpiece. 
In addition to learning his technique for creating what
New York Magazine
called the "Absolute Best Dumplings in NY," this cookbook teaches readers how to make all kind of classic delight reminiscent of the golden age in Chinatown, such as:
Potstickers
Spring Rolls
Scallion Pancakes
Wonton Soup
Soup Dumplings
Fried Wontons
Gwa Bao Buns
General Tso's Chicken
Beef and Broccoli
Har Gow (Shrimp Dumplings)
Fried Rice
Cucumber Salad
Cold Sesame Noodles
Roast Pork
Salt and Pepper Shrimp
Stir-Fried Noodles
Egg Tarts
Tea Eggs
Congee
Hong Kong Hot Cakes
Sesame Balls
Bubble Tea
Like Cheung's restaurants, this cookbook is a tribute to both the food served in those wonderful Chinatown establishments and the community they fed, the food Chris loves to cook, which he says give us "a few moments of happiness that bring us back to our childhood."
Praise For Damn Good Chinese Food: Dumplings, Fried Rice, Bao Buns, Hot Cakes, Sesame Noodles, and Other Delicious Dim Sum—50 Recipes Inspired by Life in Chinatown…
Praise for Chris Cheung and East Wind Snack Shop:
 
"A homage to the [Chinatown's] bygone working-class coffeehouses, run by immigrants who, like Mr. Cheung's grandparents, came from Taishan, in Guangdong Province." —The New York Times

"Thanks for making it all make brilliant sense." —Anthony Bourdain, on Chris Cheung's knowledge of New York's Chinatowns

"The absolute best dumplings in New York." —New York Magazine

"I picked up my life and moved just to be closer to this Brooklyn dumpling spot. . . . I looked down at my table full of gorgeous stir-fried vegetables, plump dumplings, and pork belly bao, and knew: I was home." —Bon Appétit

"Brooklyn's best (Bao) buns." —Brooklyn Magazine

"A skilled craftsman." —The Village Voice

"A dumpling destination." —Grub Street

"Stellar dumplings . . . The pork dumplings and dry-aged beef potstickers are certainly fantastic, but it's chef Chris Cheung's gwa bao-style bun, which places caramelized pork belly on top of the bun rather than inside of it, that has earned the most street cred among in-the-know diners." —Eater

"Dumplings aren't just a lowbrow option for a quick bite—especially with a Nobu vet doing the steaming. That's the story behind East Wind Snack Shop, a brand new chopsticks spot in Windsor Terrace specializing in dumplings, buns and other quickly inhaled Chinese foods." —Gothamist

Skyhorse, 9781510758124, 208pp.
Publication Date: August 17, 2021
About the Author
Chris Cheung is a New York native and grew up in the heart of Chinatown. He was brought up around great Cantonese food, where he undoubtedly picked up his affinity for Chinese cuisine. Right out of school he started working for world-famous chefs like Jean Georges Vongerichten, Nobu Matsuhisa, and Masaharu Morimoto. Later, he became part of the opening kitchen staff at Jean-Georges, cooking alongside Wylie Dufresne and Didier Virot. Chef Cheung also had the privilege being Anthony Bourdain's guide to New York's Chinatowns on the hit show No Reservations and has competed on The Food Network's Beat Bobby Flay, Next Great Chef (against celebrity chef Sean Brock), and on Esquire's Knife Fight (where he won a cheap knife!). His inspiration for Chinese cooking took him to Shanghai where he prepared banquets in the country side farming and fishing villages. There he learned the nuances of Shanghai cuisine and was blown away by its farm-to-table and sea-to-table style of cooking. Currently, he is the chef and owner of East Wind Snack Shop, which has four locations in Brooklyn.

Maneet Chauhan is a celebrity chef, author, and judge on the Food Network's hit show Chopped, and won the James Beard Award of Excellence winner. She has received glowing accolades from a vast array of media for her globally-inspired culinary acumen. The only Indian female to ever compete on Iron Chef and lauded by Bon Appétit, USA Today, Time, Esquire, Travel & Leisure, Gourmet, Town & Country, Business Week, and O Magazine, as well as garnering a stunning three-star review from the Chicago Tribune, Chef Chauhan is a celebrated chef who is an inspiration to many, and a force to be reckoned with. She authored the book Flavors of Our World in 2013 and her forthcoming book Chaat: The Best Recipes From the Kitchens, Markets, and Railways of India will publish in October of 2020.