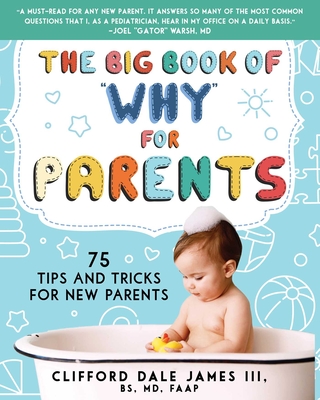 The Big Book of "Why" for Parents
75 Tips and Tricks for New Parents
Paperback

* Individual store prices may vary.
Description
Winner of the 2021 Independent Press Award for Parenting & Family!

Most new parents approach their upcoming adventure with mixed feelings of excitement and trepidation. There are so many questions that seem to be unanswered about their newborns and toddlers.

Wouldn't it be great to have a book that helps answer those questions—especially the medically-based ones—by a board-certified pediatrician in a unique question-and-answer format?

In The Big Book of "Why" for Parents, Dr. Clifford James does just that. Some of the most common parenting questions he addresses include:

·  Why isn't my breastmilk coming in?

·  Why is my baby constipated?

·  Why can't I give my baby honey?

·  Why shouldn't I strive to be the perfect parent?

·  Why does my child have night terrors?

·  Why won't my doctor just call in an antibiotic when my child is sick?

·  Why do I need to take away the bottle or pacifier?

·  And many more!
Praise For The Big Book of "Why" for Parents: 75 Tips and Tricks for New Parents…
"The Big Book of Why is a must-read for any new parent. It answers so many of the most common questions that I, as a pediatrician, hear in my office on a daily basis."   - Joel "Gator" Warsh, MD

"I wish I had this book before my little girl was born. Becoming a new parent can be so confusing, and this book is perfect for answering the many questions parents have with bite-sized responses from a trusted professional." - Rachel Tomlinson, psychologist and author of Teaching Kids to be Kind
"Parents, especially new parents, want to do everything right for their precious bundle of joy. In the Big Book Of Why, Dr. James relieves their mind by offering researched-backed answers to 75 of the most common questions before they even have to ask!"
- Jodi Aman, author of Anxiety…I'm So Done with You
Skyhorse, 9781510758162, 224pp.
Publication Date: November 3, 2020
About the Author
Dr. Clifford James is a board-certified pediatrician in private practice for more than twenty years. The father of Dalton, Tyler, and Kaden, he is the founder of the HelpMommy website and the author of A First Time Parent's Survival Guide. He resides outside of Knoxville, Tennessee.
or
Not Currently Available for Direct Purchase