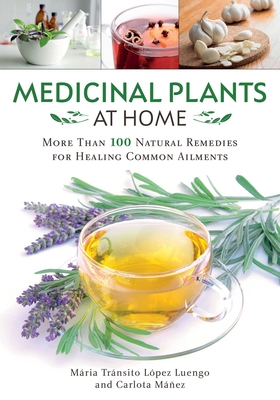 Medicinal Plants at Home
More Than 100 Natural Remedies for Healing Common Ailments
Paperback

* Individual store prices may vary.
Description
Grow medicinal plants and create natural remedies right in your own home.
Although more and more people use medicinal plants, many are still unaware of those that are usually present in their own homes. For example, did you know that cranberries are effective in treating bladder problems, that olive oil helps regulate blood pressure, or that hops promote sleep in children?
Here you will find a selection of plants from which you can create natural remedies for every occasion. Learn how to grow and use these medicinal plants, and discover what they can do to boost your family's health. More than one hundred types of natural plants are presented in this book, grouped by the conditions that they most effectively treat. Some of those included are:  
Marigold
Ginger
Soybeans
Lemon balm
Sweet almond oil
Green tea
Papaya
Artichoke
And more!
Skyhorse, 9781510758285, 240pp.
Publication Date: July 28, 2020
About the Author
María Tránsito López Luengo is a pharmacologist, dietitian, and herbal medicine expert. She has published several articles and books on medicinal plants and natural nutrition.

Carlota Máñez Arisó is a journalist and certified dietitian and nutritionist. She has edited and collaborated on numerous books and articles about health and personal well-being.