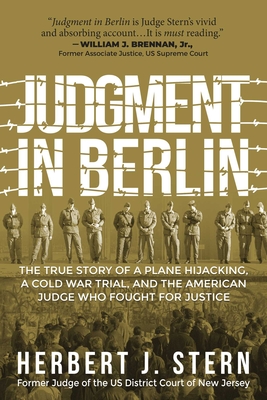 Judgment in Berlin
The True Story of a Plane Hijacking, a Cold War Trial, and the American Judge Who Fought for Justice
Paperback

* Individual store prices may vary.
Description
"Suspenseful...moving...equal to any fictional thriller." —San Francisco Chronicle

In August 1978, the Iron Curtain still hung heavily across Europe. To escape from oppressive East Berlin, an East German couple, Hans Detlef Alexander Tiede and Ingrid Ruske, hijacked a Polish airliner and diverted it to the American sector of West Berlin. Along with the couple, several passengers spontaneously defected to the West, and were welcomed by US officials. But within hours, Communist officials reminded the West of the anti-hijacking agreements in the Warsaw Pact, and thus the fugitives were arrested by the US State Department.

Thirty-four years after World War II, the United States built a court in the middle of West Berlin, the former capital of the Third Reich, in the building that once housed the Luftwaffe, to try the hijacking couple. Former NJ district attorney, now a judge, Herbert J. Stern was appointed the "United States Judge for Berlin." What followed was a trial full of maneuvers and strategies that would put Perry Mason to shame, and answered the question: what is allowed to people seeking freedom? 

Judgment in Berlin, also a major motion picture starring Martin Sheen and Sean Penn, is unsurpassed as a true-life suspense story, with its vivid accounts of daring escapes, close calls, diplomatic intrigue, and dramatic courtroom confrontations. The original edition won the Freedom Foundation Award, and this updated edition includes a new introduction from author and trial judge Herbert J. Stern.
Skyhorse, 9781510758292, 408pp.
Publication Date: June 1, 2021
About the Author
Herbert J. Stern, formerly US attorney for the District of New Jersey, who prosecuted the mayors of Newark, Jersey City and Atlantic City, and served as judge of the US District Court for the District of New Jersey, is a trial lawyer. He also served as judge of the United States Court for Berlin. There he presided over a hijacking trial in the occupied American Sector of West Berlin. His book about the case, Judgment in Berlin, won the 1984 Freedom Foundation Award and became a film starring Martin Sheen and Sean Penn. He also wrote Wolf: A Novel with Alan A. Winter, Diary of a DA: The True Story of the Prosecutor Who Took on the Mob, Fought Corruption, and Won, and the multi-volume legal work Trying Cases to Win.