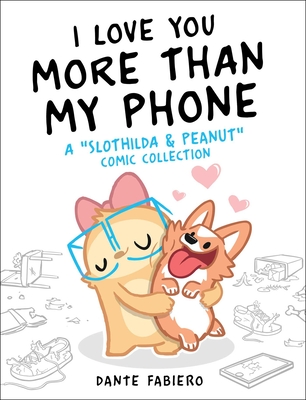 I Love You More Than My Phone
A "Slothilda & Peanut" Comic Collection
Hardcover

* Individual store prices may vary.
Description
The highly anticipated companion to the sensational Slothilda: Living the Sloth Life! A collection of cute comics about friendship and the adorable mishaps of pet-parenting as told through the eyes of a sleepy sloth named Slothilda and her blissfully devoted corgi, Peanut.

Life with a stumpy legged fur-baby is an absolute joy, but it often comes with some hilarious challenges, especially when you're a phone-addicted, snack-loving, always-tired little sloth.  

For Slothilda and Peanut, each with their own unique set of short-comings (literally and figuratively), navigating their way through the world can be a struggle. However, no obstacle is too great when they've got each other. Watch as the two take on life's day-to-day challenges as they grow together along the way!
Praise For I Love You More Than My Phone: A "Slothilda & Peanut" Comic Collection…
"Slothilda and Peanut will give you your entire daily dose of wholesomeness in one sitting. A heartwarming and fun read for any dog owner or dog lover!"
—Catana Chetwynd, creator of Catana Comics and the #1 New York Times bestseller SNUG

"I'm always so impressed by the delightfully insightful way 'Slothilda & Peanut' captures the humor and messy charm of what it means to have a four-legged family member. If you love dogs, this book is 1,000,000% for you!" 
—Stacie Grissom, co-author of the New York Times bestseller Dogs and Their People

Praise for Dante Fabiero's SLOTHILDA

"Now I want to be a sloth." —Stephan Pastis, creator of Pearls Before Swine

"OMG, THIS IS SO CUTE, I LOVE IT." —Liz Climo, creator of The Little World of Liz, and author of Lobster is the Best Medicine

"The first book from a young author shouldn't be this well done, and yet here it is. Just page after page of the sweetest sloth you've ever seen and her pet corgi, Peanut. Honestly, I have no idea how Dante was able to make the daily adventures (and struggles) of Slothilda so adorable, cute, and funny, but I'm sure glad he did." —Brian Gordon, creator of Fowl Language comics

"An adorable animated sloth that perfectly sums up your lazy life." —Pleated Jeans

"Slothilda combines the cuteness of Hello Kitty with the lazy charm of Homer Simpson." —Benjamin Kaltenecker, producer at Dreamworks Animation
Skyhorse, 9781510759077, 128pp.
Publication Date: January 19, 2021
About the Author
Dante Fabiero is a Los Angeles native who has made a career working on some of TV's most popular animated shows, seen on Netflix, TBS, and Fox. Fabiero launched Slothilda in 2014 and has garnered close to half a billion views on the website Giphy. You can see Slothilda come to life and subscribe to receive future comics for free at slothilda.com.