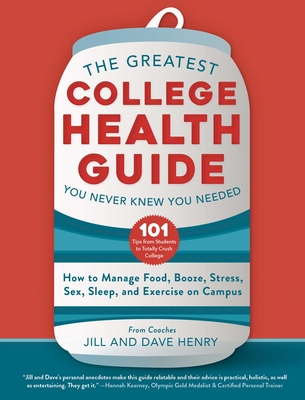 The Greatest College Health Guide You Never Knew You Needed
How to Manage Food, Booze, Stress, Sex, Sleep, and Exercise on Campus
Hardcover

* Individual store prices may vary.
Description
***2022 Independent Press Award: Winner, Young Adult***
***American Book Fest Best Book Award: Winner, College Guides***
***NYC Big Book Award: Distinguished Favorite, Health/Fitness***
***Readers Favorite Book Award: Bronze Medalist, Health/Fitness***
***Living Now Book Award: Bronze Medalist, Health/Wellness***
***Firebird Book Award: Winner, Health***
***Literary Titan: Gold Award Winner***

The coach's guide to beating the Freshman Fifteen, Sophomore Slump, crippling anxiety, and your worst hangover! Learn to take care of yourself, and de-stress throughout your undergrad years and beyond.

Every fall, millions of young adults crash into college fired up for the best four years of their lives, ready to experience campus life, take classes about things they're interested in, and meet people from all over the world. Most students, however, are better prepared to pick their major or talk to strangers than they are to take care of themselves in the college setting. College students today are more depressed, anxious, and stressed than previous waves of students; they're also more sedentary, not really exercising, and living in a meal-plan limbo supplemented with ramen and coffee.

In this comprehensive field guild, high school coaches Jill and Dave Henry break down the facts and deliver doable, no-BS strategies for managing physical and mental health on campus. In addition to helpful, interactive graphics, the coaches share their relatable true stories—ranging from the ridiculous to the serious—to discuss the five biggest health obstacles students face in college. On top of research-backed tips, The Greatest College Health Guide You Never Knew You Needed also features raw and personal advice from current students on college campuses across the country. 

While simply figuring out what to eat and how to exercise can be completely overwhelming, this guide goes beyond a basic crash course on how to be healthy. Jill and Dave cover everything from crucial time-management skills to the complex sensitivity of self-doubt, sexual assault, and depression with humor, humility, and heart. The Greatest College Health Guide You Never Knew You Needed is a complete road map for how to take care of your mind and body that will not only set students up to crush the next four years, but will also provide a foundation they can carry with them for the rest of their lives. 
Praise For The Greatest College Health Guide You Never Knew You Needed: How to Manage Food, Booze, Stress, Sex, Sleep, and Exercise on Campus…
"Exceptionally well written, comprehensively informative, impressively well organized, and thoroughly 'user friendly' in presentation, The Greatest College Health Guide You Never Knew You Needed should be on the reading list of every graduating high school senior about to enter college. This amazingly useful compendium of tips, tricks, insights, strategies, and alerts would also prove invaluable to anyone returning to college or university after an absence."
—Midwest Book Review

"As a health educator, psychology professor, and researcher, I have read hundreds of books, research articles, and other media designed to share essential health information. However, I have yet to come across such a strong compendium of all the essential information on key topics in one place: diet, exercise, sleep hygiene, stress and time management, social media and relationships, alcohol use and abuse, as well as mental health issues like managing depression. Its second strength is being so adeptly voiced for the target audience. The information is science-based and resounds with commonsense strategies. Finally, here is a book that feels genuinely authentic about what students face—brought to life with frank anecdotes and quotes from the college experiences of the authors and students in colleges across the country. A wonderfully smart, funny, highly readable and relatable book."
—Martha Hart-Johns, Psychology Professor, Health Educator, and Researcher

"Coaches Jill and Dave Henry boldly set out to write The Greatest College Health Guide You Never Knew You Needed, and that is precisely what they did. This no-nonsense 'how-to' guide is built upon extensive research in the field of student health, yet is delivered in a voice that feels more like a conversation with wise older cousins offering advice through personal stories and mishaps. The Henrys balance witty banter with endearing sincerity as they discuss some of the most common challenges college students experience—food, alcohol use, exercise, stress, and sleep—as well as the nuanced complexities of sex, mental health, and disordered eating. Although written as a resource-guide for college students, the underlying theme of how to make responsible choices when presented with new-found independence and a smorgasbord of options is applicable to anyone transitioning out of high school (or into the 'real world'). Hidden not-so-subtly throughout the book are lessons in self-advocacy, resilience, time and energy management, and asking for help. The student experiences related to their cognitive, social, and identity development (though not explicitly described as such) are what also make this book a must-read for parents, guardians, and new professionals in higher education who want to better understand and support their students."
—Crystal Cyr, College Student Affairs Professional, M.A.

"One of the best health/wellness books I've read. The engaging authors go so far beyond a dry 'how-to' plan—instead, it's a comprehensive guide to the wellness pillars a college student will inevitably want and need to grapple with: chapters discuss food, booze, exercise, sleep, stress, and relationships, and, importantly, they give equal airtime to mental health, too. This book also happens to be incredibly well-written, fun, and funny—the authors are vulnerable, relatable, and sometimes self-deprecating, and their personal stories woven in throughout bring to life every topic they write about. According to Jill and Dave Henry, good health is fluid and a work in progress: and it's never too late—or too early—to start a lifetime of good habits."
—Helaine Knapp, Founder & CEO, CityRow

"The Greatest College Health Guide You Never Knew You Needed is a necessity to have on hand as you begin navigating campus life. While providing practical tips on how to make overall healthy decisions, Jill and Dave Henry provide insights on how to figure out what really works best for you. This book is a much-needed map full of personal experiences of trial and error, humor, and the real facts about college life they don't teach you at orientation."
—Katie Shin, College Student Services Professional, M.Ed.

"As an Olympic athlete, I did not attend college until I was in my late twenties. Even then, The Greatest College Health Guide would have come in handy! Jill and Dave's personal anecdotes make this guide relatable and make the challenge of adjusting to life on campus seem manageable and even fun. Their advice is practical, holistic, as well as entertaining. They get it. The Greatest College Health Guide is definitely a good way, if not the greatest way, to achieve physiological, psychological, academic, and athletic success during your college years."
—Hannah Kearney, Olympic Gold Medalist & Certified Personal Trainer

"This is an informative and entertaining tool for incoming college students. As many learn when they first arrive to college, it's not as easy as they thought. This book will help students navigate how to avoid the freshmen 15, learn about alcohol intake, how important sleep is, and much more. All the while, they can still have a great college experience. The book gives funny examples of real-life pitfalls and how and why you want to avoid them. The quotes from fellow students across the country experiencing similar challenges allow the reader to know they are not alone. The Greatest College Health Guide is a great moving companion for students leaving home and heading off to college."
—Kai Felton, Division I Women's Basketball Coach

"The Greatest College Health Guide You Never Knew You Needed is absolutely the book I wish I could have handed my two sons went they went off to college. First of all, coaches Jill and Dave Henry provide critical information that's straightforward, complete, and honest. As teachers, coaches, and former college students in the current millennia, they have a great instinct for what incoming first years should know and how to tell them in a language they understand. This is essential reading. The perfect gift book for a high school graduate or for any of the two million college students in America."
—Lian Dolan, Los Angeles Times Bestselling Author

"College students will find this book extremely helpful and engaging because it captures well the student experience in higher education. The book offers clear, concrete examples and tools to promote physical and mental health while navigating the college years, especially for younger students just entering college. This guide is also a great resource for faculty, staff, and administrators, even parents, to better understand the student perspective and how to respond to various health needs."
—Shari Tarver-Behring, Dean of Education, California State University Northridge

"Jill and Dave are hysterical but their healthy nuggets of wisdom are solid. Seriously, all freshmen should have The Greatest College Health Guide positioned between their bottle of booze and the cookbook on crockpot meals."
—Heather Balogh Rochfort, Fitness & Outdoor Writer, Author of Backpacking 101 and Women Who Hike

"College is one of the greatest life experiences. But it's certainly not easy on every level. Through relatable stories sprinkled with expert advice, this book uses humor and candor to openly share with college-bound kids the importance of self-awareness, self-respect, and strength of character, illustrating how these all affect how they choose to 'show up' in this world. These are lessons that will transcend their life's journey. The book is fun and an easy read. I want my college-bound daughter to read this book. It will teach her that fun, structure, and control are not rivals. On the contrary, they are part of a recipe to follow that will lead to a better college experience that will teach her that she has the power to push through anything she faces."
—Judge Cristina Perez, 3-Time Emmy Winner, Author, Parent

"To help others avoid their own unhealthy college choices, the married-couple authors enthusiastically share best practices for eating, drinking, exercising, handling stress, and sleeping. They met while coaching high-school sports (football for Dave and cross-country for Jill), and they bring that can-do spirit to this chatty, humorous guide. The section on alcohol is the strongest in the book, and it could save lives . . . overall, college students would be healthier if they listened to the Henrys. COVID-19 makes healthy habits all the more urgent."
—Booklist

"When students enter college life it becomes easy to lose yourself in your studies, and the parties, and forget about your health. With a crazy study schedule, long nights, early morning, fraternities, parties, and a poor lifestyle, how can you make health a priority? This book breaks through all those barriers by providing simple but effective information and tips to help you stay happy and healthy . . . [the stress chapter] featured candid personal stories as well as handy stress management tips. These tips are useful because they're simple and effective, perfect for the on-the-go student . . . The Greatest College Health Guide delivers sagely advice with a bit of humor and lots of facts. This is a very handy guide that will ensure you live a happier and healthier life. Download it on your Kindle, keep it handy, and reference it often."
—Literary Titan
Skyhorse, 9781510759091, 264pp.
Publication Date: June 1, 2021
About the Author
Jill and Dave Henry have been coaching, entertaining, and educating teens in Los Angeles for more than twenty years combined. With every graduating class, they've fielded their student-athletes' concerns about the transition to college, particularly the dreaded freshman fifteen. Determined to help, the Henrys decided to leverage their professional backgrounds (Jill is an award-winning statistics teacher; Dave is an Emmy-nominated editor and television producer) and create a resource to help young adults enjoy college without sacrificing their health.