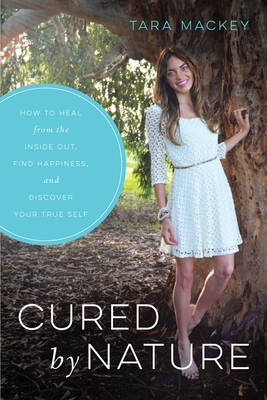 Cured by Nature
How to Heal from the Inside Out, Find Happiness, and Discover Your True Self
Paperback

* Individual store prices may vary.
Other Editions of This Title:
Hardcover (2/2/2016)
Description
Life can be stressful, overwhelming, and sometimes difficult to cope with. But it doesn't have to be that way! Tara Mackey shares her natural beauty secrets and meditation rituals so you can break free from stress, depression, and anxiety.

Modern medical professionals will tell you to take various prescription medications, which can ultimately do more harm than good. Healing is all in the mind and can be attained through finding harmony in your own life and resorting to natural remedies already provided by the very environment in which you live.

Growing up, Tara suffered from dependency on various prescription drugs for depression, anxiety, and ADHD. She witnessed her best friend's decline and suicide and watched helplessly as the effects of heroin addiction took a hold of her mother. At age twenty-four, she decided that enough was enough and quit her prescription meds cold-turkey in search for happiness. Today, she is drug-free, stress-free, and happy.

Cured by Nature is Tara's personal story combined with her knowledge and advice to battling personal demons and coming out victorious. Follow Tara as she shows you how to adapt and grow, using various herbal remedies, breathing exercises, and mind-strengthening techniques that will help you be a happier and better you.
Praise For Cured by Nature: How to Heal from the Inside Out, Find Happiness, and Discover Your True Self…
"You can revolutionize your life based on Tara Mackey's experiences in Cured by Nature. Tara's raw, personal story of dealing with tough family circumstances and a dependence on pharmaceuticals, carving out a natural life through positive thoughts, and developing an appreciation for green beauty is a great read and illuminating."
—Tony Conrad, founder of True Ventures and About.me

"A gripping, enthralling, and inspiring success story about overcoming tragedy, quitting pharmaceutical drugs, living healthy, and accomplishing your dreams."
—Todd Cooper, CEO of Waxelene, Inc.

"A unique combination of digestible scientific facts and personal anecdotes, Cured by Nature is an inspiring read. Tara challenges readers to change their lives with simple, daily thought patterns and choices that result in a more vibrant, happy life. With her easy-to-use tools and mindfulness practices, holistic health is accessible and attainable!"
—Nicolle Mackinnon, green beauty editor and writer, No More Dirty Looks

"As someone who cured chronic skin ailments through totally natural methods, I cannot tell you just how inspired I was by Tara's story. She is an incredible example of someone who has quite literally taken her life back by listening to her body and tapping into the truly awesome healing powers of nature. This is a must-read for anyone who is sick of treating symptoms and ready to make long-lasting lifestyle changes for wellness."
—Adina Grigore, fouder, SW Basics, author, Skin Cleanse

"Compelling and action-inspiring. She is one of her generation's wellness leaders, and people at every age can experience the deep knowledge and wisdom her rich story effortlessly delivers on her powerful, holistic journey to radiant health and happiness."
—Josh Rosebrook – founder, Josh Rosebrook Skin and Hair Care

"Powerful, insightful, and thoughtful! From being well to living well, Tara provides practical tools for achieving wholeness along her own journey to true healing, happiness, and self-discovery. With complete authenticity and raw vulnerability, Tara shows us how we, too, can be cured by nature."
—Brandie Gilliam, founder, Thoughtfully Magazine and Organic Beauty Talk
Skyhorse, 9781510759138, 328pp.
Publication Date: September 1, 2020
About the Author
Tara Mackey is the founder and CEO of The Organic Life, a successful holistic and sustainable living platform, and is a widely recognized activist with a community of more than 1 million followers on her blog and social media. She founded the organic skincare company Genetix and is the best-selling author of Cured by Nature and WILD Habits. Mackey, who has a background in psychology and genetics, left medical school in 2011 to travel to California to explore natural healing, yoga and meditation. She's been on a conscious quest to move humanity in a more sustainable, healthy, and holistic direction ever since. Tara's been recognized with numerous awards and nominations for her activism and entrepreneurship by giants like O, The Oprah Magazine, Teen Vogue, Women's Health, ABC, CBS, the United States Senate, and more. She resides in San Diego, California.