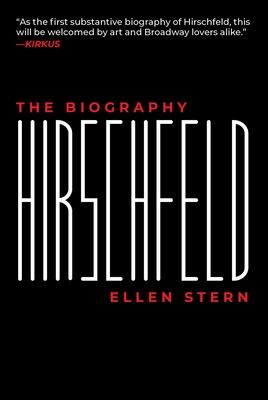 Hirschfeld
The Biography
Hardcover

* Individual store prices may vary.
Description
The definitive biography of Al Hirschfeld, renowned caricaturist and artist.

Al Hirschfeld knew everybody and drew everybody. He occupied the twentieth century, and illustrated it. Hirschfeld: The Biography is the first portrait of the renowned artist's life—as spirited and unique as his pen-and-ink drawings. Beginning in the 1920s, he caricatured Hollywood actors, Washington politicians, and—his favorite—celebrities of the stage. Broadway belonged to Hirschfeld. His work appeared in the New York Times and other publications, as well as on book jackets, album covers, posters, and postage stamps, for more than seventy-five years.

He lived in Paris, Moscow, and Bali, and in a pink New York townhouse on a star-studded block where his closest friends—Carol Channing, S. J. Perelman, Gloria Vanderbilt, Brooks Atkinson, Elia Kazan, Marlene Dietrich, and William Saroyan—flocked in and out. He played the piano, went to jazz joints with Eugene O'Neill, and wrote a musical that bombed. He drove until he was ninety-eight years old and always found a parking space. He worked every day, threw dinner parties twice a week, and hosted New Year's Eve soirees that were legendary. He had three wives, a formidable agent, and a daughter, Nina, the most famous little girl that no one knows.

Hirschfeld died in 2003, at the age of ninety-nine. "If you live long enough," he liked to say, "everything happens." For him, it did. And good and bad—it's all here. Through interviews with Hirschfeld himself, his friends and family (including the mysterious Nina), and his famous subjects, as well as through  letters, scrapbooks, and home movies, Ellen Stern has crafted a delightful, detailed, and definitive portrait of Al Hirschfeld, one of our most beloved, and most influential, artists.
Praise For Hirschfeld: The Biography…
"An in-depth biography of America's "line king" caricaturist. Born in St. Louis, Al Hirschfeld (1903-2003) began drawing when he was 5 years old and never stopped. Journalist Stern (Gracie Mansion: A Celebration of New York City's Mayoral Residence, 2005, etc.) interviewed Hirschfeld in 1987 for a GQ profile. Over the years, she has conducted extensive interviews with those who knew him—the book is packed with quotations—and had access to personal letters, journals, and scrapbooks, resulting in this much-needed, affectionate, and entertaining book-length profile. In 1912, the Hirschfeld family moved to New York City. Although he traveled around the world throughout his life, NYC was always home. While still in his teens, the young, talented artist began doing caricatures for Broadway posters and ads as well as lobby cards for local movie companies like Goldwyn and the Selznick Corporation. He came to be known as the "line king" for his minimalist black-lines-on-white-paper caricatures of actors and actresses that succinctly captured the looks and personalities of his subjects. He was fast and reliable. His theatrical caricatures—he preferred "character drawings"—became popular, his line "ever more surgical." Broadway was his milieu, and every actor wanted to be "Hirschfelded." He worked hard at it; sitting in his barbershop chair, his drawing board in front of him, he worked 7 days per week, 7 hours per day. S.J. Perelman described him as "a remarkable combination of Walt Whitman, Lawrence of Arabia, and Moe, my favorite waiter at Lindy's." In 1928, Hirschfeld started working for the New York Times, in 1953, TV Guide, and in 1998 he did a cover for Time. As Stern shows, his married life with three wives was up and down, but for 75 years, he had his dream job. As the first substantive biography of Hirschfeld, this will be welcomed by art and Broadway lovers alike."
—KIRKUS

"This biography is as elegant and witty as Hirschfeld's art itself, and author Stern deftly weaves her way through the artist's life from his birth in St. Louis to his final days in a pink Manhattan brownstone. Stern's affection for and knowledge of her subject is imbued with humor and charm and allows readers to know the man behind the minimalism, both the good and the bad. His story includes a stellar cast of characters from artists and entertainers to politicians and Hirschfeld's own daughter, Nina. This title traverses the artist's world of Moscow, Paris, and Hollywood; newspapers, music, and theater. For those interested in biographies, the art of illustration, twentieth century theater and Broadway, it's a journey well worth taking."
—LIBRARY JOURNAL

"In a prose style that could be called Hirschfeldian, writer and editor Stern, handpicked to be the artist's biographer before his death, renders his life out of the memories of famous New York friends, love notes, press clippings, Hirschfeld's own writings, and, of course, his drawings. Her brief, anecdotal chapters mirror his economy of space. Travels to Bali, Paris, Morocco, and Moscow as well as adventures in his beloved home, New York, are covered with equal value and humor. The countless details of his thousands of works and seventy-five-year career may be impossible to collect, especially those stuffed into a suitcase lost by the forgetful artist, yet Stern offers appreciation of portraits, Broadway, film, opera, and more—the real skinny on everything Hirschfeld."
—MICHAEL RUZICKA, Booklist

"Given that Hirschfeld lived to be ninety-nine, working till the end, the pressures on his biographer to synthesize, compress, and keep the narrative moving briskly must have been daunting. Ellen Stern is up to the task. A journalist who has previously written widely about New York institutions, she is familiar with the terrain of twentieth-century culture, high and pop. Since, as the dust jacket states, Hirschfeld 'knew everybody and drew everybody,' it is not surprising that the biography doubles as a social history of the times."
—PHILLIP LOPATE, Times Literary Supplement

"Stern's deft balance of detail and action makes for a fast, but rich, read. And she has a sly sense of humor, a drive for precision, plus a knack for writing a scene as well as any playwright—in other words, she's the perfect Hirschfeld biographer."
—ST. LOUIS MAGAZINE
Skyhorse, 9781510759404, 472pp.
Publication Date: July 6, 2021
About the Author
ELLEN STERN wrote the Best Bets column in New York magazine for ten years and was a writer and editor at the New York Daily News, the East Side Express, and GQ. Her books include The Very Best from Hallmark, Once Upon a Telephone, Sister Sets, Threads, and Gracie Mansion. She was born in New Haven, Connecticut, and she graduated from Juilliard. She lives in New York City.